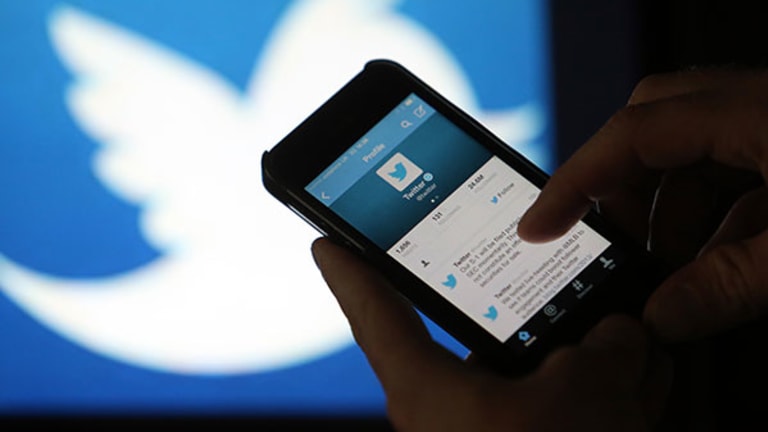 Twitter's Promise of Big Audience Is Doomed to Disappoint
By setting expectations too high, Twitter executives have turned a logged out audience of more than 500 million people into more of a burden than an asset.
SAN DIEGO, CALIF (TheStreet) -- A little more than a month after Twitter's (TWTR) - Get Twitter, Inc. Report  first analyst day where management rattled off a host of really big numbers, including a logged out audience of more than 500 million people, the social network now finds itself in the unfortunate -- some might say, doomed -- position of needing to prove that it can be just as big as its rival, Facebook (FB) - Get Facebook, Inc. Class A Report .
Twitter's opaque numbers concerning reach aren't tantamount to proof by Wall Street's standards. Shares have noticeably perked up in Monday trading, but are still down around 3% since the analyst day on Nov. 12 and are off by more than 39% for the year. 
The numbers may never be good enough. Twitter is limited in its appeal, Pivotal Research Group analyst Brian Wieser told TheStreet. The company, he added, has set itself up for failure in emphasizing its potential ubiquity.
Twitter executives have, in fact, said repeatedly that the service is for everyone. "We're working toward a Twitter that everyone in the world can get value from immediately," Twitter CEO Dick Costolo told analysts last month. "We have a goal to build the largest daily audience in the world ... we believe everyone can and will get value from Twitter."
Yet results from Cowen and Company's November survey of 2,000 adults in the U.S. on their social network usage suggest that Twitter will add just 2 million active users 18 or older in the U.S. over the next 12 months. "The growth trajectory suggested from the survey is concerning and implies that Twitter may be more of a niche service relatively," analyst John Blackledge wrote in the firm's report.

It's no wonder, then, that investors have voiced concern about the social network's slowing audience growth rate. Most recently, Twitter added just 13 million active users during the September quarter, 3 million less than in the prior quarter. And, at 284 million active users, Twitter's audience seems particularly disappointing when compared against Instagram's active user base, which recently surpassed 300 million people. Facebook, meanwhile, closed the third quarter with 1.35 billion active users. Twitter declined to comment for this story.
Twitter may be telling Wall Street that it has universal appeal, but its numbers are saying something else entirely.
Unless, of course, you attribute value to Twitter's logged out audience of more than 500 million people, or can make dollars and cents out of Twitter's syndicated content, which achieves roughly 185 billion impressions through embeds around the web on a quarterly basis. But what do the numbers actually mean for Twitter's business? With management turnover at the highest levels, it's doubtful even Twitter can answer the question.
A logged out user is not actually a "user" by the standard web definition of the term but is, instead, a person who visits a Twitter entity such as a tweet page, user profile, search page, or Twitter's home page, but does not take the next step and log in. The audience is completely distinct from the 284 million people who do log in to Twitter's service each month. Twitter said that every month profile pages accrue more than 200 million unique logged out visitors, search results see 75 million unique logged out visitors, tweet pages attract 125 million unique logged visitors, and the Twitter home page, where there is just no logged out experience to speak of, notices 125 million unique logged visitors. The grand total, then, is 525 million people who visit Twitter each month but never login.
The company also said it could, in theory, make $1.3 billion from these people at some unspecified date several years down the line. The message to Wall Street, then, is this: Our audience is much larger than you think it is, and we can, if we choose to do so, make money from people who view our content.
Watching television, listening to the radio, or browsing the web, makes it pretty clear that Twitter's content does, in fact, reach billions of people. The 185 billion syndicated impressions number, which amounts to views of Twitter's content embedded on the web and in apps, confirms as much. What's less clear is whether anything matters beyond the company's relatively small logged in user base of 284 million people, an audience that despite Twitter's best efforts, just doesn't want to balloon to the size of Facebook's. 
Gartner analyst Brian Blau thinks of Twitter's logged out visitors as merely "casual observers." "Unless something fundamental at Twitter changes," Blau told TheStreet, "then only a portion of that audience is going to become active users."
When comparing Twitter to top consumer-focused companies such as Apple (AAPL) - Get Apple Inc. (AAPL) Report , Facebook, Google (GOOG) - Get Alphabet Inc. Class C Report (GOOGL) - Get Alphabet Inc. Class A Report , and Microsoft (MSFT) - Get Microsoft Corporation (MSFT) Report , Twitter just doesn't have enough product for people to engage with, Blau said. "Tweets may be great," he added, "but they are limited in terms of people who want to interact in that way."
So, going back to those logged out visitors, should we try to assign value to the people who view Twitter content but never log in? "Not really," Pivotal Research Group's Wieser said. "Convert them into users, then [they] mean something incremental." 
Twitter, however, has its own formula, and it goes something like this: 525 million people times an average annual revenue of $2.50 per person equals $1.31 billion. The $2.50 number is roughly half of what Twitter currently makes per logged in user on an annual basis, and the revenue will come from some yet-to-be discussed consumption-based experience.
It's a handy formula for calculating potential, but there's little evidence to support Twitter's assumption that it can make $2.50 per visitor.
"We continue to hold a cautious view of Twitter's continued focus on the non-logged in audience, as we believe the user data signals are far weaker," Wells Fargo analyst Peter Stabler wrote in the firm's note following the analyst day. "Management suggested that non-logged in users could be monetized at a $2.50 ARPU rate ... We consider this to be an ambitious goal given our concerns over a devalued data signal."
A former high-ranking staffer argued that Twitter has an advantage over Facebook in that it can provide value to people without forcing a log in. The downside, the person told TheStreet, is that Twitter is not converting these people into Twitter users. Twitter, said the person, has not been able to come up with a compelling enough reason to convince visitors to create accounts, despite years of trying.
More simply put: "Potential is no longer good enough," Blau said.
In Twitter's defense, the company has made noticeable strides in simplifying the sign-up process and presenting new users with content immediately. For its newest users, Twitter is focused on creating an "Instant Timeline," or a Timeline that "just works for users, requires minimal effort on their part, and doesn't ask them to try and understand every aspect of Twitter immediately," VP of Product Management Christian Oestlien said at the company's analyst day.
Oestlien's statement, however, hints at Twitter's greatest obstacle in moving past its status as a niche social network. For the average person, Twitter just doesn't make sense. It's a fact not lost on executives. Costolo admitted in May of last year, prior to the company's public offering, that the language of Twitter -- @ mentions, direct messages, and so forth -- is "super hard to understand." And new CFO Anthony Noto's recent "DM fail" demonstrates just how easy it is to make an embarrassing mistake in a public forum.

Yet, all things considered, Twitter is performing remarkably well at growing revenue on a quarterly basis. In the third quarter, Twitter grew revenue 114% year-over-year to $361 million, exceeding the consensus estimate of $353 million, according to analysts polled by Thomson Reuters.
"User, schmoosers." Wieser said. "It's incorrect to focus on the user story, unless you have a point of view that says they're going to be bigger than Facebook," he added. "What matters is how well they're monetizing their platform."
Wieser, who stands by his assessment as Twitter as a niche offering, rates the company's stock a "buy." Share prices have shriveled far enough from "ludicrous" highs in the $70s at the end of last year to make them reasonably priced again. He also holds a 12-month price target of $42, which is roughly a 13% markup over Friday's close price of $37.08.
Perhaps, then, the only thing wrong with Twitter is not its limited appeal, but its refusal to accept its second-tier role in the social networking ecosystem. As long as the company continues to convey that it can be something greater than it is, Twitter will continue to disappoint Wall Street.
--Written by Jennifer Van Grove in San Diego, Calif.
>Contact by Email.