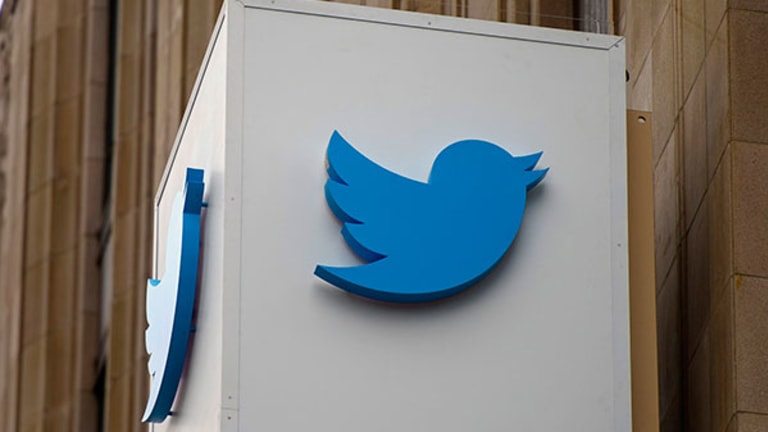 Twitter Soars on Earnings Blowout: Tech Winners & Losers
Twitter shares rose more than 20% after reporting its second-quarter earnings, while NQ shares rose on a buyout offer and Pitney Bowes shares rose following earnings in line with expectations.
NEW YORK (TheStreet) –– Twitter (TWTR) - Get Twitter, Inc. Report skyrocketed 21.1% to $46.72 after reporting second-quarter earnings that far exceeded analysts' expectations.
Twitter earned  an adjusted 2 cents per share on $312 million in revenues, a 124% revenue increase year-over-year. Analysts polled by Thomson Reuters expected Twitter to lose 1 cent per share on revenues of $283.07 million. Last quarter, Twitter's flat earnings beat the consensus estimate of a 3 cent loss.
The social network ended the quarter with 271 average monthly active users (MAUs), a 24% increase year-over-year and a net increase of 16 million. Mobile MAUs, which accounted for 78% of total MAUs, increased 29% year-over-year to 211 million. Timeline views increased 15% year-over-year to 173 billion.
"Our strong financial and operating results for the second quarter show the continued momentum of our business," said CEO Dick Costolo in the press release. "We remain focused on driving increased user growth and engagement, and by developing new product experiences, like the one we built around the World Cup, we believe we can extend Twitter's appeal to an even broader audience."
Twitter's full-year revenue guidance between $1.31 billion and $1.33 billion also handily beat analysts' expectation of $1.27 billion.
Several analysts maintained their bullish positions on Twitter in response to the results. Deutsche Bank analyst Ross Sandler reiterated his "buy" rating and $60 price target, calling Twitter "one of our favorite long ideas, especially because "the 'MAU-Monkey' appears to be off Twitter's back." 
JPMorgan analyst Doug Anmuth was more cautious. He reiterated his "neutral" rating, but raised his price target to $54 from $42, citing user growth and improved monetization. "We are encouraged by Twitter's strong quarter and the company's momentum in both product experiences and advertising, but we need to see continued improvement in user growth and we believe the shares are closer to fair value given the ~28% move in the aftermarket to around $50," he wrote. 
Shares of NQ Mobile (NQ) climbed 15.8% to $7.99 following a buyout offer. 
NQ Mobile announced today that Bison Capital, a private equity firm, offered to buy all the company's outstanding shares. Bison offered $9.80 per share, a 41% premium over yesterday's close.
"The Board is reviewing the proposed transaction," the company said in a press release. "No decisions have been made by the board with respect to its response to Bison's proposal. There can be no assurance that any definitive offer will be made."
NQ Mobile, a Chinese mobile-security service provider, has seen its share price tumble more than 53% since October, when short seller Carson Block's research firm Muddy Waters claimed that the company was a "massive fraud," citing, among other things, cash balances that are "highly likely to not be real."
Earlier this month, the company announced that its auditors, PricewaterhouseCoopers, "would need to perform additional procedures and expand the scope of its 2013 audit work." NQ Mobile has not yet filed its 2013 annual report with the Securities and Exchange Commission.
RingCentral (RNG) - Get RingCentral, Inc. Class A Report shares jumped 20.5% to $15.30 after reporting strong earnings. 
In its second quarter, RingCentral, which provides cloud business phone systems, lost 14 cents per share on revenues of $52.8 million. Analysts surveyed by Thomson Reuters expected the company to lose 15 cents per share on $51.43 million in revenues. Revenue increased 40% year-over-year. Total annualized exit monthly recurring subscriptions rose 38% year-over-year to $203.7 million; subscriptions to one component, RingCentral Office, were up 58% year-over-year to $139.2 million.
"Our market-leading, cloud-based offering continues to disrupt the business communications market and drove our strong revenue growth in the quarter," said CEO Vlad Shmunis in a statement. "In addition, our plans to expand our presence with larger businesses are paying off. Our biggest customer deployment has now exceeded 1,200 users, further validating the robustness of our platform and go-to-market strategy."
Shmunis also highlighted RingCentral's agreement with telecom giant BT to resell RingCentral's cloud based business communications solutions in the United Kingdom. "This is yet another strong testament to the unique value provided by RingCentral and our ability to deliver our cloud service internationally. This relationship with one of the world's top telecommunications companies has expanded our lead in the carrier market, as we are the only pure-play cloud communication solutions provider serving carriers in three different countries."
RingCentral, based in San Mateo, California, finished the quarter with $151.4 million in cash and equivalents, down from $166.8 million at the end of the first quarter.
Shares of Pitney Bowes (PBI) - Get Pitney Bowes Inc. Report rose 4.4% to $27.50 after reporting quarterly earnings in line with expectations.
Pitney Bowes earned 46 cents per share, in line with expectations, on $958 million in revenue in the second quarter. Analysts expected the company to take in $955.73 million in revenue. Revenue in the Digital Commerce Solutions segment grew 27% year-over-year, while revenue in the Small and Medium Business Solutions group declined 3% due to the implementation of a channel shift strategy.
"We are pleased with our second quarter financial results, which are consistent with our long-term strategic direction," said CEO Marc B. Lautenbach in the press release. "Our performance through the first six months continues to substantiate the strategy we detailed 15 months ago, and further validates our long-term economic model. We remain ahead of schedule in our multi-year journey to transform Pitney Bowes and are confident in our ability to deliver against our objectives. As a result, we are increasing our 2014 guidance for both revenue and adjusted earnings per share."
The company also revised its annual guidance for revenue growth and earnings per share. The company upgraded revenue growth to between 1% and 3%, up from -1% to 2%. Expected earnings per share increased to between $1.55 and $1.65 from $1.53 to $1.68. Expected free cash flow of between $475 million and $575 million remains unchanged.
Founded in 1920, Pitney Bowes manufactures software and hardware and provides mailing services. It is one of 87 firms that has been a member of the S&P 500 since its founding in 1957.
--Written by Laura Berman in New York
>Contact by Email.