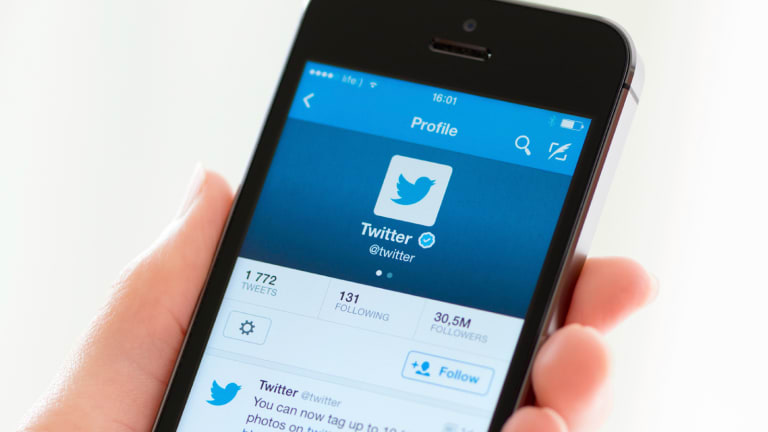 Twitter Soars on $100 Billion Valuation Estimate, Micron Inches Higher on Upgrade
Twitter jumped after an analyst at MKM Partners stated the company may reach a $100 billion valuation if it executes on monetizing its user base. Micron rises on upgrade.
NEW YORK (TheStreet) -- Twitter (TWTR) - Get Free Report soared Friday after an MKM Partners analyst estimated the social networking giant could reach a $100 billion valuation if it executes on a strategy to grow and monetize its user base. Micron (MU) - Get Free Report edged slightly higher on an upgrade. Fitbit (FIT) - Get Free Report surged for a second day after its IPO.
Twitter soared 3.5% to close at $35.88.
The social networking company received a boost after MKM Partners Internet analyst Rob Sanderson said on CNBC that Twitter may just reach a $100 billion valuation if it improved its user experience, monetized its user base and became a mass market service. "$100 billion is possible if they can execute," Sanderson said.
Investors may have also liked some of the changes to the service that Twitter is putting in place. The company announced it is testing a new way to display and organize relevant Tweets about products and places on dedicated pages.
Twitter, meanwhile, is the process of finding a new CEO, after announcing its current CEO Dick Costolo would be stepping down and its co-founder and chairman Jack Dorsey would be serving as an interim CEO.
Micron inched up 0.02% to end the day at $24.47.
The memory chip maker received an upgrade to buy from hold by Topeka Capital Markets, as well as a price target increase to $34 from $30, according to a Barron'sreport. The analyst, Suji Desilva, issued the changes following a meeting with Micron's management.
Desilva, according to Barron's, named three areas that prompted his decision to give a more bullish outlook on Micron. One is Micron's "likely outsized DRAM cost per bit improvement relative to competitors," Desilva said in the report. The second area involved steady improvement in TLC 3D NAND that "can drive a demand inflection," as well as keeping a competitive lid on its capital expenditures as part of a commitment to capital returns, the report noted. 
While some investors have been concerned about sluggish DRAM pricing, Desilva anticipates improvement for the industry, according to Barron's.
Fitbit surged 9.5% to close at $32.50,on its second day of trading.
The wearables device maker priced its IPO at $20 a share and closed at $29.68 on Friday. Overall, it has gained nearly 63% from its IPO price. The company ended its second day of trading with a market cap of nearly $1.4 billion.
Fitbit is part of a growing trend of electronic wearables from devices that gauge users' healthy to smartwatches that act like a mini-computer on the wrist to souped up eyeglasses like Google (GOOGL) - Get Free Report glass that go beyond helping users see.
This article is commentary by an independent contributor. At the time of publication, the author held no positions in the stocks mentioned.