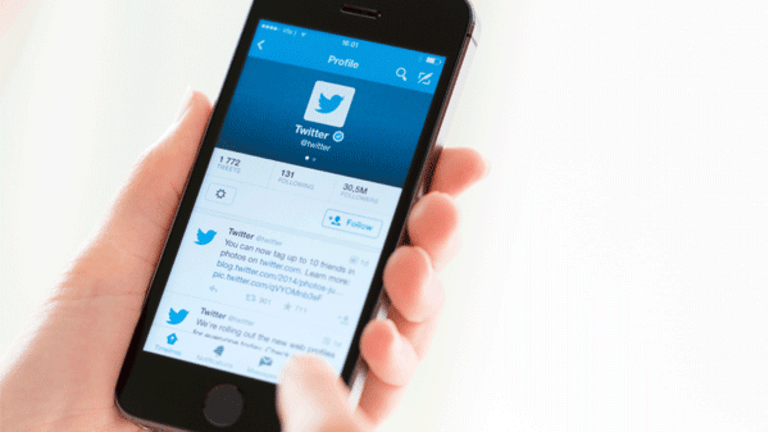 Publish date:
Twitter Shareholders Sue CEO, Other Executives -- Tech Roundup
As if struggling revenue and user growth weren't enough, Twitter executives now have a lawsuit to deal with.
As if struggling revenue and user growth weren't enough, Twitter executives now have a lawsuit to deal with.
Twitter (TWTR) - Get Report just can't catch a break. The now infamous stock decline from the high-$60s into the low teens looked like it would be snapped out of its funk via M&A.
The stock flew from about $15 to more than $25 on hopes that a slew of buyers were lining up to buy the company. Instead, one by one, buyers dropped away, until no one was left.
The company has faced quite the hardship, even before CEO Jack Dorsey returned to the helm to lead the company. In fact, the reason Dorsey returned was because the company was in such disarray.
Despite a number of new features and initiatives, the share price has not recovered and so far, user growth doesn't seem to have picked up. As if that weren't bad enough, Twitter is now facing a lawsuit.
Shareholders have formed a lawsuit against CEO Jack Dorsey and other executives for "concealing facts about Twitter's slow user growth, even as they sold their personal stock holdings 'for hundreds of millions of dollars in insider profits,'" according toFortune.
Those seeking legal action are asking that the executives repay the profits they made in stock sales beginning in February 2015. I don't really see that happening, personally. But nonetheless, it's just another distraction for management.
Shares of Twitter closed at $17.29 Wednesday, up 0.2%.
Last Friday, our internet was under attack, which showed just how vulnerable our cyber world really is.
Thankfully, it didn't get too extreme. But it still raised a lot of questions about how we could prevent future attacks and who the heck was behind this one. Because of its size and scale, many assumed it was a state-sponsored attack.
However, a recent report from U.S. officials suggests otherwise. James Clapper, the director of National Intelligence, said it doesn't appear that a national government was the source.
Instead, a "non-state actor" was behind the move, Clapper reasoned, saying it used a number of internet-connected devices to mount the attack. Is this an early sign at what it's like when our smart devices start to turn against us?
While we still don't have a suspect, at least the list is becoming shorter - although with the internet, it's a long list to begin with.
Has anyone stopped to wonder how Alphabet's (GOOGL) - Get Report smartphone, the Pixel, is doing?
All the talk has been about Apple's (AAPL) - Get Report new iPhone 7 or Samsung's (SSNLF) flammable Galaxy Note 7. However, very little conversation has revolved around Google's Pixel and Pixel XL.
And that makes sense, given that Google is the new kid on the block. Apple and Samsung are entrenched as the No. 1 and No. 2 smartphone sellers in the country. Of course they command a bulk of the attention.
But new reports on Google's device may say otherwise, as demand has outstripped supply, leaving many orders being delayed until November. I even tried to order one from the Google Store, just to see how long it would take.
The answer? It would ship in three to four weeks.
Google's got a good problem on its hands (and is maybe even benefiting from Samsung's woes).
Shares of Alphabet closed at $822.10 Wednesday, down 0.8%.
This article is commentary by an independent contributor. At the time of publication, the author held no positions in the stocks mentioned.