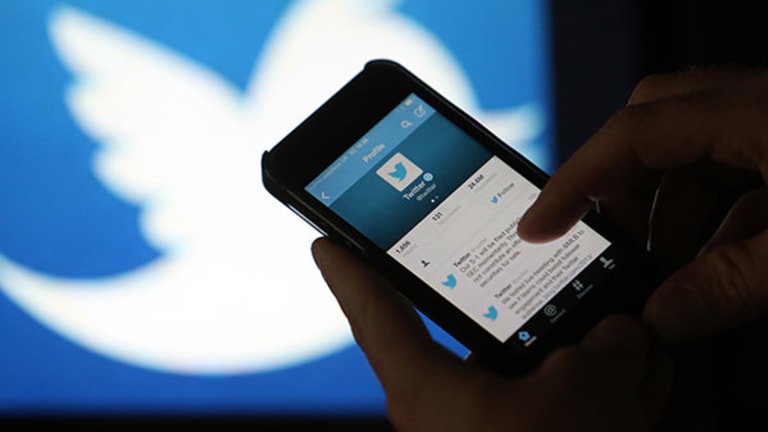 Twitter Prices IPO at $26 a Share in $1.82B Offering
Twitter will price its IPO at $26 a share, in a share offering that values the company at over $14 billion.
NEW YORK (TheStreet) -- Twitter is pricing its initial public offering at $26 a share. The San Francisco-based company sold $1.82 billion in shares, or just over 12% of its outstanding stock, in an offering that gives the micro-blogging site a valuation of roughly $14.2 billion.
As with its initial IPO announcement, Twitter took to its own network to make the final pricing of its offering public.

Previously, the company had planned to list its shares at between $23 and $25 a share, valuing the company at up to $13.6 billion. Twitter's listing contrasts with Facebook's (FB) - Get Meta Platforms Inc. Class A Report blockbuster $16 billion May 2012 offering, which valued the social network at nearly $100 billion.
On a fully diluted basis to include stock option grants, Twitter will be valued at over $18 billion. Media reports indicated Twitter's IPO was oversubscribed and closed as early as Wednesday. 
The Chicago Board of Options Exchange said on Twitter that option contracts for the company's stock will be available Nov. 15, contingent on a completed share listing Thursday.
In a Wednesday initiation of their coverage of Twitter's stock, RBC Capital Markets analyst Mark Mahaney gave the burgeoning internet powerhouse a 12-month price target of $33 a share.
Jim Cramer, founder of Thestreet, has set some hard and fast rules for investors given his expectation that this will, indeed, be a hot IPO. Cramer believes Twitter has a path toward revenue growth and profitability that investors can trust, however, at some point investors may need to draw a line on valuation.
Investors should balk at Twitter shares at a market capitalization of over $20 billion, Cramer said on Wednesday. He cautioned investors from buying Twitter shares in the after-market or at a price higher than $28.
That valuation balances the company's expected potential and accounts for Twitter's still uncertain share count. Twitter's IPO includes a 30-day option for underwriters to purchase 10.5 million additional shares in the company.
Santosh Rao, an analyst at Greencrest Capital, said in a Tuesday telephone interview that Twitter's current IPO pricing is "fair" and "makes sense" given a limited float when compared to Facebook.
The analyst expects the company's stock to pop in day-one trading to above $30 a share. At $35 a share, Rao says investors should wait for a pullback and the analyst generally believes investors can wait out the share listing entirely and hold out for further information in Twitter's fourth-quarter earnings, if they so choose.
Rao, however, cautions interested investors from waiting for Twitter to definitively prove itself. Investors that believe Twitter's platform is strong should invest early and monitor trends such as user growth and monetization of international users.
Goldman Sachs  (GS) - Get Goldman Sachs Group, Inc. Report will lead the offering. 
Morgan Stanley  (MS) - Get Morgan Stanley Report, JPMorgan  (JPM) - Get JPMorgan Chase & Co. Report, Bank of America  (BAC) - Get Bank of America Corp Report, Deutsche Bank will act as co-book runners, whileCode Advisors and Allen & Co. will co-underwrite the offering.
Twitter will trade under ticker symbol 'TWTR' and is expected to list on the New York Stock Exchange on Thursday.
-- Written by Antoine Gara in New York