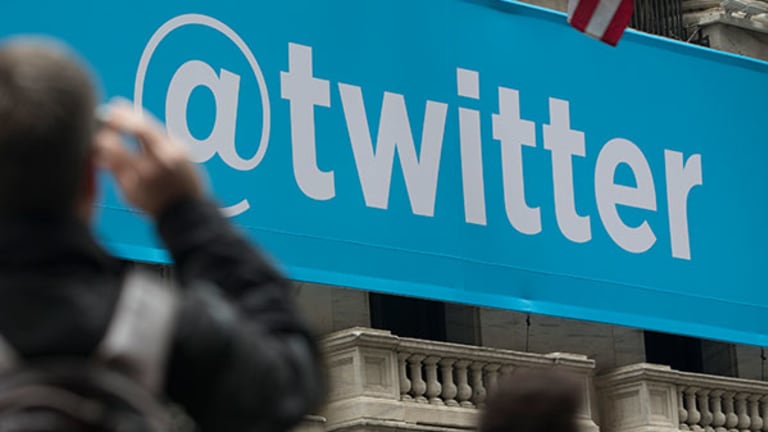 Twitter Plunges: What Wall Street's Saying
Though Twitter managed to beat first-quarter estimates and show Wall Street it's more profitable than initially thought, none of that matters if the company can't do one major thing: grow its user base.
Updated from 10:06 a.m. to include additional thoughts from Sterne Agee analyst.
NEW YORK (TheStreet) -- Though Twitter (TWTR) - Get Twitter, Inc. Report managed to beat first-quarter estimates and show Wall Street it's more profitable than initially thought, none of that matters if the company can't do one major thing: grow its user base.
For the first quarter, Twitter posted breakeven results on $250.49 million in revenue, as advertising revenue surged 125% year over year to $226 million. The company said mobile advertising revenue was approximately 80% of total advertising revenue, while data licensing and other revenue totaled $24 million, a year-over-year increase of 76%. Analysts surveyed by Thomson Reuters were expecting Twitter to lose 3 cents a share on $241.47 million in revenue.
The company topped 255 million monthly active users (MAUs), but that was only an increase of 14 million from the previous quarter, its first as a public company. Though that number is up 25% year-over-year, growth is slowing. In the fourth quarter of 2013, MAUs grew 30.9% year over year.
Some on Wall Street, including Goldman Sachs, were expecting much more. Analysts at Goldman Sachs were expecting around 265 million MAUs.

WATCH: More market update videos on TheStreet TV | More videos from Debra Borchardt
San Francisco-based Twitter did manage to reach 198 million mobile monthly active users during the quarter, up 31% year over year, as timeline views reached 157 billion for the first quarter of 2014, an increase of 15% compared to the prior year's quarter. Advertising revenue per thousand timeline views reached $1.44 in the first quarter of 2014, a year-over-year increase of 96%.
In an interview with Carl Quintanilla on CNBC, CEO Dick Costolo said Twitter was already a mainstream platform, and the company is working on three major initiatives, including simplifying the new user process to be much more mobile phone based, the recommendations sent, and the way Twitter organizes content for new users will drive growth. "The beauty of Twitter is that everyday, in countries around the world, Twitter is front and center, it's ubiquitous, in front of people, everyday," Costolo said during the interview.
Shares were plunging in pre-market trading, falling 12% to $37.49.
For the second quarter, Twitter expects revenue to be between $270 million and $280 million, with adjusted EBITDA between $25 million and $30 million. For the full year, revenue is projected to be between $1.2 billion and $1.25 billion, with adjusted EBITDA between $180 million and $205 million. It also expects capital expenditures between $330 million and $390 million.
Analysts surveyed by Thomson Reuters are expecting Twitter to lose 1 cent a share on $275.31 million in revenue for the second quarter, with EBITDA of $30.58 million.
Following the quarter, analysts were positive on the long-term viability of the company, but many lowered price targets, given the declining user base growth. Here's what some had to say:
SunTrust analyst Robert Peck (Neutral, $50 PT)
"Twitter reported a strong quarter and inline guidance, driven by improving monetization across US and Intl markets. Revenues per TimeLine View accelerated to 78% growth in the US from 73% and 154% Int'l from 140%. However, Monthly Active Users (MAUs) of 255m (inline with our preview and TwopCharts) decelerated a bit further to 25% from 30% growth and TimeLine Views (TLV) per MAU (i.e., engagement) declined 3% y/y in the US and 10% y/y Int'l. While product changes are largely attributable to the engagement metric declines, investors are still looking for signs of traction in new products deemed to accelerate users and attract the general masses."
UBS analyst Eric Sheridan (Sell, $35 PT)
"Over the medium term, we continue to expect Twitter's stock to underperform the market in the face of (what is likely) a multiple quarter transition on user engagement & ad product adoption. In addition, with ~84% of the basic shares outstanding coming unlocked from the IPO on May 6th, we expect Twitter's stock to lag - despite assurances from insiders & some large shareholders that reduces the lockup overhang by about 1/3rd. For the long term, we could see becoming more constructive on Twitter once the stock reflects a more reasonable absolute multiple on forward operating estimates (especially against peers growing at similar growth rates & with higher levels of profitability) and a clearer trajectory of user & advertising growth."
Topeka Capital Markets analyst Victor Anthony (Buy, $60 PT)
"We reckon that we are witnessing Facebook (FB-$58.15:Buy) part two. Instead this time it is faster user growth that investors are seeking rather than faster mobile monetization. Accelerating revenue growth, raised guidance, and a near acceleration of U.S. MAU growth failed to appease investors, who are demanding TWTR show a
faster path to achieving mainstream status. We are optimistic that TWTR should reaccelerate growth at some point this year. Our 2015 EBITDA estimate increases by 17%, however our price target reduces to $60 from $70 on a reduction in our target multiple. We are stubbornly sticking with our Buy rating and see improvement in investor returns as user growth strengthens."
Cantor Fitzgerald analyst Youssef Squali (Hold, $40 PT)
"Twitter's second quarterly P&L results post IPO were ahead of consensus estimates, however, similar to 4Q13, both MAUs and engagement (two critical drivers of long-term growth) came in weaker than expected. While monetization continues to impress, slowing MAU and Timeline Views growth, the imminent lock-up expiration of some 454.3M shares (80% of shares outstanding), and a lofty valuation still (16.7x EV/ Revenue) keep us on the sidelines. We're lowering our PT to $40 from $45."
Deutsche Bank analyst Ross Sandler (Buy, $52 PT)
"Twitter reported 4% and 96% upside to consensus revenue and EBITDA, but similar to the reaction to FB's 1Q, fundamentals don't seem to matter in the current environment for high-multiple consumer internet. The company continues to execute near-flawlessly around items in its control like revenue and expenses, but sentiment remains pinned on lackluster MAU growth, despite improvement in sequential net-adds. Like FB's late 2012-early 2013 "rough patch" we believe sentiment will eventually shift away from solely MAUs toward revenue and EBITDA growth, but timing is hard to predict (and clearly not right now) and we want to be there given the low institutional. Maintain Buy."
Sterne Agee analyst Arvind Bhati (Neutral)
"1Q results were mixed. Revenue and adjusted EBITDA exceeded expectations while monetization was in line. User metrics, including reach and engagement, improved sequentially but less than the Street expected. 2Q guidance is essentially in line with consensus and full-year guidance was raised to reflect 1Q outperformance."
>>Also See: Twitter Plunges: Q1 Live Blog
>>Also See: Twitter Drops Sharply As User Growth Continues to Slow
--
Written by Chris Ciaccia in New York
>Contact by Email.