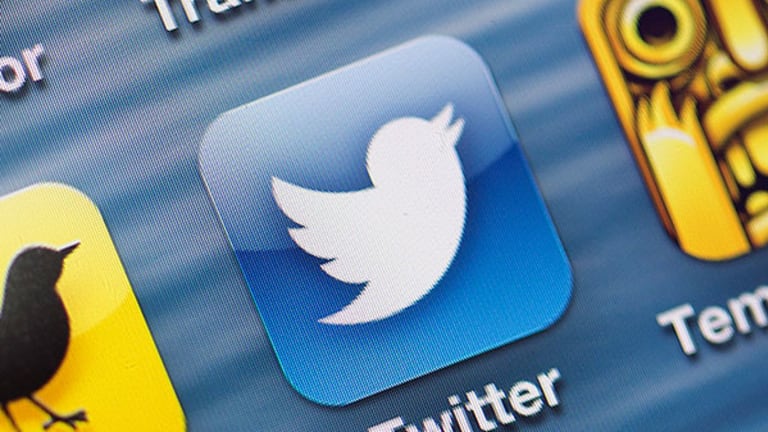 Twitter Plunges Following First Analyst Day: What Wall Street's Saying
Twitter shares were falling on Thursday, despite Wall Street analysts' generally upbeat reaction to the social media company's first ever analyst day.
NEW YORK (TheStreet) - Twitter (TWTR) - Get Twitter, Inc. Report shares were falling on Thursday, despite Wall Street analysts' generally upbeat reaction to the social media company's first ever analyst day.
Twitter announced on Wednesday plans to launch a video platform in 2015 in which its 284 million active users could take, edit and share video in real time. The announcement was among a host of messages Twitter management shared at the event in San Francisco, including the first-time disclosure that Twitter attracts 500 million monthly unique visitors who do not log in to the service.
Twitter shares were down 2.6% on Thursday to $41.42. Here's what analysts had to say.
Youssef Squali, Cantor Fitzgerald (Buy, $58 PT)
"Twitter hosted its first Analyst Day yesterday, from which we walked away impressed with both the depth and breadth of what was discussed. While most of it is still on the come, we believe that management has clearly 1) articulated medium- and long-term goals for users and monetization, 2) formulated a more refined product strategy against these goals and 3) showcased a deep bench of managers determined to accelerate the pace and breadth of product change. While it may take a few quarters to show growth acceleration in key metrics of users, engagement and monetization, Twitter, in our view, remains one of the most attractive and differentiated digital media platforms with clear long-term potential."
"While the company did a good job addressing most questions, we think there are still several questions remaining like: 1) the reason for the softer 4Q MAU guidance, 2) the appropriate metric for engagement, 3) the timing of new products, 4) the monetization ramp timing, and 5) the timeframe of the LT financial scenarios.
We think the company is just in the early stages of ramping product, monetization, and reach. There are many levers within the company's control to address short term performance, while laying the ground work to deliver on long range targets. Hence, we reiterate our Buy rating and $58 2015 target, which represents ~35% upside potential."
Arvind Bhatia, Sterne Agee (Neutral)
"Following TWTR's first-ever analyst day yesterday, we think investors will be able to better appreciate how Twitter's reach is in fact larger than just the core user base it reports when including the logged out users (500M+). However, we don't think there is enough clarity yet on how quickly or effectively the logged out users (500M+) could be monetized. Reiterating Neutral. As most of the long-term targets (reach, engagement, monetization, revenue, adjusted EBITDA) discussed during the analyst day were largely aspirational in nature (as opposed to hard guidance), we are unsure these seemingly impressive goals will meaningfully shift investor sentiment on the stock in the near term.
In a nutshell, management's message was that Twitter is a unique, larger-than-it-looks platform that is currently significantly under-monetized. Management wants to build Twitter into a platform with the world's largest daily audience. Some of the key objectives discussed included: strengthening the core user base; removing the barriers to consumption for non-logged on users and, developing new apps and services."
Ross Sandler, Deutsche Bank (Buy, $60 PT)
"Twitter's analyst day went a long way in our view towards clearing up some of the confusion around the company and it's potential. Despite all the negative headlines and share price volatility over the past year, looking objectively, Twitter's core product and monetization improvement have greatly improved from text-only to rich media and with many new features. While everyone would like to see user growth hockey stick up today, given Twitter's centrality to digital content creation and distribution, we see the path toward a much larger mobile platform as fairly straight forward and more a matter of "when vs. if" the company reaches 1B users.
At 12.8x consensus 2015 revenue, shares obviously screen expensive vs. any peer. But with an ad load of 1/5th the nearest competitor, there is likely a lot more runway than most investors think, especially those hung up on time spent and ARPU comparisons. Buy."
-Written by Laurie Kulikowski in New York.
Disclosure: TheStreet's editorial policy prohibits staff editors, reporters and analysts from holding positions in any individual stocks.