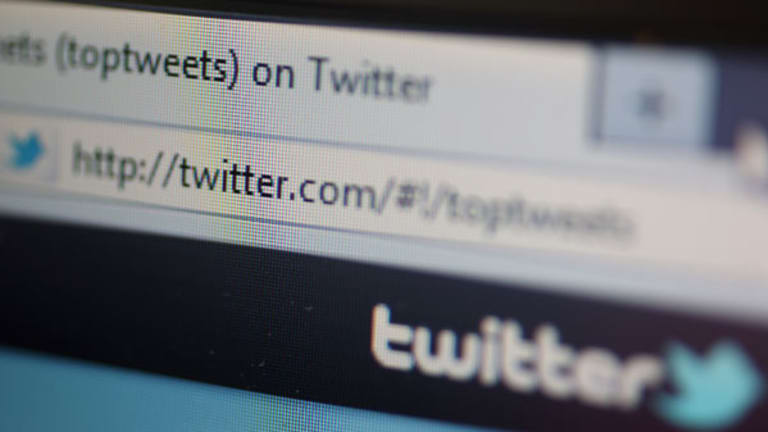 Twitter or Facebook: Who Won the World Cup's Social Media Battle?
Twitter, when it reports earnings on July 29, could upstage Facebook and win the World Cup among social media firms.
NEW YORK (TheStreet) -- Germany narrowly won the World Cup with a 113th minute strike by Mario Goetze, but the most-watched sporting event on earth remains an open contest in Silicon Valley. So when Twitter (TWTR) - Get Twitter, Inc. Report reports its earnings on July 29, the San Francisco-based company could win the World Cup among social media firms, upstaging its far-larger rival Facebook (FB) - Get Meta Platforms Inc. Class A Report.
In fact, it will be disappointing if Twitter can't explain to investors and analysts later this month why it was the de facto site that users and advertisers turned to during the World Cup.
Twitter is real time, it is global, and it's meant for frequent posting. Vine, the company's micro-video site, was also utilized effectively by sports fans to record the most memorable calls, coaching memes, strikes and miscues in Brazil.
Analysts have already said the World Cup will likely provide a boost to Twitter's second and third quarter earnings. But it may be new data and commentary provided by CEO Dick Costolo that may be more important for investors, who are still trying to understand Twitter's overall reach and its strengths and weaknesses as an advertising platform.
Why Twitter Shares Have Soared Over the Past Month
The 10 Richest World Cup Athletes
The World Cup Built a Better ESPN
Were Twitter to show it provided users and advertisers a far better venue than Facebook during the World Cup, it may signify to investors that the company still has strong growth prospects and may simply be navigating a transition period through slowing user growth and engagement, something Facebook struggled with in its early days on public stock markets.
If Twitter's World Cup proves unexciting, it might reinforce the notion the company has a limited reach when compared against Facebook, in addition to weak growth prospects.
Some investors already argue that to be the case. Twitter's market cap is about one-tenth the size of Facebook and one-twentieth the size of Google (GOOG) - Get Alphabet Inc. Class C Report. Currently, Twitter trades at a market cap roughly equivalent to LinkedIn (LNKD) , a professional networking site.
Facebook Earnings
Facebook has set a beatable bar for Twitter when it comes to the World Cup, and a seemingly insurmountable climb when it comes to reach and earnings.
During the World Cup, 350 million people made over 3 billion interactions on Facebook, COO Sheryl Sandberg said during the company's earnings call on Wednesday. The World Cup final, Sandberg said, was the most-talked about sporting event in Facebook history.
Twitter, by contrast, has already said 672 million Tweets were sent related to the World Cup. But, the company may also disclose new data in its earnings, which may show an even wider reach. It wouldn't be surprising if Twitter was able to show it blew Facebook away when engaging users during the World Cup.
Wall Street would surely take notice. Marketers crave engagement and live sports and entertainment are one of the biggest components of the overall advertising market. If Twitter is well suited for those events, it augurs extremely well for the company's future prospects.
Facebook's Sandberg said Visa (V) - Get Visa Inc. Class A Report, Nike (NKE) - Get NIKE, Inc. Class B Report, Ford (F) - Get Ford Motor Company Report and McDonalds (MCD) - Get McDonald's Corporation Report all marketed heavily on the social network during the World Cup. She highlighted McDonald's "FryFutbol' campaign,  which used fries as players to re-create the top World Cup moments and reached 125 million people.
Sandberg also spoke of Facebook's new marketing efforts, which revolve around targeting for advertisers, auto-play videos, and customized audiences. Facebook's Custom Audiences' features are now used by 91 of the Ad Age 100, Sandberg said.
Was Twitter similarly prepared for the World Cup, and does the site have the same value to marketers? We'll soon find out.
TheStreet's Take
TheStreethighlighted at the outset of the World Cup that Twitter had the most on the line of any large U.S. company. Sure Nike sells jerseys and sports equipment by advertising at the World Cup and Dominos (DPZ) - Get Domino's Pizza, Inc. Report might sell pizza to anyone anywhere, but Twitter really needed the event to prove its relevance.
Personally, I was addicted to Twitter during the entire tournament, and found the platform to deepen my understanding and enjoyment of the event. Facebook didn't even come close.
But, there was nothing revolutionary about the way the World Cup played out on Twitter versus my normal routine. Celebrities -- this time soccer celebrities -- carried the conversation, and reams of tweets flooded my feed whenever something dramatic happened. But, the average person might have found little reason to tweet or stay plugged-in.

In that sense, Twitter may have benefited from a temporal rise in engagement during the World Cup. The games in Brazil may drive stronger-than-expected second and third quarter results for Twitter, but they may not change perceptions about the company's reach with users and marketers. 
Were that to be the case, Twitter may need to consider the same type of dramatic change that Facebook undertook when it found weaknesses in its business.
Facebook's $1 billion purchase of Instagram helped usher the social network onto mobile devices. From a standing start on mobile devices at Facebook's IPO, the company reported in the second quarter it earned $1.66 billion in mobile ad revenue, or 62% of total ad revenue in the quarter, a 41% year-over-year increase.
Twitter recently hired ex-Goldman Sachs banker Anthony Noto to become the company's CFO, and it assigned Mike Gupta to head the company's strategic investments. Perhaps, the company is prepared for a wave of acquisitions. 
-- Written by Antoine Gara in New York