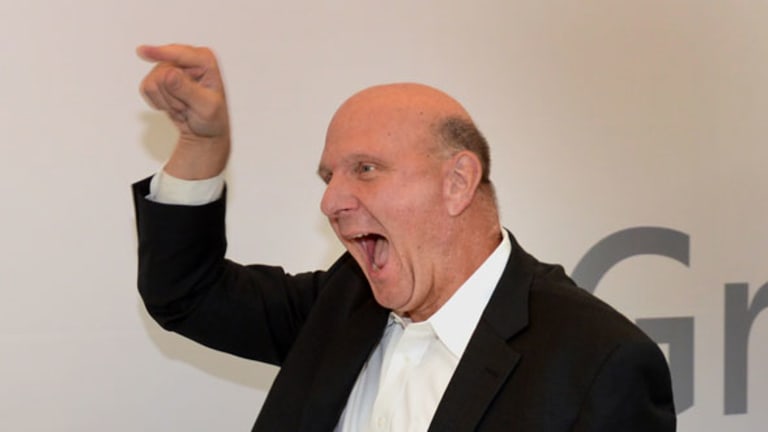 Twitter Has a Friend In Steve Ballmer
Twitter has a new friend in ex-Microsoft CEO Steve Ballmer, who took a 4% stake in the company.
Updated from 10:34 a.m. to include stake verified by Bloomberg.
NEW YORK (TheStreet) -- Twitter (TWTR) - Get Twitter, Inc. Report has a new friend in ex-Microsoft (MSFT) - Get Microsoft Corporation Report CEO Steve Ballmer.
A Twitter account, supposedly run by Ballmer, stated this morning he had purchased 4% of the company over the past few months. The account also applauded the recent moves Twitter took to make itself a "leaner" company when it announced it was laying off up to 8% of the company.
Bloomberg reported that Ballmer does indeed own a stake in the social network company, sending shares higher on the confirmation.
The @Steven_Ballmer account has also been telling people it's a real account as well.
The account isn't verified by Twitter, though an account that is verified, @clippersteveb, retweeted the other account and has been telling people since the start of October that it would be transitioning to a new Twitter account.
A 4% stake in San Francisco-based Twitter would be worth approximately $800 million, but the tweet said the purchases have been done over the past few months.
Twitter shares were rising in early trading on Friday, gaining 1% to $30.01 on the back of the verified purchase.
Prior to the Bloomberg report, Twitter spokesman Jim Prosser was unsure whether Ballmer had indeed taken a stake in the company. "We only get notified if someone has a >5% stake (because they have to file with the SEC)," Prosser said via email.
Ballmer has not yet responded to comment for this story.
The stake is an interesting turn for both Ballmer and Twitter.
Ballmer spearheaded Microsoft's attempt to buy Yahoo! (YHOO) several years ago for $45 billion, but was ultimately turned away. Microsoft had repeatedly made attempts to get into the digital media business, having purchased digital marketing company aQuantive for $6 billion in in 2007. In July 2012, Microsoft announced it would take a $6.2 billion write-down, due in large part to its aQuantive acquisition.
For Twitter, it represents another well-known billionaire taking a stake in the company.
Saudi Prince Alwaleed Bin Talal recently announced he owns almost 35 million shares of the microblogging company, representing slightly more than 5% of the shares outstanding. Bin Talal is the second largest individual investor in the company, behind its co-founder Evan Williams, who owns 6.9% of the shares outstanding. Current CEO and co-founder Jack Dorsey recently purchased an additional 32,000 shares in the company, giving him a stake in the company of about 22 million shares.