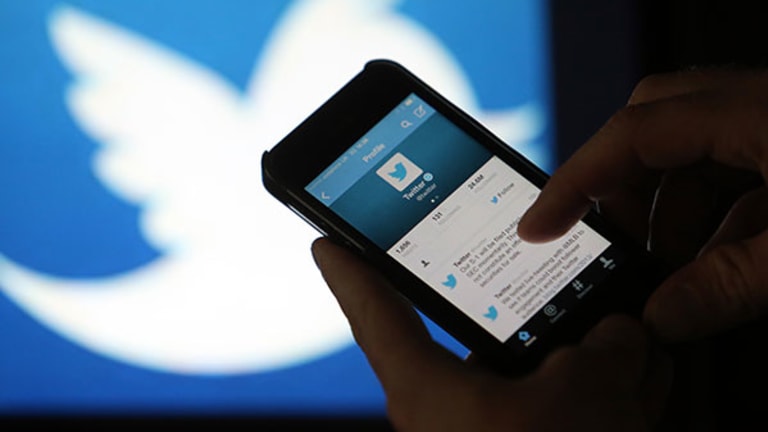 Twitter Is a Buy But Not for the Reasons You Might Think
Pivotal Research Group analyst Brian Wieser believes Twitter can grow revenue to $6.6 billion in 2019, but he isn't convinced the social network can shed its niche appeal.
SAN DIEGO, CALIF. (TheStreet) -- Twitter (TWTR) - Get Twitter, Inc. Report   found itself the benefactor of a stock upgrade from Pivotal Research Group on Tuesday, as the firm changed its recommendation from "hold" to "buy." The upgrade, though a sign of faith in Twitter's revenue potential, is more a product of Twitter's terribly performing stock, which has slid so far back in value to finally make it a bargain.
"We have long viewed Twitter positively at an operating level despite prior ratings which have mostly been HOLD or SELL," Pivotal analyst Brian Wieser wrote in the firm's report. "Where we have been negative much of the time since Twitter's IPO is with the valuation that investors have ascribed to it given its venture-like characteristics and our view that the core product has only niche market potential at maturity."
Twitter's stock is down more 44% on the year as investors have noticeably reigned in their enthusiasm for the once-hot stock on concerns about the social network's ability to grow its monetizable audience. The company's market cap now hovers around $22 billion, less than half its value from when shares were trading as high as $74.73 at the end of last year.
Instagram, the Facebook (FB) - Get Facebook, Inc. Class A Report -owned property that Twitter tried to buy first, isn't exactly helping matters. Earlier in the week, the photo-centric social network said it now has more than 300 million monthly active users, making it bigger than Twitter, which reported 284 million active users during its third-quarter earnings report.
Wieser's "buy" rating doesn't ignore Twitter's growth challenges. He still maintains that Twitter is a "niche" service with limited appeal and won't rival in size the likes of Facebook, which now has more than 1.35 billion active users.
"There are overly optimistic observers that have bought into the idea that Twitter has the capacity to be a substantially larger property," Wieser told TheStreet, adding that management has overemphasized the social network's reach and potential. "I never bought into the idea that Twitter was going to be that big."
Instead, the analyst takes the view that the company is growing enough on the revenue front to warrant a $42-per-share value by the end of 2015 -- based on an estimate of $6.6 billion in revenue for 2019 -- which is a 20% markup over Monday's close price. It's a somewhat tempered view when compared to Twitter's median price of $50 among analysts, according to Thomson Reuters.
Shares closed higher on Tuesday, gaining 1.4% to $35.63, on back of the upgrade, as well as a broader move in the markets which were aided by soothing comments from the Federal Reserve.
--Written by Jennifer Van Grove in San Diego, Calif.
>Contact by Email.