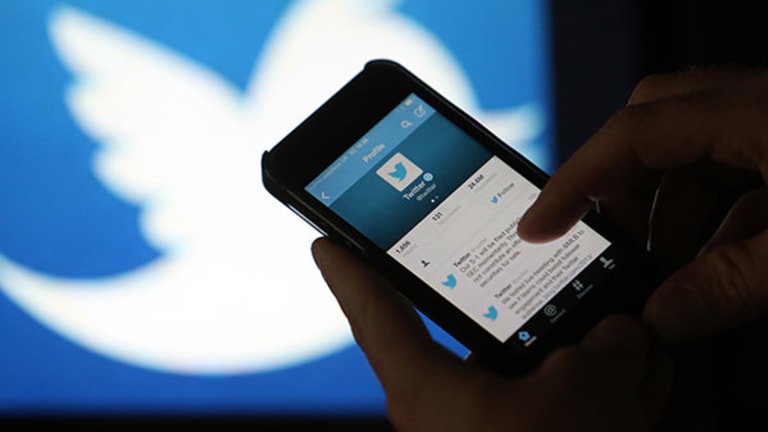 Twitter Earnings Preview: What Wall Street's Saying
Ahead of Twitter's second-quarter earnings release, analysts are largely bullish, and investors are watching several metrics closely, especially user growth.
NEW YORK (TheStreet) –– Twitter (TWTR) - Get Twitter, Inc. Report reports its second-quarter earnings after the bell, and investors are watching several metrics closely, especially user growth.
Twitter shares have fallen 8% in the last three months and 40% year-to-date, with investors wary that the social network's user base isn't growing fast enough. Last quarter, Twitter reported 255 million monthly active users, well below rival Facebook's (FB) - Get Meta Platforms Inc. Class A Report 1.3 billion during the same period.
User engagement has slipped: in the first quarter, Twitter saw 157 billion timeline views, down from 158 billion in the third quarter of 2013 despite adding 23 million users to the platform. The company has tried to convince investors that it still has strong growth prospects, notably by engaging users and advertisers during this year's FIFA World Cup, during which the company set several new tweet records.
Twitter has made several changes in the past quarter. Earlier this month, Twitter acquired CardSpring, a payments startup, to aid Twitter's growing e-commerce business. Twitter is reportedly testing a "Buy Now" button for mobile users as well. The hiring of ex-Goldman Sachs (GS) - Get Goldman Sachs Group, Inc. Report banker Anthony Noto as Chief Financial Officer and former Google (GOOG) - Get Alphabet Inc. Class C Report executive Katie Stanton as vice president of global media may also soothe worried investors.
Facebook's strong quarter also will be on the minds of investors. Analysts expected earnings of 32 cents per share on $2.81 billion in revenue. Led by strong mobile advertising revenues, Facebook earned 42 cents per share on $2.91 billion in revenue. Advertising revenue grew 67% year-over-year to $2.68 billion; mobile advertising revenue, which accounts for 62% of total advertising revenue, grew 41%.
Analysts polled by Thomson Reuters expect Twitter will lose a penny a share on $283.07 million in revenue. If Twitter meets expectations, it will have achieved 11% revenue growth from last quarter in addition to its third consecutive quarter of net losses, each since its IPO in November 2013. In the first quarter, Twitter exceeded expectations in losses per share by 3 cents and in revenues by 3.7%; however, guidance below consensus sent the stock plummeting.
Check out Jim Cramer's thoughts on why Twitter is a 'battleground stock':

WATCH: More videos from Jim Cramer on TheStreet TV | More videos from Jim Cramer
Here's what several analysts on Wall Street had to say:
Goldman Sachs analyst Heath Terry (Buy, $52 PT)
"Over the past quarter, Twitter has rolled out numerous enhancements around enriching media in timelines (photo sharing/tagging, photo editing tools, GIFs, video previews) as part of its ongoing efforts to develop Twitter as a more interactive and visual platform. Twitter has also rolled out multiple desktop product enhancements…We expect monetization growth to accelerate in 2014 given the enthusiasm we have seen in our checks with advertisers and channel partners. In particular, we believe the Promoted App ads rolled out commercially this quarter could drive incremental monetization; for example, if app install ads contributed approximately 30% of ad revenue at FB in 2013, this would translate to an immediately addressable $2bn opportunity in app install ads alone, compared to Twitter's $600mn in total ad revenue in 2013."
Cantor Fitzgerald analyst Youssef Squali (Buy, $40 PT)
"We expect TWTR to report strong results on Tuesday, 7/29, with total revenue growth of ~100% Y/Y, the fastest in the group, driven primarily by monetization gains. User growth (MAU) and engagement remain the biggest area of concern for us, given MAU's Y/Y growth deceleration to +25% and engagement declining 8% in 1Q:14. TWTR is up 20% since its post 1Q print though, and so for the stock to work from here it needs to show sequential improvement in user growth, in addition to strong P&L results, in our view…We're modeling for ad growth of 113.1% Y/Y to $257.8M in 2Q:14, continuing on the strength of 1Q:14's +125.5% Y/Y. Considering FB's strong 2Q:14 advertising performance (+67.4% Y/Y, +151% for mobile), we expect to see similar strength out of Twitter."
MKM Partners analyst Rob Sanderson (Buy, $55 PT)
"TWTR has very high activations, but also very high leakage after only a few tries. We see user growth improvement in two stages: (1) narrowing high attrition rates with gradual improvements, then (2) a substantial overhaul of user experience. We believe Stage 1 is underway and can have material impact. For illustration, reducing churn from 20% to 15% would double net monthly additions. Stage 2 is a large ambition, but could turn TWTR into a truly mass-market service i.e. 1Bn+ global users. We have 3-studies with over 6,000 cumulative respondents helping to shape our view on this. It's easy to forget that TWTR is a fairly new company and user experience is still a work in progress that has only recently become top priority. There is ample room for improvement."
Wunderlich Securities analyst Blake Harper (Hold, $35 PT)
"We expect Twitter, Inc. (TWTR) to report monthly active users (MAUs) in a range of 260-262 million, which is below the consensus of 267 million. Product and marketing changes to capitalize on the World Cup provided a boost to monthly active tweeting users (MAtUs) in the month of June to 126.9 million, which implies 1.1 million MAtUs were added during the quarter. We expect engagement and monetization to continue to be improving, which should help the company post strong revenues. However, we expect buy side and sell side expectations are still too aggressive on MAU growth and the company has struggled to meaningfully grow its user base."
Sterne Agee analyst Arvind Bhatia (Market Perform)

"Recent product changes (e.g., easier sign-up process, greater focus on rich media, etc.) designed to improve user experience, the benefit of the recently concluded FIFA World Cup in Brazil, and the hiring of a new CFO appear to have incrementally enhanced Twitter's positioning for the long term. We expect strong monetization and revenue/EBITDA upside. However, third-party data indicating a meaningful slowdown in user growth near-term give us pause. Reiterating Neutral...Third-party data are suggesting sequential user growth of only around 5M Q/Q, which is much lower than expectations of 11M to 14M. We are looking for monthly active users (MAUs) to be 11M Q/Q. "
Read More: Twitter or Facebook: Who Won the World Cup's Social Media Battle?
--Written by Laura Berman in New York
>Contact by Email.