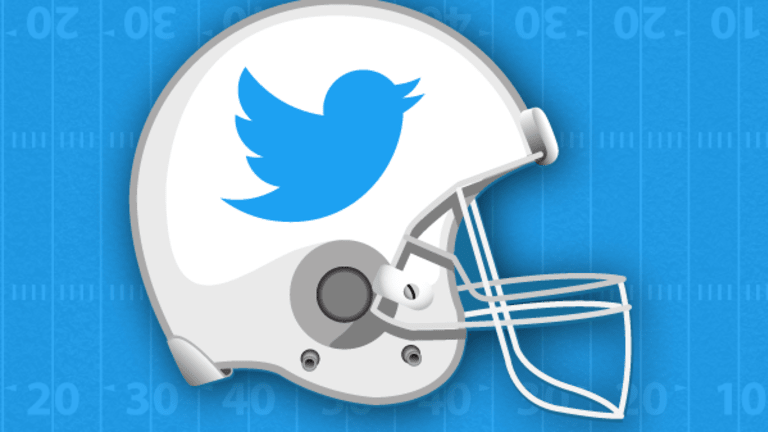 Twitter Could Really Use a Win in Its Final NFL Matchup
As the Giants square-off with the Eagles, the social media network looks to prove its video strategy.
The New York Giants aim to clinch a playoff berth Thursday night when they play the Philadelphia Eagles at Lincoln Financial Field.
Twitter (TWTR) - Get Report , which will stream the final game in its partnership with the National Football League, also has skin in the game.
The NFL streaming agreement is one of the highest profile of Jack Dorsey's tweaks to Twitter, however. It's an opportunity to put some points on the board with advertisers and to increase engagement with users.
The social media company's problems are mounting, and the NFL deal won't make them go away. High-level staffers continue to defect, with the exit of Chief Technology Officer Adam Messinger this week. The social network's has also struggled to grow its user base. The company added 4 million monthly average users in the third quarter to hit 317 million in total. The number topped expectations, but consider that Facebook's (FB) - Get Report Instagram added 100 million users to reach 600 million monthly average users in the last six months.
"At least from the few data points they provided earlier on it looks like engagement has continued to increase with the NFL live streaming," Mizuho analyst Neil Doshi said.
Twitter's biggest score came during the New England Patriots' 27-0 beatdown of the Houston Texans, which generated 719,000 tweets, retweets and other activity on the social network. Twitter said that 2.6 million viewers around the globe tuned in for at least 3 seconds with the screen open 100%.
The second most-tweeted game was the Dallas Cowboy's Dec. 1 victory over the Minnesota Vikings, which provoked 589,000 Twitter interactions.
In conversations with advertising agencies, Doshi said, the NFL deal had a kind of halo effect for Twitter.
"Some advertisers that maybe stopped talking to Twitter or were spending less with Twitter wanted to talk to them about the NFL and how to advertising around that," the analyst said. "Twitter used that entry to pitch them on other ad product."
Even if the deal turns out to be a victory for Twitter, continuing the success could be challenging.
"My guess will be that the NFL will expect a lot more money out of the next deal," Doshi said.
"Facebook is now getting very aggressive adding professional content. Youtube is getting aggressive about adding professional content," he added. Amazon (AMZN) - Get Report and Netflix (NFLX) - Get Report could also challenge Twitter for the contract.
Facebook is a holding in Jim Cramer's Action Alerts PLUS Charitable Trust Portfolio. Want to be alerted before Cramer buys or sells FB? Action Alerts PLUS Charitable Trust Portfolio
"You now have some significantly larger players who have much bigger pocketbooks who could come in and immediately come and take away strategic, big deals from Twitter," Doshi said.
The Giant's face a win-and-in scenario Thursday, advancing to the playoffs if they can dispense with the Eagles.
Twitter, which saw its shares dip 4% to $16.38 Thursday, has to notch a pretty hefty winning streak before it can uncork the champagne.