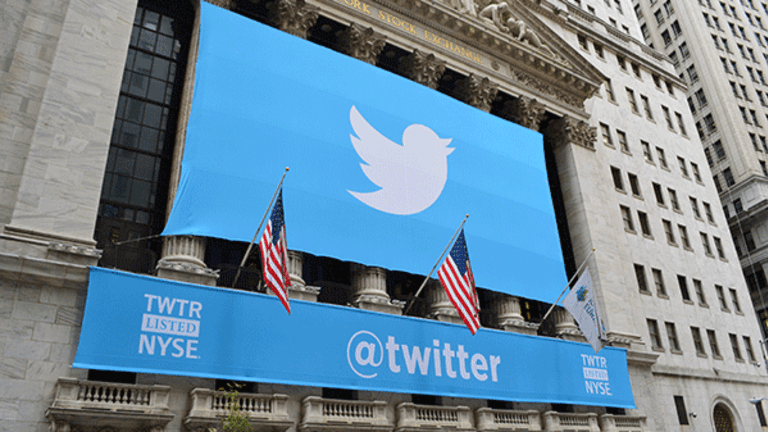 Twitter Beats First-Quarter Earnings Estimate, Sees Active User Growth Increase
Twitter posts better-than-expected first-quarter earnings Wednesday and says its user growth advanced firmly in the period.
Twitter (TWC) posted better-than-expected first-quarter earnings and said its user growth advanced firmly in the three-month period.
Twitter said earnings came in at 11 cents a share, much higher than the 2 cents consensus estimate, but down from 15 cents a share in the same period last year. Revenue was $548 million, the company said, firmly ahead of the $517 million estimate and down from $595 million in the fourth quarter of 2016.
"We're proud to report accelerating growth in daily active usage for the fourth consecutive quarter, up 14% year over year," said CEO Jack Dorsey. "We're delivering on our goal to build a service that people love to use, every day, and we're encouraged by the audience growth momentum we saw in the first quarter.
"While we continue to face revenue headwinds, we believe that executing on our plan and growing our audience should result in positive revenue growth over the long term," Dorsey said.
Twitter said its daily active users rate grew 14% in the first quarter, its fourth consecutive quarterly increase, and said it's made "meaningful progress toward identifying and removing accounts that demonstrate abusive behavior and, as a result, we're seeing less abuse reported across the service."
Twitter shares closed at $14.66 in New York on Tuesday after falling 0.34% on the session, extending the stock's year-to-date decline past 10%.  However, the stock was indicated as much as 11% higher in premarket trading.
Twitter has vastly underperformed its tech-sector rivals since unveiling their high-profile IPOs, with shares falling 64.8% since it floated in November 2013. Facebook , by comparison, has risen more than 283% since it started trading at just over $38 a share in May 2013.