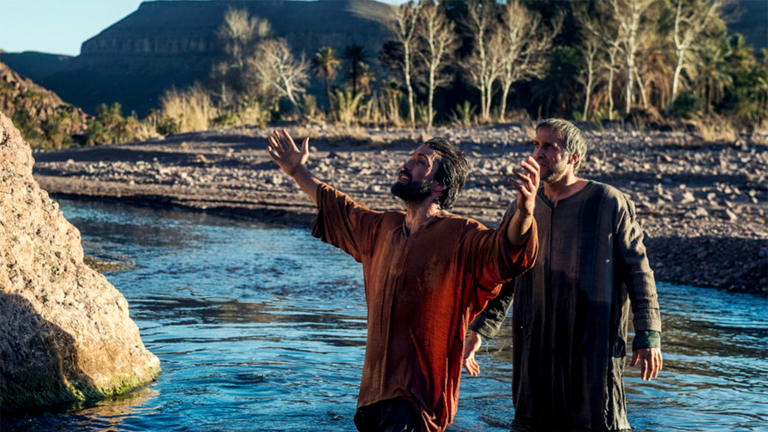 TV's Biblical Bet Comes Up Short
After the success of miniseries 'The Bible' two years ago, broadcast networks sought out more Bible-themed programming. But the promise of a large, built-in audience didn't materialize.
 LOS ANGELES (TheStreet) -- Turns out, religion on TV isn't a sure bet.
Two years ago, ratings-hungry broadcast TV networks were hunting for concepts that cold deliver strong, stable viewership, and came across a revelation: The Bible. The miniseries on History had been an eye-opening success, and appeared to offer networks the possibility of a sizable faith-driven audience that had also been complaining that the usual televised fare made them uncomfortable.
The notion that Christian- and religious-themed programs could be consistent winners on broadcast TV was embraced across the networks. But like many great plans, this one has hit a snag.
Last Friday, Comcast's (CMCSA) - Get Comcast Corporation Class A Report NBC canceled A.D.: The Bible Continues after a single 12-episode season. The show's underwhelming performance took NBC by surprise, considering that it was a New Testament sequel to The Bible, which had drawn a whopping 13.1 million viewers -- topping all TV, broadcast or cable -- when it premiered on Disney (DIS) - Get Walt Disney Company Report and Hearst's joint cable venture back in March 2013.
Part of the allure of the short-run series was the idea that it would become appointment viewing and earn higher ad rates. And initially, it looked like that might pan out. The first episode of A.D., from noted husband-and-wife production team Mark Burnett and Roma Downey, delivered 9.7 million viewers, according to Nielsen estimates.
But the series rapidly and steadily lost its audience, struggling to draw 3.6 million by its final episode. So why did a series with strong buzz and a built-in fan base fizzle?
Perhaps it just was not good enough, said Bob Hutchins, president of Franklin, Tenn.-based Christian marketing firm Buzzplant.
"There was an excitement and certainly an interest, but there's probably a fatigue over time after multiple episodes," Hutchins said. "Is it really worthy of prime time when there's lots of other competing things?" 
CBS (CBS) - Get CBS Corporation Class B Report, once home to the long-running Christian-themed series Touched by an Angel, and often considered the most Christian-friendly of the big four broadcast networks, also failed to get big numbers from Burnett and Downey's biblical tale The Dovekeepers. The two-part miniseries disappointed with 9 million viewers in its March 31 premiere, and followed up with just 6.4 million viewers the next night, the lowest-rated show among broadcasters in prime time.
The lesson learned is that Christians -- and the estimated 50 million to 65 million highly faith-driven conservative Christian consumers in the United States, according to Hutchins -- won't show up for any and everything biblical. It has be good programming on its own, Hutchins added.
"The mistake that Hollywood makes is they try to treat Christians specifically as a unique, alien market, that you've got to use the right words or phrases or treat them differently," Hutchins said. "The fact is, if you have a really good story and a really good quality production with really good actors, that's all people of faith want. It's no different than anyone else."
The Bible's success started a wave of Christian-themed shows, including Killing Jesus on Fox-controlled (FOXA) - Get Fox Corporation Class A Report NatGeo -- the cable network's best performing show with 3.7 million viewers -- and CNN's (TWX) docu-series Finding Jesus: Faith, Fact, Forgery.
But if religious prime-time programming has come up short in the ratings for broadcast networks, that's not a reason to expect Hollywood will call it quits. The TV and film industries have been placing bets that Bible stories are good business since the start, said Horizon Media research director Brad Adgate.
"There's and ebb and flow to this," Adgate said. "There has always been some sort of religious shows on prime time television."
It is just that when one hits, everyone notices -- and wants in on the action.
For example in film, Mel Gibson's The Passion of the Christ, despite not receiving major studio distribution or marketing muscle, grossed an R-rated record $370.3 million at the domestic box office in 2004.
By contrast, big-budget biblical epics Noah, distributed by Viacom's (VIAB) - Get Viacom Inc. Class B Report Paramount Pictures, and Exodus: Gods and Kings from Fox, were among last year's biggest box office disappointments.
Although, as Hutchins notes, TV networks cannot assume Christians will watch any biblical story in significant numbers, the demands of filling a major network's prime time schedule suggests there will always be a place for religious programming and the allure of The Bible-sized hit. 
Whether such shows will be a success is much harder to gauge.
This article is commentary by an independent contributor. At the time of publication, the author held no positions in the stocks mentioned.