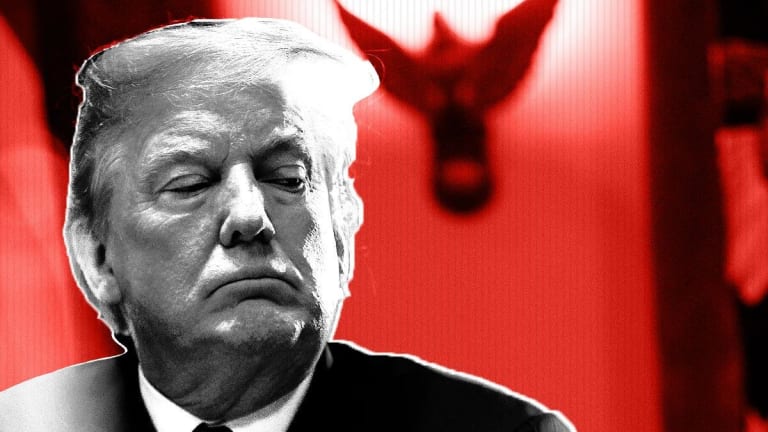 Trump Says Google Search Is 'Rigged' But That's Not Really How it Works
President Trump complained that Google Search is 'rigged', and insinuated the government could regulate Alphabet, Facebook and Twitter for alleged political bias. Alphabet's search ranking doesn't consider political orientation, but the issue isn't likely to die down anytime soon.
The latest target of President Trump's Twitter tantrums isn't a person. It's a computer algorithm.
It's Alphabet Inc.'s (GOOGL) - Get Report  Google Search algorithm, to be specific. In a tweet sent at 8:02 AM on Tuesday, Trump ranted that "they have it RIGGED, for me & others, so that almost all stories & news is BAD."
Later in the morning, he took aim at Big Tech more generally in comments to reporters at the Oval Office, saying: "I think that Google and Twitter Inc.  (TWTR) - Get Report and Facebook Inc.  (FB) - Get Report , they are really treading on very, very troubled territory and they have to be careful. It is not fair to large portions of the population."
President Trump's complaints surrounded what he views as bias against conservative news on the part of Alphabet, Facebook and Twitter. Although the three platforms surface content quite differently, Trump insinuated that the companies at large could be subject to government intervention for "hiding information and news that is good" as he put it in a tweet. 
In a statement, Alphabet clarified that Google search results do not take political orientation into account. "When users type queries into the Google Search bar, our goal is to make sure they receive the most relevant answers in a matter of seconds. Search is not used to set a political agenda and we don't bias our results toward any political ideology," the company said in the statement. "Every year, we issue hundreds of improvements to our algorithms to ensure they surface high-quality content in response to users' queries. We continually work to improve Google Search and we never rank search results to manipulate political sentiment."
That doesn't mean Google Search results are infallible, or even close: In fact, Google makes thousands of tweaks per year to its search algorithm, along with more extensive overhauls once every few months. 
"Since Google began, their search results depended upon an algorithm that identified documents containing relevant terms and ranked those documents according to the number of sites that pointed to them," explained Ellis Horowitz, a professor of computer science at University of Southern California. "Though Google has refined their algorithm many times, it is still based on the principle that quality results are determined by the community of web pages and who they link to."
A search result's relevance and authoritativeness are determined by a combination of links and terms within web pages, information's gathered by automated web crawlers that continuously index webpages. In addition, Google employs about 10,000 people to rate the quality of search results based on a 160-page set of guidelines that the company updates on an ongoing basis. Among other factors, human raters take into account "Expertise, authoritativeness and trustworthiness" (called E-A-T in the guidelines), with Google using numerous examples to illustrate the scoring matrix -- high E-A-T medical information should come from a credentialed health organization instead of a random Reddit forum, for example. In the case of news sources, the guidelines say that "High E-A-T news sources typically have published established editorial policies and robust review processes." They also include sections on how to deal with intentionally deceptive information and hate speech.
The ratings don't change the fundamental search algorithm, but among dozens of other factors, can affect how highly a result is ranked in a list of results. 
"I do not believe there is any built-in political bias to the way they rank their search results," Horowitz added.
White House economic advisor Larry Kudlow told reporters on Tuesday that the administration is "taking a look" at censorship on the web, though he didn't offer any specifics of how the government might seek to regulate Google search results.
The finer points of algorithmic search ranking might be lost on the Trump administration, but the focus on big tech and social media isn't likely to die down anytime soon. Jack Dorsey, the CEO of Trump's favored mouthpiece Twitter, and Facebook's COO Sheryl Sandberg are scheduled to testify before the U.S. Senate Intelligence Committee on Sept. 5 on issues of political bias and election interference.
Alphabet's stock was down 0.83% as of Tuesday closing, Facebook was down 0.68% and Twitter was down 1.1%.
Alphabet and Facebook are holdings in Jim Cramer's Action Alerts PLUS Charitable Trust Portfolio. Want to be alerted before Cramer and the AAP team buy or sell these stocks? Learn more now.