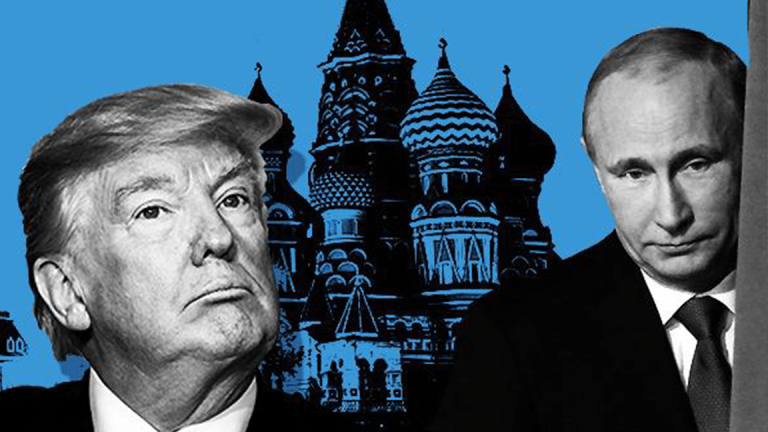 As Trump Courts Putin, Russia Is Shrinking Away from U.S. Economy
President Trump says he wants a better relationship with Russia and Vladimir Putin, with the leaders scheduled for a sit-down on Monday. But the reality is, investment and trade between the U.S. and Russia is tiny and shrinking fast.
President Trump's bromance with Russia's Vladimir Putin comes to a head on Monday, with the two scheduled for a sit-down in Helsinki after a stormy NATO summit.
The closely-watched duo are expected to discuss Russia's positions in Syria and Ukraine, nuclear arms control, and Russia's election meddling in the U.S. -- a subject that again came to the fore on Friday with the indictment of 12 Russian intelligence officers for hacking and stealing voter information by special counsel Robert Mueller.
Trump has regularly expressed a desire for better relations between the U.S. and Russia, most recently telling reporters in Britain this week: "I think that we have a chance to have a very good relationship with Russia and a very good relationship with President Putin. I would hope so."
But the reality, from an economic perspective at least, is that the U.S. and Russia have relatively little to do with each other. And that relationship is growing even chillier.
US-Russian Trade Is Probably Shrinking
When it comes to trade, the U.S. and Russia are as distant as two world powers can be.
"Since President Trump took office, the trade turnout between Russia and the USA increased by 17% ..But despite growing numbers, the U.S. remains the seventh largest trade partner for Russia with the total share equaling 3.4%. And the numbers are even smaller from the American side," said Dmitriy Frolovskiy, a Moscow-based political analyst. Russia ranks 30th on the list of U.S. trading partners, behind countries like Chile and the United Arab Emirates.
Top U.S. exports to Russia include transportation equipment, machinery and mechanical appliances according to the U.S. Department of Commerce. But Russia is also diving into the trade spat between U.S. and China, imposing their own set of tariffs on American goods.
This week, Russia's economic development minister said that import taxes ranging from 25% to 40% have been applied to U.S. products, mainly in equipment and manufacturing. While the impact on the U.S. economy may be relatively small, "the Kremlin takes the issue very seriously," Frolovskiy said. "Trump's protectionist measures might leave a serious impact on the Russian still-struggling economy and its trade relations with China, which is Russia's largest trading partner."
Russia Dumped Half of Its U.S. Debt
As of one year ago, Russia was the 12th largest holder of U.S. Treasurys. In April, they summarily dumped about half of those holdings, the most dramatic drop of any foreign country, and now hold about $48.7 billion. After his most recent inauguration, Putin signaled a desire to break from the U.S. dollar and bolster "economic sovereignty" in Russia as the U.S. slapped two rounds of sanctions in 2017 and 2018 on Russia, Russian individuals and companies in response to election interference and involvement in Ukraine and Syria. 
"The Russian government wants to show by all means that it is distancing itself from the U.S. and its financial system, and this is one of the reasons why the decision to dump U.S. debt holdings took place this year," Frolovskiy said. But there's a dissonance between what the Russian government wants and what Russian businesses want, Frolovskiy added, with Russian investors still interested in the booming U.S. economy.  
"Russian businesses have been and continue to remain interested in investing in the U.S. The American market is booming and there are lots of opportunities there, in particular for such companies as DST Global and in the hi-tech industry," Froloskiy said.
Russian Tech Money Raises Eyebrows
Despite any such designs by Russian investors, month after month of reports of Russian political meddling and disinformation campaigns waged on sites like Facebook (FB) - Get Free Report and Twitter (TWTR) - Get Free Report have soured Silicon Valley on Russian cash. 
Among Russian-linked tech investors, the best known is DST Global, led by billionaire Yuri Milner, who has poured millions into U.S. tech companies dating back many years. The fund originated in 2009, and received early backing from a Russian bank, VTB, and oligarch Alisher Usmanov, an influential partner in the fund as of 2009 according to a NYTimes report. In turn, Milner's DST Global bought up stakes in social media companies in their early days: among other investments, the fund invested $200 million in Facebook in 2009 and $400 million in Twitter in 2011. But as reports emerged over time of Russian bots running amok on U.S. social media, the hacking of the Democratic National Committee, and Russian-linked political ads spreading on both Facebook and Twitter, suspicion towards Russian capital and its influence in the U.S. tech sector reached a crescendo. The Russian bank that backed DST Global in its early days, VTB Bank, is now under U.S. sanctions.
Milner vigorously denied that DST Global's holdings in Facebook played any role in raising the Kremlin's influence on U.S. social media, lamenting in a 2017 public statement that "accepting funding from a Russian bank does not automatically make you a Kremlin agent. In reality, DST Global's investments in Silicon Valley were motivated by pure business logic."
DST Global has since divested from both Facebook and Twitter, and a spokesperson said the following in a statement: 
"Since 2009, DST Global has invested $7 billion in more than 30 companies globally. There was only one Russian-government backed financial institution that invested in any DST Global entities, and its cumulative passive investment, as a percentage of the total DST Global investments, was less than 5 percent."  
Regardless, given the current political climate, a distaste for Russian-linked capital in Silicon Valley may persist for a long time. 
"The situation is further aggravated by the general attitudes towards the Russian businesses within the United States itself, where Russian money is considered as affiliated with the Kremlin," Frolovskiy said. "I don't see any opportunities for Russian investments in the U.S. to increase." 
Facebook is a holding in Jim Cramer's Action Alerts PLUS member club. Want to be alerted before Jim Cramer buys or sells FB? Learn more now.