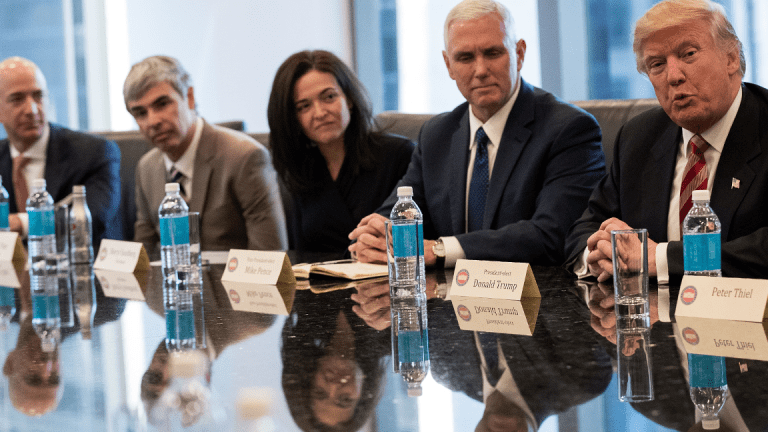 Trump Is Taking Antitrust 'Very Seriously' - What Does that Mean for Big Tech?
In an interview, President Trump says his administration is looking "very seriously" at antitrust issues around companies like Amazon, Facebook and Alphabet. Policy experts explain how antitrust enforcement of Big Tech could actually happen.
Big Tech is in the President's crosshairs again.
In a recent interview, President Trump said his administration was looking "very seriously" at the idea that companies including Facebook (FB) , Amazon (AMZN) and Alphabet (GOOGL) have gotten too big -- although he appeared to contradict himself throughout the course of the interview.
Speaking to Axios, Trump said: "I'm not looking to hurt these companies, I'm looking to help them. As far as antitrust is concerned, we'll have to take a look at that but I want them to do well." He also seemingly took issue with the European Union's regulation of big tech companies, saying that the EU "takes a lot of money out of our companies" and that it should be the United States, not the EU, placing regulations on tech.
On antitrust law specifically, the White House has no direct authority over the enforcement of such issues, which are principally handled by the Federal Trade Commission or the Department of Justice.
"The White House could certainly suggest to both agencies that they look at it, but the White House itself won't do anything," said Gigi Sohn, a fellow at the Georgetown Law Institute for Technology & Policy. "The gap between 'looking at' and 'doing something' can be very, very wide."
While Big Tech has a chorus of critics nowadays -- Congress has held a number of hearings this year around data protection, election interference and related issues -- major overhauls of antitrust law or enforcement may not be an immediate threat. But with a potential shift in power coming after Tuesday's midterm elections, a new Congress could take a stab at strengthening existing antitrust laws.
"Congress can definitely make it easier or harder for a company to win antitrust cases; they can change the burden of proof," Sohn said. In strengthening the government's hand in antitrust cases, Congress would be likely to have greater success should Democrats take control of the House and the Senate remain closely split between the two parties on Tuesday, she added.
"Shoring up antitrust and giving increased scrutiny to these companies is definitely on the Democrats' agenda," Sohn said.
Sally Hubbard, an antitrust expert and former Asst. Attorney General in New York State's Antitrust Bureau, added that state attorneys general could be motivated to kick. On Sept. 25, the Department of Justice convened a meeting with legal officials from 19 states broadly focused on tech companies' power.
"I wouldn't be surprised if there was at least an investigation started, either by state attorneys general banding together or the federal government, but these things do take time," Hubbard said. "[The Sept. 25 meeting] was even more of an indicator that we could see movement coming from the state AGs."
Wherever antitrust enforcement of tech comes from, there may have been another agenda entirely in Trump's comments to Axios: Simply keeping tech companies on their toes, according to Sohn.
"I think what's going on here is Trump wants to keep these companies guessing," she added.
Facebook, Amazon and Alphabet are holdings in Jim Cramer's Action Alerts PLUS member club. Want to be alerted before Jim Cramer buys or sells these stocks? Learn more now.
Make Money on Closed-End Mutual Funds. TheStreet's Robert Powell recently hosted an all-star panel of experts who explained everything you need to know on closed-end mutual funds, and often-overlooked investment class. Click here to register and watch for free.