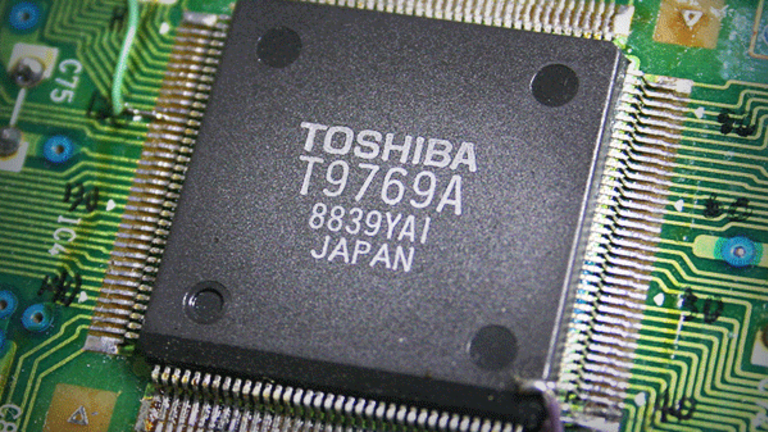 Toshiba Stock Jumps on Chip Arm Spinoff Speculation
Canon, Tokyo Electron, Permira, Bain have reportedly emerged as potential investors in Toshiba's chip business.
Toshiba (TOSYY) was the biggest gainer in Tokyo Monday on reports the Japanese electronics-to-nuclear conglomerate is attracting interest for investments in its semiconductor business that it plans to spin off as it seeks paths to rebuild a business mired by accounting scandals and cost overruns.
Shares in the Tokyo-based company closed Monday up 9% at ¥268.9, although it has lost nearly 40% in value over the past month.
Japanese media reported late Friday that about ten companies have expressed interest in investing in the semiconductor business that Toshiba plans to spinoff to boost its fragile capital that could be eroded partly by greater-than-expected write-downs on a newly acquired U.S. nuclear unit. Toshiba's shareholder capital stood at ¥363.2 billion ($3.2 billion) at the end of September 2016, down by a third from the year ended March 2015.
Parties interested in investing in the chip business include not only Japanese technology peers such as Canon (CAJ) - Get Free Report , TokyoElectron (TOELY) but also investment funds such as Permira Advisers and BainCapital, according to the Japanese daily Asahi Shimbun. WesternDigital (WDC) - Get Free Report has also been named as a potential investor. Toshiba expects to secure several hundreds of billions of yen by spinning off its semiconductor business and establishing a new company.
The semiconductor business is one of the few bright spots for Toshiba, and is one of the main reasons it revised up its earnings several times for the ongoing year. In the first half, the storage & electronic devices solutions segment saw operating profit margin advance 9.8%.
In its latest upgrade, Toshiba pointed to robust demand and higher-than-expected selling prices for memories and hard disk drives. The company currently expects bottom line profit of ¥145 billion on revenue of ¥5.4 trillion for the year ending March 2017 after booking losses for two consecutive years. 
But these upgrades were announced before the company admitted in December that losses resulting from the acquisition of  CB&I Stone Webster would be much greater than expected. 
Meanwhile, Toshiba said on Friday that its U.S. unit Westinghouse cancelled its acquisition of Nuclear Logistics, a U.S.-based nuclear power plant components maker, and that it had instead signed an agreement with Nuclear Logistic's parent, Fort Worth, Texas-based AZZ (AZZ) - Get Free Report .
Toshiba had announced the acquisition in October 2016 without disclosing any value, saying it was aimed at expanding its nuclear services business. The acquisition would have involved Westinghouse acquiring Nuclear Logistics employees and two plants in Texas.
While Toshiba has yet to define the degree of cost overruns at its CB&I Stone Webster unit it acquired in 2015, the Japanese media has reported the figure to come to between ¥300 billion to ¥700 billion ($2.6 billion to $6.2 billion), much higher than the company's initial estimate of $87 million.