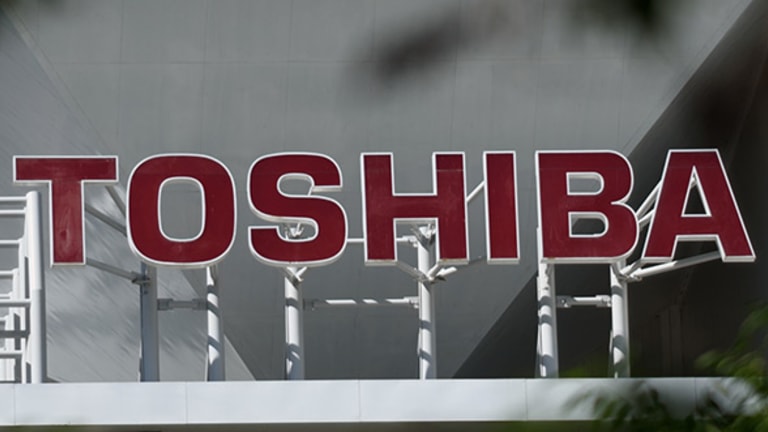 Toshiba Rides Smartphone Wave as It Tries to Escape 2015 Accounting Scandal
Japanese consumer electronics maker Toshiba upgrades first-half earnings for a third time this year as investors prepare for the November earnings report.
Toshiba (TOSYY)  appears determined to ride the current smartphone wave as the Japanese TV and PC maker tries to erase the shame of a devastating accounting scandal that claimed its former CEO and resulted in multi-billion dollar losses.
The Tokyo-based company lifted its first-half earnings outlook for a third time this year Monday, saying it had succeeded in setting selling prices for smartphone memories at greater-than-expected levels thanks to ongoing strength in demand. The revision included a 35% upgrade to its net profit outlook. Toshiba will report second quarter earnings on November 11.
The product line for Toshiba, a supplier to Apple (AAPL) - Get Apple Inc. Report, includes SD cards and USB flash drives, among other memory products for smartphones and cameras. Apple is held in Jim Cramer's charitable trust Action Alerts PLUS. See all of his holdings here.
The upgrade comes less than six months within the company reporting its worst-ever consolidated net loss of ¥460 billion ($4.4 billion), which came after booking restructuring costs, writing down asset values, and reducing deferred tax assets. Toshiba has been struggling to reclaim its position as a leading consumer electronics maker since its July 2015 accounting scandal that resulted in the resignation of former CEO Hisao Tanaka.
Under new CEO Satoshi Tsunakawa, the company has taken steps to reform its businesses, with its focus on turning around the PC, visual products and home appliance businesses. In January, Toshiba said it would consolidate some divisions to realize new Internet of Things-related businesses.
Toshiba announced the earnings upgrade at the beginning of afternoon trading in Japan. Shares in the company closed up 0.5% at ¥381.00. The stock has advanced 12% in the last 12 months and is now trading at levels last seen scandal first surfaced.
Monday's earnings upgrade may partly reflect a strengthening momentum in the global smartphone market, which despite some concerns of a contraction, has enjoyed growth so far this year and is likely to keep expanding for the foreseeable future. A part of the boost comes from greater presence of smaller players that are releasing cheaper devices.
The company also attributed the optimism to continued robustness in hard disk drives for PCs and game consoles, which had also led to higher-than-expected selling prices. It also reduced costs, brought forward sales of some products, and enjoyed solid performances in the nuclear power, and thermal and water power businesses.
For the six months through September 30, Toshiba now calls for net profit ¥115 billion on sales of ¥2.58 trillion, up from its September guidance of ¥85 billion and ¥2.55 trillion, respectively. It also upgraded its operating profit outlook to ¥95 billion from ¥70 billion, and pretax profit to ¥65 billion from ¥30 billion.
In the second quarter of 2016, global smartphone sales grew 4.3% year on year, according to research firm Gartner, with five of the top ten vendors worldwide enjoying expansion. Apple and China's Xiaomi lost market share, while Samsung and Huawei added presence.
Meanwhile, the global smartphone market is estimated to expand by 5.7% year-on-year to reach 1.5 billion units in 2016, and to advance by a compound annual growth rate of 6% to reach 1.92 billion units in 2020, according to IDC Research.
The IoT market is estimated to swell by more than 130% between 2015 and 2016, according to Statista. 
Last week, the CEO of STMicroelectronics, a Geneva-based chipmaker, said it wants to be "more present" in flagship smartphones, a market which may be volatile but huge in volume.
In Monday's announcement, the company said that while some businesses were faring well, others may need additional reforms to return to the black.