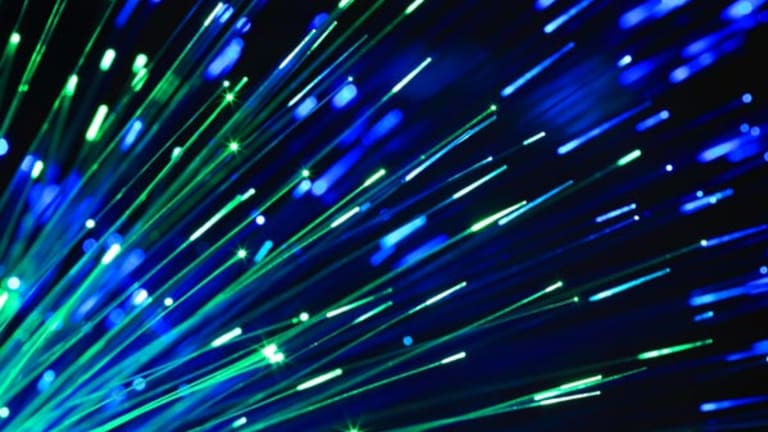 Top Tech Toys for 2011
<I>TheStreet</I> scoped out this year's Toy Fair in New York City to highlight some of the best new, tech-related products.
NEW YORK (
) -- Tech toys were one of the highlights of Toy Fair 2011 in New York City, which saw lots of classic playthings like board games and boomerangs updated with cutting-edge technology.
Mattel
(MAT)
spiced up its traditional Ken doll with a microphone that plays back up to five seconds of recorded sound, while
Hasbro
(HAS)
introduced new versions of
Monopoly
and
Battleship
that contain infared cameras that scan the gameboard to keep track of play.
(That's toy company TOSY's newest iteration of Topio below, a ping-pong playing robot.)
Jakks Pacific
(JAKK)
took a cue from a popular iPhone music app and is releasing an actual microphone that makes you sound like the rapper T-Pain while singing into it.
Other top tech trends at this year's Toy Fair include games that incorporate social elements (like those that work with apps), toys focused on science and engineering (like model-building) and playthings that include motion-sensor technology.
TheStreet
combed the 100,000-plus products on display to bring you some of the best tech-related toys from the event. Read on.
TOSY Robotics' Alien's Flying Object
Age Range: 5 and Up
Price: N/A
The Alien's Flying Object (or AFO) is like a standard boomerang -- only cooler. Bright colors light up the toy when it launches into the air, and it returns exactly from where it was thrown.
TOSY Robotics, headquartered in Vietnam, focuses on producing high-tech takes on traditional toys. The FRIING is a Frisbee with lights that looks similar to the main weapon in the recent film
Tron: Legacy
, and the TOOP is a glow-in-the-dark motorized top.
TOSY is best known for the Topio, a ping-pong playing robot that debuted in 2009. Topio uses artificial intelligence to continuously improve its game against humans.
While TOSY is popular in parts of Asia and Europe, its appearance at the Toy Fair marks the company's first foray into the U.S. market.
Mattel's Fisher-Price Laugh & Learn iCan Play Case
Age Range: 6 Months and Up
Price: $14.99
The iCan Play Case by Fisher-Price helps make your iPhone baby-friendly. The case, which looks like a crib toy with rattle rings and teething handles, defends against potential damage caused by children playing with their parent's phone.
The case, set to be released this summer, is safe for babies as young as six months.
Fisher-Price is also launching three different iPhone apps for babies:
Animal Sounds
,
Where's Puppy's Nose
and
Let's Count Animals
, which like many other iPhone apps, can be controlled via finger taps, swipes and shakes.
OWI's Salt Water Fuel Cell Car
Age Range: 8 and Up
Price: $15.95
OWI, which focuses on creating eco-friendly toys, has created a toy car that runs exclusively on salt water. To operate the Salt Water Fuel Cell Car, kids place a salt water mixture within the car; the water powers the toy for up seven hours continuously.
OWI, based in Carson, Calif., has produced other toys that run on renewable energy, including a train set powered by a solar panel and a miniature cyclist that uses wind power to pedal.
Mattel's Fisher-Price Kid-Tough See Yourself Camera
Age Range: 3 and Up
Price: $69.99
The See Yourself Camera is the newest version in the toy manufacturer's Kid- Tough Digital Camera line. A digital camera designed especially for children ages three years and up, the product can survive drops and throws. It features easy-to-use controls, a built-in auto flash and a color LCD preview screen that lets kids see the pictures they've taken instantly. It also has a USB connection that lets children download, print and e-mail their photos.
The See Yourself Camera has a rotating lens so that preschoolers can take photos and videos of themselves and add digital rubber stamps to their photos.
Robotis' Bioloid Kit
Age Range: 15 and up
Price: $1,199
Robotis' Bioloid Kit lets users build their own programmable robots. Robots can be designed to look like 26 different types of creatures including humanoids, spiders, dinosaurs and puppies. The package includes step-by-step directions with images that help guide kids as they build.
The robots, which use distance and sound sensors, can be programmed to dance, fight and respond to human touch. (
TheStreet
saw the humanoids perform to
Kung Foo Fighting
.) The robodog can also be set to get up and sit down when it hears claps.
--Written by Olivia Oran in New York.
>To follow the writer on Twitter, go to
.
>To submit a news tip, send an email to:
.