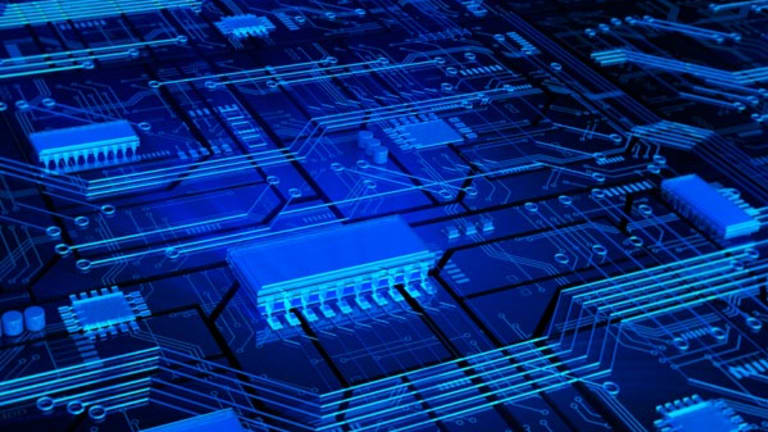 Top Security Stocks for 2010
Hackers may strike fear into the heart of corporate America, but these four companies spell upside for investors.
NEW YORK (
) -- As illustrated by
Google's
(GOOG) - Get Alphabet Inc. Report
recent network security struggles in China
, hackers -- and subsequent network outages -- strike fear and uncertainty into the heart of corporate America. That means upside for cybersecurity stocks like
McAfee
( MFE),
ArcSight
(ARST)
,
Sourcefire
( FIRE) and
Check Point
(CHKP) - Get Check Point Software Technologies Ltd. Report
.
From Washington to Wall Street,
organizations are under increasing pressure to lock down data
, thanks in part to the
massive denial-of-service attack
that targeted Web sites in the U.S. and South Korea last year.
Even
the government, which recently appointed its first cybersecurity tsar
, is expected to increase spending on IT security from $7.9 billion in 2009 to $11.7 billion in 2014.
As IT spending continues its rebound
, here the handful of security software stocks to keep an eye on.
McAfee
McAfee blew past analysts' fourth quarter sales estimates
last week and met Wall Street's profit forecast. The Santa Clara, Calif. firm also issued bullish first-quarter guidance and announced a $500 million stock repurchase program, paving the way for M&A activity.
McAfee is one of TheStreet's top tech picks for 2009
and has been on a mission to claw share from arch-rival
Symantec
(SYMC) - Get Symantec Corporation Report
. So far, it seems to be working.
"We increased market share in all four quarters
of fiscal 2009," said CEO Dave DeWalt during a conference call after market close on Thursday. "
2009 revenue reached $1.9 billion, an increase of 20% over 2008."
De Walt refused to divulge specifics of the company's acquisition plans, but the company has been ramping up its network security strategy, most notably through its $413 million purchase of
Secure Computing
.
"The core anti-virus business that they have is not growing that quickly; the growth area is network security," Michael Walker, technology investment analyst at asset management firm W.P. Stewart, told
TheStreet
. "I think they will keep looking at the network side."
Walker, whose firm has a position in McAfee, said that he is pleased to see the software specialist clinching bigger deals.
"This was the first quarter that they have had over 100 deals of more than $500,000," he said. "And they reported 33 deals over $1 million."
ArcSight
Though Hardly a household name,
ArcSight is the rising star of I.T. security
.
ArcSight sells devices for monitoring security threats across networks and data centers and touts its neutrality as one of its key strengths, enabling the firm to work with a vary of tech heavyweights. These include
EMC
(EMC)
,
Juniper
(JNPR) - Get Juniper Networks Inc. Report
,
IBM
(IBM) - Get International Business Machines Corporation Report
and
Cisco
(CSCO) - Get Cisco Systems Inc. Report
.
As one of TheStreet's breakout stocks
, ArcSight posted revenue of $136.2 million in fiscal 2009, up from $101.5 million in 2008 and just $15.3 million in 2004. During its recent second-quarter results, the company also grew sales by almost 40% compared to the prior year's quarter.
Last October
ArcSight outlined plans to boost its operating margin
during its first-ever analyst day and is expected to
continue its growth trajectory in 2010
.
The Cupertino, Calif.-based company is looking to increase its international sales over the next few years, as well as tap into increased government spending on cyber security. ArcSight also expects a major revenue boost from U.S. government stimulus packages for smart energy grids and
.
With a market cap of just over $830 million, there has even been
speculation that ArcSight would make an attractive acquisition
for a tech bellwether such as
Hewlett-Packard
, although the company has reiterated its desire to remain independent.
It has been suggested that ArcSight's strengths are already reflected in its stock. The company nonetheless has a P/E ratio of 67.33, far outstripping Symantec, McAfee and Check Point -- second only to Sourcefire on this list.
Sourcefire
With strong links to the U.S. Government, security software maker Sourcefire is in a great position to ride the federal spending wave. Buoyed by its recent strong fourth quarter, the company is also expected to boost its enterprise business.
"As we think about 2010, we continue to be very positive on the Sourcefire story as we expect the company to continue to experience solid growth from cybersecurity and accelerating growth in its commercial business," wrote Stifel Nicolaus analyst Weller.
Sourcefire has already been an acquisition target
for
Barracuda Networks
and Check Point, with the latter running into intense political opposition. Sourcefire's Snort intrusion detection technology is widely used in the U.S. intelligence community, prompting Washington lawmakers to cite national security concerns about a possible Sourcefire sale.
The Columbia, Md., firm has nonetheless thrived as an independent entity.
Shares of the software specialist climbed more than 250% during the last year, although it dipped slightly in the last few weeks. This could spell good news for investors, according to Weller.
"The recent significant pullback in Sourcefire shares leads us to continue to be positive on the stock," he wrote, reiterating his buy rating for the company. "We believe that strong fourth-quarter 2009 results and another likely meaningful upward revision to Street estimates represent catalysts for the stock in the near term."
Check Point
Check Point is a top mid-cap stock
for 2010. The network security specialist recently posted record fourth-quarter results and the company has said that it is optimistic about this year.
The Israeli firm, which bought
Nokia's
(NOK) - Get Nokia Corporation Sponsored American Depositary Shares Report
underperforming security appliance business
in late 2008, counts all
Fortune
100 companies among its customers, and its stock has risen more than 40% in the last 12 months.
Despite this growth, at least one analyst urges investors to approach Check Point with caution.
Stifel Nicolaus analyst Todd Weller recently downgraded the company from buy to hold, explaining that Check Point's valuation has returned to normal levels.
Check Point is also up against some big-name competitors such as
Cisco
undefined
and
Juniper
(JNPR) - Get Juniper Networks Inc. Report
, not to mention
Fortinet
(FTNT) - Get Fortinet Inc. Report
.
There are nonetheless positives for Check Point in 2010, according to Stifel Nicolaus' Weller.
"
The company should experience some benefits in 2010 from the hardware/network refresh cycle," he wrote. "
And there has been a positive structural change in Check Point's organic growth driven by a higher mix of appliance sales."
-- Reported by James Rogers in New York
RELATED STORIES
>>McAfee, Bullish, Beats Q4 Estimates
>>Obama: Tech Security a Key Priority
>>Tech Hitting the M&A Trail
Follow James Rogers on
and become a fan of
TheStreet.com
on