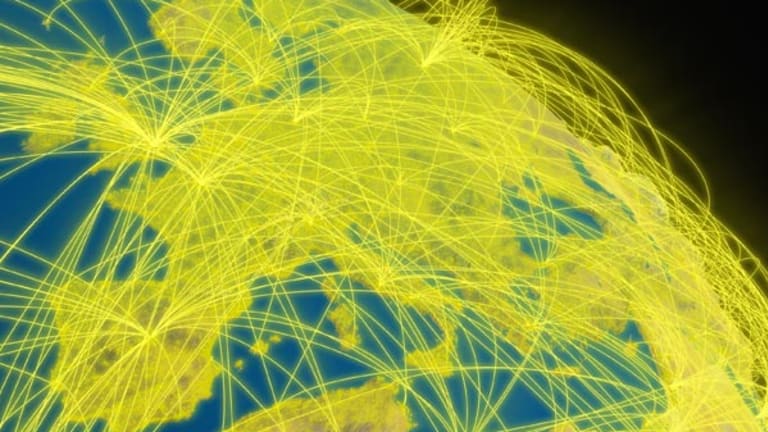 Top 4 Tech Trends for 2011
Tablets in the boardroom and growth of cloud security -- just two of the top tech trends to watch next year.
NEW YORK (
) -- It was a busy, rollercoaster year for the technology sector, marked by
enterprises' return to tech spending
, a slew of M&A in storage and security,
Cisco's
(CSCO) - Get Cisco Systems, Inc. Report
and, lest we forget, the debut of
Apple's
(AAPL) - Get Apple Inc. (AAPL) Report
, which juiced the over-promised/under-delivered tablet market.
"I think that 2010 was the year when everyone was surprised at how the iPad went," said Andy Mulholland, global CTO of consulting firm
Capgemini
, adding that users are now exploring the devices' full potential. "It still surprises me the number of people that say 'we have iPads and we want to know how we can do more with them.'"
After conquering the consumer market, tablets are now gearing up to launch a major assault on the corporate sector.
Other key trends for 2011 include an enhanced, corporate-tinged version of social media, a renewed focus on storage and, an overhang from this year, cloud computing security.
"Cloud computing is going to be part of our reality," Mario Leone, CIO of technology distributor
Ingram Micro
(IM)
told
TheStreet
. "That's something that most CIOs will have to grapple with."
"I think that most people thought that the cloud compute
market would move faster, but I think that a lot of the infrastructure was not there," said Jim McCluney, CEO of switch specialist
Emulex
(ELX)
. "These transitions always take longer than people think, but, in 2011, we will see a lot of the momentum there."
Read on for more details about next year's tech trends and what companies are best positioned to exploit them.
Tablets' Corporate Takeover
Handing out the iPad to employees --
JP Morgan's
(JPM) - Get JPMorgan Chase & Co. (JPM) Report
,
SAP's
(SAP) - Get SAP SE Sponsored ADR Report
doing it, and so are a host of
.
Apple itself says that more than 65% of the Fortune 100 has deployed or is testing its tablet technology.
"What has been interesting to me is how many business users have adopted the tablet," Eric Openshaw, vice-chairman and U.S. technology leader at
Deloitte
told
TheStreet
. "If you walk into a meeting with a laptop, it feels like an intrusion when you open the lid.
But a lot of executives have figured out that with a tablet, you can have everything laid out in front of you in a non-intrusive way."
A recent study by enterprise mobility specialist
Good Technology
found that iPads are most widely deployed in the financial services, technology and healthcare sectors. Analyst Ted Schadler of
Forrester
is convinced that tablets will displace laptops and replace clipboards and paper in offices. A construction manager can now carry an iPad instead of a tube full of drawings, he noted. "It also applies to clinical testing in the pharma industry, facilities inspections by quality assurance pros, and insurance brokers writing business out in the field," said Schadler.
Forrester held more than 200 conversations with IT professionals about iPads and other tablets between January and October, according to Schadler, who noted "incredible" interest in the technology. "We talk to people every day who are deploying iPads in pilots or experiments," he said.
Unsurprisingly, Apple's App Store offers a slew of business apps for download, such as MyCRM for iPad, a customer relationship management program, and ebillbook, designed to help firms manage sales and customers.
And though
Apple is the tablet market leader,
it won't stand alone in the fight to win over business customers; both
Cisco
(CSCO) - Get Cisco Systems, Inc. Report
and
Research In Motion
(RIMM)
will launch enterprise-focused tabs early next year.
Cloud Security
We all know that cloud computing, essentially Internet-based computing and storage -- is an important initiatve for tech's big hitters like
Microsoft
(MSFT) - Get Microsoft Corporation (MSFT) Report
and
IBM
(IBM) - Get International Business Machines (IBM) Report
. But greater adoption of the cloud will come only as customers are reassured that cloud computing -- which entails external management of secure data, services and information -- is secure.
Cloud security, a burgeoning market, is set to open up a major revenue stream for Silicon Valley. Forrester estimates that the cloud security market could be worth $1.5 billion by 2015.
Driving this subset of the cloud market is HP, which last year unveiled Cloud Assure, a mixture of software and services focused on ensuring that cloud-based data is not compromised. Rival IBM is also getting in on the act, and is heavily involved in the European Union's Trustworthy Clouds project.
Service providers will also turn to traditional security technologies from
Symantec
(SYMC) - Get Symantec Corporation Report
and
Intel's
(INTC) - Get Intel Corporation (INTC) Report
McAfee
(MFE)
to protect their clouds, said Richard Wang, a manager at security research specialist
SophosLabs
. "It's going to be a lot about intrusion prevention, data loss
prevention and encryption. "I think that cloud security is going to come to the fore."
"This is a big deal," said David Gee, HP's vice president of worldwide marketing. "You want to be able to design and test, not just for quality and performance of an application in the cloud, but also for security and potential defects."
Social Media Goes Corporate
Social networking is no longer just for keeping up with friends and business contacts. As more corporations continue to adopt
Facebook
and
Twitter
-like tools to try and boost and enhance productivity, 2011 will become the year in which social service providers start to make big bucks for their services.
"We think that this is the year when companies really start to monetize social media," said Deloitte's Openshaw. "We're seeing a lot of movement in that area."
Tech heavyweights tapping this trend include Microsoft, whose Sharepoint is widely used for sharing corporate data, and cloud specialist
Salesforce.com
(CRM) - Get salesforce.com, inc. Report
, which has said that its Chatter social networking technology -- used by about 60,000 customers -- accounts for almost three-quarters of the company's total paying customer base.
Salesforce.com CEO Marc Benioff described Chatter as the largest enterprise social network in place today during the conference call to discuss the company's recent third-quarter results. New customers for Chatter include Amazon,
Motorola
(MOT)
and
Bank of America
(BAC) - Get Bank of America Corp Report
.
Even Cisco's hitting the trend. Its
offering -- a Web-based collaboration platform that supports video sharing, Web chatting, blogging and document-sharing -- has been in beta testing for more than a year. (Quad should hit the market sometime late next year.)
"This year, I think that you're going to see major players in services moving to that collaboration model," said Openshaw. "Let's say, for example, there's a service issue on a printer -- the normal way to solve it is to call the people that sold you the printer
but what if there were crowd-sourcing? You're sharing that information in an open environment."
Storage Gets Sexy?
Dull but desperately important in the data center, storage had a banner year, marked by a
frenzy of big-name M&A
and growing interest in
, which is set to trend big next year.
is a data storage device that uses memory chips and contains fewer moving parts that traditional hard disk drives. More importantly, SSDs offer faster data access speeds than traditional hard disk drives at a time when most companies are drowning in data.
Companies like EMC, IBM and
Sun
/
Oracle
(ORCL) - Get Oracle Corporation Report
, have all recently deployed the technology. In October, Apple even added SSD storage to the new MacBook Air,
that the storage will be introduced across the entire MacBook line.
Flash memory giant
SanDisk
(SNDK)
has also been
, noting that it makes up the company's second-largest market after mobile handsets and devices.
Not everyone, however, is so bullish on the technology's prospects. "It's expensive -- the cost has to come down for SSD to really take off," said Vanessa Alvarez, an analyst at Forrester. "
But it might take off in some niche verticals like oil and energy and media and entertainment, which have very intensive data use."
Storage investors will also be watching to see if the sector has another banner M&A run like it did this year, which saw deals like HP's acquisition of
3PAR
(3PAR)
,
Dell's
(DELL) - Get Dell Technologies Inc Class C Report
of
Compellent
(CML)
and
.
Forrester's Alvarez is not
. "I think that the big guys are done consolidating, I think that they have made their acquisitions," she said. "Cisco needs to do something in that space, but I don't think that they are ready."
--Written by James Rogers in New York.
>To follow the writer on Twitter, go to
http://twitter.com/jamesjrogers
.
>To submit a news tip, send an email to: