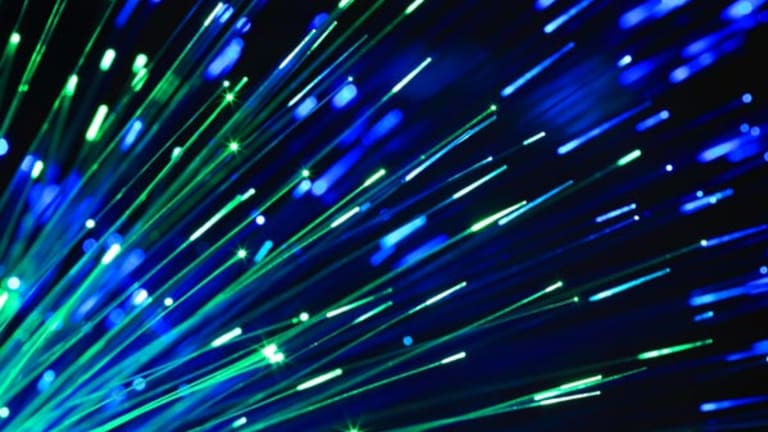 Top 4 Mobile Carriers' Pricing: Lots of Tiers
The wireless industry is approaching a 4G crossroads where those simplified unlimited plans may end in tiers.
NEW YORK (
) --
Verizon
(VZ)
has all the pieces of its 4G offensive in place: 10 devices, 38 cities ... everything except the data plan prices.
The so-called 4G Long Term Evolution network promises desktop Internet speeds on mobile devices. This is a transformative an event in modern communications -- not unlike 3G or even 2G, when they first rolled out.
With each upgrade there's an opportunity to rewrite the pricing playbook.
Telcos tend to have two approaches: One price or many prices. Will it be the $50 all-you-can-eat buffet or will it be the taqueria menu where every ingredient has a price?
At the Consumer Electronics Show earlier this month, Verizon showcased some of the
biggest muscle phones in the world
to
. But missing from the big mobile shop's splashy message was just how much people were going to get soaked on the monthly charges.
Industry observers expect 4G to be a turning point where some unlimited plans will be abandoned as tiered pricing takes over. For the telcos, faster speeds will be a marketing advantage and a key distinction as exclusivity ends on iconic phones like the
Apple
(AAPL)
iPhone.
Captured in the following slides, here are the current data plans from the big four carriers.
Verizon
Verizon ditched its unlimited 3G plans Tuesday -- except for users of the new Verizon iPhone, who will get unlimited data for $30 -- and has been elusive on 4G pricing, with CEO Ivan Seidenberg telling investors and analysts that the company will probably offer a wide variety of plans for different devices and different users. Read: Lots of tiers.
The big risk is that Verizon could mishandle the 4G pricing and turn customers away, or in some way diminish its image broadband pioneer.
"We are confident that the Verizon network advantage will be more of a differentiator in 2011 and beyond," Verizon CFO Fran Shammo told analysts during an earnings presentation Tuesday.
AT&T
AT&T
(T)
hasn't helped Verizon hold a clear advantage lately. Ma Bell has started calling its HSPA-Plus network a 4G technology. The low-cost upgrade by AT&T helped the company keep its prices the same during this dubious generational transition.
But AT&T has its own LTE network upgrade in the works and is expected to launch the service in the latter half of the year. AT&T is expected to consider tiered pricing that would allocate not just quantity, but also the speed of your service, according to documents
published by Boy Genius Report
Friday.
Sprint
Sprint
(S)
has been the standout in unlimited pricing as other telcos embrace the tiered approach.
Sprint introduced its WiMax 4G network last year and started charging a $10 a month premium data fee to owners of the
HTC
EVO 4G phone. Sprint will make that $10 extra charge permanent on all 4G devices starting Feb.1.
Sprint says it's sticking with unlimited even as rivals ponder the pricing variety of tiers. "Our unmatched spectrum resources allow Sprint to continue to provide simple and affordable unlimited plans for its customers and a rich, unlimited data experience that is differentiated from our competitors," says a company representative.
Unlimited has some limits at Sprint however. Users that exceed 5 gigabytes a month will be contacted by the company to "take steps to ensure they are in compliance with the terms of the agreement," says the rep.
T-Mobile
The No. 4 carrier has also adopted AT&T's strategy of naming its HSPA-Plus network 4G. T-Mobile, a unit of
Deutsche Telekom
(DT)
, has what it calls an unlimited plan, but if you exceed 5 gigabytes of "unlimited" data consumption in one month, your service could get downgraded to a 2G or lower speed for the remainder of the month.
--Written by Scott Moritz in New York.>To contact this writer, click here: Scott Moritz, or email: scott.moritz@thestreet.com.To follow Scott on Twitter, go to http://twitter.com/MoritzDispatch.>To send a tip, email: tips@thestreet.com.