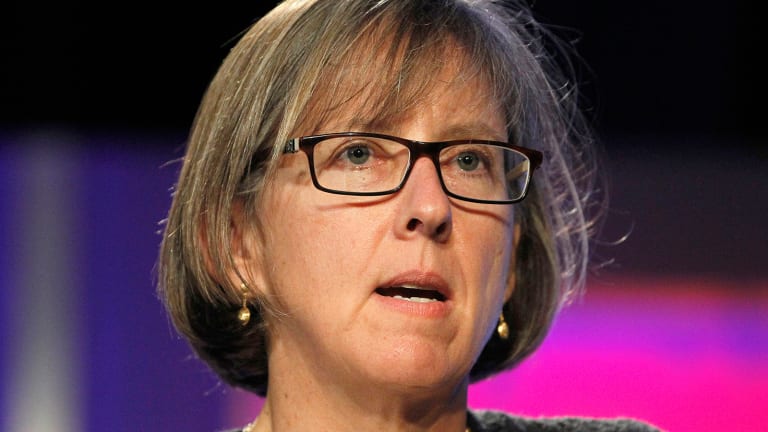 Top 10 Takeaways From Mary Meeker's Internet Report
For anyone following the tech industry, Mary Meeker's annual 'Internet Trends' report is required reading. The venture capitalist offers insight into the most clear trends running through the tech sector.
NEW YORK (TheStreet) -- For anyone following the tech industry, Mary Meeker's annual 'Internet Trends' report is required reading. The Kleiner, Perkins, Caufield & Byers venture capitalist offers insight into the most clear trends running through the technology sector and poses some predictions for the future.
Meeker's 20th annual report, at 197 pages in length, is packed with data-filled slides that cover everything from mobile to video to social media to the on-demand economy to advertising. As does each years' report, this one shows some clear trends that should be studied by investors in some of the most commonly held tech stocks such as Facebook (FB) - Get Report, Apple (AAPL) - Get Report, Google (GOOG) - Get Report, IBM (IBM) - Get Report, Twitter (TWTR) - Get Report and Microsoft (MSFT) - Get Report.
Here are some of the most telling numbers and findings from the report:
1. The Internet is getting crowded, especially on mobile.
Mobile Internet usage is up 11% year-over-year, with consumers spending three hours a day on the Internet on mobile devices. Just five years ago that number was below 1 hour. And 84% of the U.S. population is connected to the Internet, compared to just 9% in 1995 (64% is connected via smartphones).
2. Lots of opportunity for mobile ad spend.
Meanwhile, print is totally overindexing on ad spend compared to how much time is spent with the medium.
Meeker also pointed out some new things brands should look out for, including Pinterest's cinematic pin, in which the video moves as the user scrolls, Vessel's 5-second video ad, Facebook's carousel ad, which lets users scroll through multiple ads, and Google's local inventory ad, which shows available products in nearby stores. She also noted the rise in the "buy" button: Twitter, Facebook, and Google have all been getting in on this trend to try to reduce friction in mobile shopping.
3. Mobile video is a "Big Deal."
For some reason, consumers love watching videos on smaller screens. And vertical video ads are crushing horizontal video ads. On Snapchat, vertical video ads saw completion rate nine times higher than that of horizontal video ads.
4. Messaging is getting a facelift.
Meeker anticipates tons of changes and improvements in the messaging space in the near future. Today, six out of the top ten most used mobile apps globally are messaging apps.
5. Content comes from the people.
Content curation is being reimagined as user-generated material is on the rise.
6. The kids are all about the visuals.
Meeker looked at 12-24 year-olds as indicators of future trends in Internet usage. They're spending more time on platforms like Instagram, Snapchat, and Pinterest, though they're certainly not discounting Facebook and Twitter just yet.
7. We want what we want when we want it.
Consumers are increasingly interested in getting information, products, and services instantly, and on-demand startups are catering to this growing desire, whether it's Uber or Instacart or Airbnb.
8. Get ready for the rise of the drones.
Both in terms of commercial and consumer uses, drones are on the rise. Meeker estimates that in 2015 4.3 million consumer drones will be shipped, a 167% increase year-over-year that will bring in $1.7 billion in revenue.
9. Cyberattacks are getting bigger, more complex, and more dangerous.
Insider breaches are often the cause of these attacks, with 20% coming directly from the inside. Additionally, 22% of breaches involve lost or stolen devices.
It's becoming increasingly important for companies to be prepared and well-equipped to deal with these attacks. About four out of five companies don't update their response plans to account for changes in the cybersecurity landscape as well as internal corporate changes. All they need to do is update technology and they can reduce response time by more than 90%.
10. The way we shop online is drastically changing.
E-commerce now accounts for 9% of all retail sales ($300 billion), up from less than 1% in 1998. Both product and service commerce is growing steadily online as new platforms tap into consumers looking to supplement their income with flexible work, whether it be selling crafts on Etsy or chauffeuring people around with Lyft. This creates lots of regulatory issues that need to be addressed in the new environment.