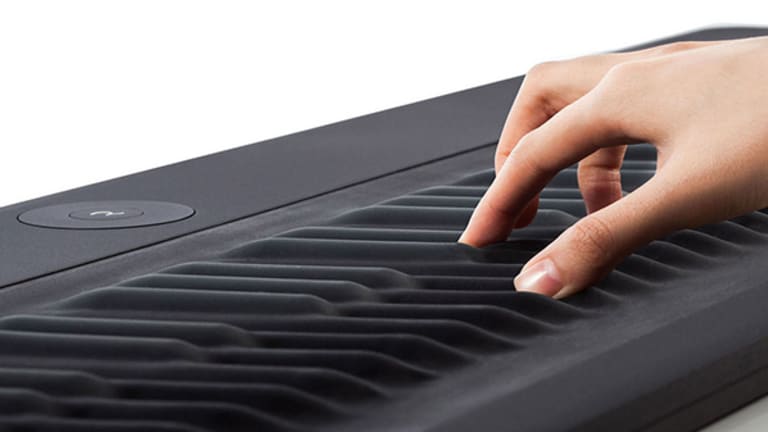 Top 10 Incredible Gadgets From Consumer Electronics Week in NYC
Products include a beer rejuvenator, a hands-free remote control and a beautiful new keyboard design.
NEW YORK (TheStreet) -- Consumer Electronics Week in New York is a series of conferences, events and product demonstrations that marks the halfway point between the huge Consumer Electronics Shows that Las Vegas hosts every January.
This year, there were a number of interesting products being displayed, designed to pique everyone's fancy, from the beer enthusiast to the virtual reality lover. The following 10 items really caught our eye. Expect you'll be hearing a lot more about them the future.

Fizzics
Your favorite canned or bottled beer needs a boost, or so say the experts at Fizzics.
Currently offered as an Indiegogo project, this device looks more like a cross between modern coffee machine and cold drink dispenser. You put your can or bottle of store-bought brew inside the device and Fizzics does the rest. Operating on 4 AA batteries, it transforms the beer into something a lot closer to what you would get from a just-poured draft right from the barrel.
Even though it won't hit the market until later this year, there's still time to grab one for $199 on the Indiegogo page.
Despite its not-so-catchy name, this new television streaming box could give all the other competing devices such as Apple (AAPL) - Get Report TV, Amazon (AMZN) - Get Report Fire TV, Roku and others a run for their money.
4SeTV allows you to stream four different TV shows at the same time. That means you can watch four different programs on four different devices (smartphones, tablets, computers, flat-screen TVs) or watch all four at the same time on one device. Imagine what you could do if you were watching four sporting events at once.
The only catch is that programming comes from free, over-the-air HDTV sources. The 4SeTV box captures the broadcast signal (antenna provided), processes it and then sends it to your home Internet router for streaming.
4SeTV is available for pre-order for $179.

singlecue
This add-on controller box was designed for the ultimate couch potato in all of us -- singlecue allows you to control electronic devices from across the room with hand gestures. Seriously!
Its designers say it will allow you to be the master of everything from televisions, DVD players, cable/satellite boxes, TV streaming devices, video game consoles and audio/video receivers to new-age lighting (Phillips (PHG) - Get Report Hue) and climate (Nest) devices.
The company is accepting pre-orders now and it'll retail directly from the manufacturer for $179 each.

Zeiss VR One
If you think Google (GOOG) - Get Report Cardboard, that company's inexpensive virtual reality-viewing goggle experiment is cool, you'll love Zeiss' (CZMWF) VR One version.
Instead of cardboard, the VR One is made of plastic and features Zeiss-quality optics. The device works with a select group of Android smartphones and even provides for external audio and charging connections. You can wear your eyeglasses inside the goggles. The 3D/VR effect is pretty cool.
Zeiss is currently offering the VR One for $129 on its Website.

HRT dSc
A DAC, or digital-to-analog converter, takes your digital music files and lets you actually listen to them. Most computers/tablets/smartphones have a small chip inside to accomplish this with varying degrees of accuracy.
External DACs can be expensive and a pain to set-up correctly. High Resolution Technologies (HRT) is trying to change all that. In addition to its premium line of digital audio products, the company has announced the dSc and the i-dSc. Both USB DACs retail for $69.99.
Not only do they work with Microsoft (MSFT) - Get Report Windows, MacOS and ChromeOS computers (playing up to 254/96 resolution files) but they also connect with Android (5.0) phones and tablets (dSc) and iPhones and iPads (i-dSc). They're plug-and-play, easy to set-up, come with little connecting cables and sound amazing. Makes listening to Spotify and Tidal on a cell phone/tablet a much higher-fidelity experience.
Lose It! is one of the new breed of self-help, health monitoring programs. The software works on Android, iOS and computer devices and does not require a smartwatch or health band, but does work with the Apple Watch, Nike (NKE) - Get Report bands and others.
The software is free. Its authors say the system will help you "set a daily calorie budget, track your food and exercise, and stay motivated to make smarter choices and achieve your goal.
The company claims it has over 24 million members and has helped them lose more than 40 millions pounds so far. A company spokesperson told me the system has a higher weight-loss success rate than a number of well-known national diet programs.
There is a premium-tier service too. Paid subscription members are said to shed as much as "3X as much weight as those who use the free version."

Breezing
Breezing is an health device that measures your metabolism. It does so by measuring your breath when you use the special Breezing device and then send the results, via Bluetooth to special software in your iPhone -- and soon to Android phones too.
The device can measure resting metabolism, your respiration quotient (RQ: how your body deals with carbs and fats), and keep track of your weight, exercise and diet, as well as your metabolic history, to make you aware of changes.
This sort of technological expertise doesn't come cheap. Breezing sells for $349.99. Additional sensor cartridges and mouthpieces are extra.

Adlens Focuss
User-adjustable prescription eyeglasses are making a big leap into the future. Adlens' new quality line of Focuss frames and lenses can now rival the best progressive lenses.
For those people who never find the right focus point from their progressive prescription for any and  every situation the new Focuss system allows users to fine-tune their vision with a turn of the knob. The other big difference is that you adjust the entire lens and not just a narrow windows of typical progressives.
The new Adlens products are available a select group of eye doctors and opticians and you can expect to pay upwards of $1,000 for your pair.

HANDL
The name says it all. Handl is a Manhattan-based company that makes handles for your smartphone.
Instead of copying other designs that employ stick-on handle decals, Handl (not the 16th-century composer) is more of a new back cover for your smartphone with a sturdy handle attached. Slide the handle between two fingers and you can securely grip your smartphone -- and not by the edges.
It's currently available for iPhone 6 Plus and Samsung's (SSNLF) Galaxy Note 4 (others coming soon) from Handl's online store for $39.99

Roli
Roli makes a new line of drop-dead gorgeous keyboard instruments it calls "Seaboard Grand." When you see them in person you'll understand the name. The keys looks like waves.
There are currently three models: the Grand Studio (37 keys), Grand Stage (61 keys) and Grand Limited First Edition (88 keys). They models are priced accordingly: $1,999, $2,999 and $8,888 for the 88-key instrument. Prices include the company's "Bespoke" software suite.,
A spokesperson for the London-based company says they're working on even more elaborate (and higher-priced) models for future release. Hope they're as great-looking as these models.
This article is commentary by an independent contributor. At the time of publication, the author held no positions in the stocks mentioned.