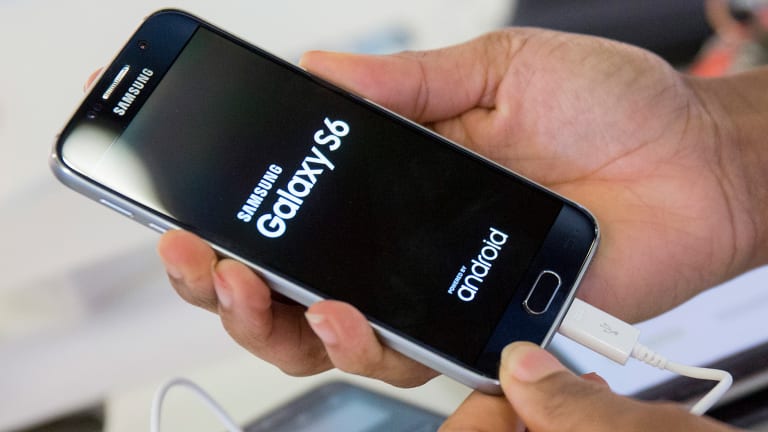 Top 10 Android Phones You Can Buy Today
Our picks for the best Android smartphones and phablets available in mid-2015.
New York (TheStreet) -- There's an almost endless number of Android phones to choose from on the market today. But only a handful make the grade, as far as we're concerned. 
These are our picks for the top Androids currently available in the United States. Any one would be a perfect choice for beginners or Android power users. 
Samsung Galaxy S6
The new Galaxy S6 is, without a doubt, the best smartphone that Samsung (SSNLF) has ever offered. That is, if you don't count its curvy brother the Galaxy S6 edge. (More about that next.)
The Galaxy S6 measures 5.65 by 2.78 by 0.27 inches and weighs a scant 4.87 ounces. Unlike previous Galaxy S models, there is no cheap-looking plastic anywhere. The new touchscreen measures 5.1 inches diagonally. Samsung calls it a high-definition, Super AMOLED design capable of offering 2560 by 1440 pixels (Quad HD) resolution. There's an eight-core Samsung-made processor, 3 GB of RAM, your choice of 16, 32 or 64 GB of storage and a pretty terrific 16 MP rear camera plus 5 MP front-facing shooter combo.
The Galaxy S6 is a terrific Android phone and highly recommended. But, the Galaxy S6 edge's double-curved screen, and its $100 premium, might be the only thing to lure you away.

Samsung Galaxy S6 edge
The Galaxy S6 edge is pretty much the same size as its flat-screen brother, the "plain" Galaxy S6. Surprisingly, the S6 edge weighs slightly less (4.6 versus 4.9 ounces) than its sibling.
The two new Samsung phones otherwise are virtually the same on the inside and differ only when it comes to their screens. The Galaxy S6 has a normal 5.1-inch Super AMOLED display while the Galaxy S6 edge has a 5.1-inch screen that gently curves around the left and right side of the device. The curved screen offers a slightly 3-D view of home screen icons. It's a neat effect.
As for shape, the S6 edge's rounded front and squared-off back give the handset a unique profile. It's actually the polar opposite of many other popular phones which have flat fronts and curved rear battery covers. Neither design is better than the other.
Both new Samsungs are great phones. The only question is whether the S6 edge's curved screen is worth an extra $100. If it is, go for it!
LG G4
The LG G4 is an newly updated design featuring a great-looking, 5.5-inch, quad HD (2560 by 1440 pixels) IPS touchscreen, a 64-bit, 1,8 GHz Qualcomm (QCOM) - Get Free Report Snapdragon 808 processor, 3 GB of memory, a 16 MP camera (f/1.8 lens) on back, an 8 MP camera up front, the latest versions of Wi-Fi, Bluetooth, GPS connectivity and a large 3,000 mAh user replaceable pack inside.
The G4 runs on Google's Android 5.1 (Lollipop) operating system.
Build quality is quite high. The rear camera is great. And, overall, the G4 is a pleasure to use.
If you can, opt for the beautiful hand-stitched leather back cover. It sets the G4 apart from everything else on the market today.
HTC One M9
The latest HTC One M9 smartphone design is much more evolutionary than revolutionary. That means HTC has applied a laundry list of upgrades and improvements to what was a great Android phone to begin with.
Like a larger, 5 inch, full HD LCD display. Or the new eight-core Qualcomm Snapdragon 810 processor, 3 GB of RAM, 32 GB of storage (along with a microSD card expansion slot), 20 megapixel autofocus camera on the back that can handle 4K video and a beefy 2840 mAh rechargeable battery inside.
Put it all together and you have a wonderful Android device. It may look like previous HTC models, but there's a lot more "good stuff" at work inside.
Moto X (Second Generation)
The second generation Moto X is physically larger than the original model and improved in so many ways.
The second-generation X (designed when Google still owned Motorola) features a quad-core, 2.5 GHz Qualcomm Snapdragon 801 processor, 2GB of RAM, either 16 or 32 GB of internal storage, a built-in, 2,300 mAh rechargeable battery pack and a 13-megapixel camera with a dual-ring LED flash.
There may be a third-gen. model coming soon from Moto's new owners, Lenovo. But, for now, you can be secure in the knowledge that this phone is a great performer now and for months to come. By the way, the original Moto X is still an amazing handset too!
Moto G (Second Generation)
The Moto G is in the middle of Motorola's current smartphone line. This second generation model, just like the original, was designed for GSM/GPRS/EDGE/UMTS/HSPA+ frequencies only -- the predominant networks found all around the world. Moto makes a separate U.S. version which work on AT&T (T) - Get Free Report and T-Mobile (TMUS) - Get Free Report networks .
Although Motorola didn't increase the price, the second-generation handset was improved in almost every way. This G now has a 5-inch, 720p touchscreen, a 1.2 GHz, quad-core Qualcomm Snapdragon processor, 1 GB of RAM, 8 GB of storage along with a microSD card slot, a redesigned 8 megapixel auto-focus rear camera and 2 MP shooter up front, Wi-Fi, Bluetooth, GPS and a big 2,070 mAh rechargeable battery pack to keep things running.
It's a lot of phone for only $180. That's the full, non-contract price. It's one of the true values in Androids today.
Nexus 6
The Nexus 6 is Google's current top-of-the-line pure Android smartphone. That means it runs a completely stock version of the latest version of the Android OS (currently Lollipop) without additions from manufacturers of anyone else.
The Nexus 6 is physically a BIG phone. It has a nearly 6-inch touchscreen capable of presenting 4K/Super-HD videos, a super-fast 2.7 GHz, quad-core Qualcomm Snapdragon 805 processor, 3 GB of RAM and a terrific 13 megapixel camera (with a little help from Sonyundefined on the back.
It will also be among the first to receive an upgrade to the next version of Android -- the one which will have a name that starts with the letter "M".
Big and beautiful. It's among the best smartphones that money can buy. You need large and very deep pockets (in every sense) to own this great phablet.
Nexus 5
The Nexus 5 is Google's older design. Manufactured by LG, the smaller, no frills phone has been a favorite of Android experts for years.
Amazingly, even though the design was announced back in October, 2013, the recent addition of Android 5.0 (Lollipop) has improved nearly every working molecule of this handset. Despite being loaded with nearly two year-old technology the Nexus 5 is now faster and even better than it ever was.
So, even though there are rumors that Google might soon be refreshing the smaller-screen platform, the Nexus 5 is still a terrific choice. Especially if you can find one for under $400.
OnePlus One
The OnePlus One is not easy to find. It's made by an offshoot of Oppo known primarily in this country for its top-notch and affordable video (DVD/Blu-ray) products,
Reviews have been mostly raves, while sales have been limited to online offers, so the device has the "unobtainable" aura as well.
The One has a Qualcomm Snapdragon 801 processor, 3 GB of RAM, a 5.5-inch HD touchscreen, a 13 megapixel camera on the back, a big 3100 mAh battery. It runs a specialized version of Android which is closer to a Nexus model than any Samsung, LG or HTC device.
There are heavy rumors that a OnePlus Two will soon be announced. In the meantime, the One is a fantastic phone. If you actually find one don't beb afraid to try it.
Asus ZenFone 2
This is Asus' first smartphone to make it to the United States and it's a really good one. And, so far,the ZenFone 2 is this year's unexpected sleeper.
There are actually two new Zenfone 2s -- one with 2 GB of RAM and 16 GB of storage and the other (our test model) has a whopping 4 GB of RAM and 64 GB of internal storage. Both can also handle an additional 64 GB of microSD card expansion.
To go along with that are the processors, with Asus selecting the quad-core chips made by Intel (INTC) - Get Free Report. There's a 1.8 GHz Atom Z3560 processor in the 2GB phone and a faster 2.3 GHz Z3580 version in the 4 GB model.The 16GB version of the Padfone 2 retails for $199 (no contract), while the 64GB model sells for $299.
The 16GB version of the Padfone 2 retails for $199, while the 64GB model sells for $299. By comparison, either of the Samsung Galaxy S6 phones or Apple iPhones are more like double that price.
This article is commentary by an independent contributor. At the time of publication, the author held no positions in the stocks mentioned.