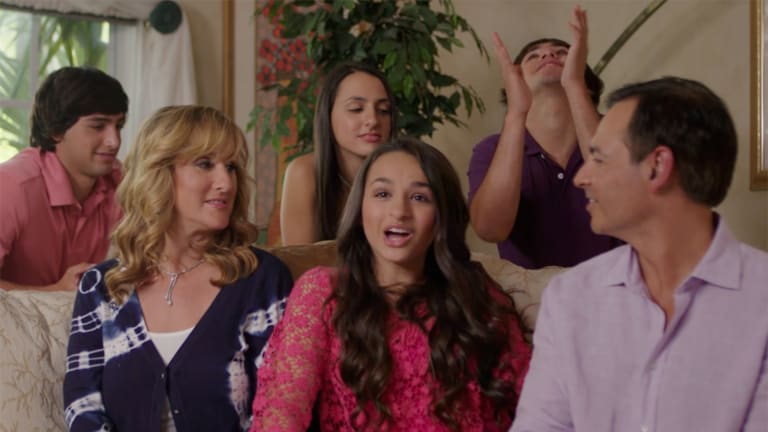 LOS ANGELES (TheStreet) -- Long before Caitlyn Jenner was introduced in a mainstream media blitz on the cover of Vanity Fair, there was Jazz Jennings, a smart, beautiful, wide-smiling transgender girl from Florida who had been interviewed by Barbara Walters when she was 6, was the subject of an OWN documentary when she was 11, and later became an early-teenage star and activist on Google's (GOOG) - Get Alphabet Inc. Class C Report YouTube.
Now 14, Jennings, along with her family, are the focus of the unscripted 11-episode television series I Am Jazz, which premieres Wednesday night on Discovery's (DISCA) - Get Discovery, Inc. Class A Report TLC. Coming on the heels of a boom of TV docu-series about transgender people, including Frontline's Growing Up Trans, ABC Family's Becoming Us and Discovery Life's New Girls on the Block, and ahead of Comcast's (CMCSA) - Get Comcast Corporation Class A Report anticipated E! Jenner-centric series I Am Cait, premiering July 26, I Am Jazz sets a precedent for even more TV programming about the transgender experience that can appeal to younger and older viewers alike.
"What we loved about Jazz, is that yes, she's a teenager, but we really approached it as a unique family show. We loved the parents, the siblings, the grandparents," said Nancy Daniels, TLC's general manager. "We were not looking to do a show with a transgender teen. The family came to us with the producers. This was before we knew Caitlyn was out there. As far as I know, this is the first unscripted show focused on a transgender teen."
Unlike Jenner, whose upcoming show tracks her transition into womanhood at age 65, from the varied reactions of her famous Kardashian-Jenner clan to dressing up and doing makeup, Jennings was assigned male at birth and transitioned into being a girl at 5. She makes art, wears her hair long, laughs with her friends, parents, older sister and twin brothers, and also deals with the general ups and downs of adolescence, on top of dealing with bullying, taking hormones and the awkwardness -- in one scene -- of buying a swimsuit.
"We're just very typical, with an extraordinary circumstance, because we have a daughter who is transgender, which is very rare," Jennings' mom Jeanette says in an extended trailer for the show.
According to the media monitoring group GLAAD, an estimated 700,000 Americans identify themselves as transgender. The term is an adjective and overarching word to describe people whose gender identity, an internal belief of one's gender, differs from what is typically associated with the sex they were assigned at birth. Surgery is a future option for Jennings, "but it's not about the medical stuff," she recently told The Associated Press. "It's about knowing who you are and embracing that."
Showing Jennings move through her life as a teenager, situated within a family setting, normalizes and expands acceptance of her experience.
"Adolescence is hard enough," said Daniels. "When you layer onto that being transgender, we thought that was a really relatable moment of time to watch."
For instance, in the first episode, a teen boy yells a slur at Jennings when she is out having lunch with her mom, who understandably gets upset. Jennings reacts by getting her mom to calm down.
Daniels, who has a 12-year-old son, pointed out sharing that instinct to want to protect her child, and noting Jennings' maturity in the situation.
"On one level, she's very poised, and she's taking a lot onto her shoulders," said Daniels. "At the same time, she has slumber parties, she's worried about boys and about going through puberty, as someone who is transgender. She's like any other 14-year-old girl, and that's surprising, that's refreshing and that's perfect."
So does the surge of shows about transgender people signal a societal shift in acceptance, or is the media simply capitalizing on a topic brought into the mainstream by the famed Jenner?
Daniels again noted that TLC green-lit the show before Bruce Jenner's widely watched 20/20April special on Disney's (DIS) - Get Walt Disney Company Report ABC revealing the transition, and before Caitlyn Jenner made her Vanity Fair debut. The real change started to happen, Daniels said, about a year ago when Emmy-nominated transgender actress Laverne Cox earned attention for her role in the Netflix (NFLX) - Get Netflix, Inc. (NFLX) Report comedy-drama Orange Is the New Black, and Amazon's (AMZN) - Get Amazon.com, Inc. Report scripted series Transparent gained traction.
"The scripted world started the conversation for the unscripted world," Daniels said.
The network, naturally, hopes the widespread positive press for I Am Jazz translates into robust viewership for the show. TLC has recently weathered controversies related to some of its other hit shows such as 19 Kids and Counting and Here Comes Honey Boo.
"It's really nice and really validating when you get such a positive outpouring around a show you're rallying around, and you hope that translates into ratings," said Daniels. "It's been a passion project here at TLC."
This article is commentary by an independent contributor. At the time of publication, the author held no positions in the stocks mentioned.