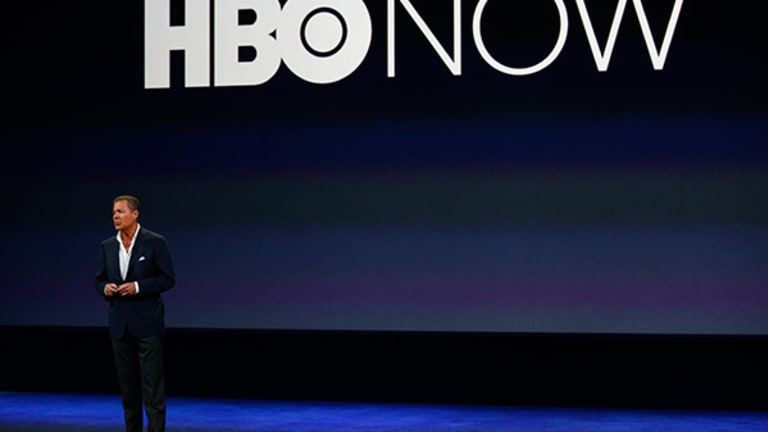 Time Warner's HBO Now Is Way More Expensive Than We Realized
Time Warner still won't disclose its HBO Now subscriber numbers, but the media giant is dropping hints about how much it will pay to make and market the over-the-top platform.
NEW YORK (TheStreet) -- Investors got their first peek at how much Time Warner (TWX) is spending to promote HBO Now, its online subscription-based streaming service. And so far, they don't like what they see.
New York-based Time Warner on Wednesday said its Home Box Office segment spent about $44 million more on "marketing and technology costs" this quarter than it did during the same period a year ago -- most of it on HBO Now.
While video game sales and TV licensing deals lifted Time Warner's Warner Bros. segment in the quarter that ended June 30, the HBO segment lost 8% in adjusted operating revenue, primarily due to expenses related to HBO Now, according to regulatory filings. The company beat analyst estimates in its quarterly earnings, but is maintaining expected earnings estimates of $4.60 to $4.70 a share. The average estimate among analysts surveyed by Bloomberg was $4.66.
Time Warner shares tumbled 8.5% on Wednesday as much of the media sector also took a dive.
HBO Now is likely to continue evolving, said Liam Boluk, a media strategist with Jason Hirschhorn's REDEF.
"The subscriber count is what everyone wants to know, but it's too hard to contextualize this early in the release," said Boluk. "It would be a mistake to obsess on HBO's spending on HBO Now thus far. Now represents a brand new offering for the company and it will take time and significant investment to realize its potential."
Boluk noted that HBO Now's promising debut will help Time Warner to negotiate with more distributors. The service is currently available on Verizon (VZ) - Get Verizon Communications Inc. Report, Amazon (AMZN) - Get Amazon.com, Inc. Report and Google (GOOGL) - Get Alphabet Inc. Class A Report. The company reported that it plans to add more distribution platforms.
Time Warner has so far declined to release the number of HBO Now subscribers. In a call with analysts, Time Warner Chief Financial Officer Howard Averill said the company is "extremely pleased" at how well HBO Now was doing, noting that it was the top-grossing entertainment app on iTunes in May and June.
Even though HBO Now's 30-day free trial has expired for subscribers who signed up for the service's April debut, Averill cautioned investors against expecting a high return on the investment in the short term.
"Looking ahead to the third quarter, we expect to benefit from a full quarter of paying subs on HBO Now," he said in the Wednesday conference call. But, he added, "given our plan to continue investing in customer acquisition, we expect HBO Now to generate losses for the remainder of this year and that's typical for an early-stage subscriber business."
An analysis by BTIG Research earlier this summer using app-download data estimated that as many as 1 million people had subscribed to HBO Now and that at least 850,000 of them were paying subscribers.
Speaking to analysts, Averill dismissed fears that HBO Now would "cannibalize" existing HBO viewers, saying that only 1% of HBO Now subscribers left their traditional cable bundles to sign up for the over-the-top service.
HBO executives have said HBO Now is pitched at the 10.7 million households in the U.S. that have access to broadband Internet, but not traditional pay-TV.
As of the first quarter of 2015, HBO had 31.7 million subscribers, according to SNL Kagan.