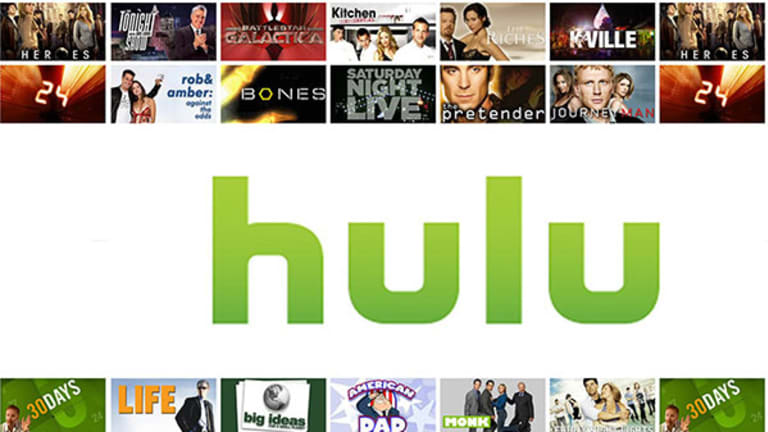 Publish date:
Time Warner Needs Subscribers, Not a Hulu Problem
An investment by Time Warner would certainly bolster Hulu in its competition with Netflix, but it would probably do less to help Time Warner.
An investment by Time Warner would certainly bolster Hulu in its competition with Netflix, but it would probably do less to help Time Warner.
So, why would Time Warner (TWX) want to take a 25% stake in Hulu?
That's the question posed by a report this week from The Wall Street Journal that New York-based Time Warner, owner of networks such as TNT, TBS and HBO, was approached by the streaming platform Hulu about acquiring a 25% stake in the company.
It's important to understand that Hulu has been spending a lot of money lately to acquire new programming. It just did a deal with Fox's Empire to underscore that, unlike Netflix (NFLX) - Get Netflix, Inc. (NFLX) Report , Hulu shows broadcast episodes a day or two after they air.
Having Time Warner as another owner -- along with Disney (DIS) - Get Walt Disney Company Report , 21st Century Fox (FOXA) - Get Fox Corporation Class A Report and Comcast's (CMCSA) - Get Comcast Corporation Class A Report NBCUniversal -- could give Hulu even greater access to programming. 
But what would a direct investment in Hulu offer Time Warner something it doesn't already have?
At present, Time Warner licenses programming to Hulu as well as its chief rival, Netflix. In fact, all of Hulu's owners have licensing deals with Netflix. Meanwhile, Time Warner is also spending millions of dollars to market and produce content for its direct-to-consumer streaming service, HBO NOW.
A week ago, Time Warner CEO Jeff Bewkes told investors the company was re-evaluating the timetable for releasing its programming to video platforms, principally Netflix, Hulu and Amazon (AMZN) - Get Amazon.com, Inc. Report Prime. He made clear that he'd like the company to hold onto its content longer, rather than handing it over to streaming platforms as quickly as it has been. By doing so, he might stem the eroding value of the pay TV bundle, the lifeline of the industry.
Buying into Hulu, said Todd Juenger, a Sanford Bernstein media analyst, would do just the opposite.
"We thought we heard Time Warner say they had concluded that [subscription video-on-demand] SVOD, was harming the value of the pay-tv bundle and therefore they were going to stop or delay licensing new content to that platform," Juenger said in an investor note on Friday. "It seems hard to reconcile that stance with the duty they would have as JV partners to drive as much value as possible to Hulu."
Time Warner and Hulu didn't immediately reply to requests for comment. 
Bewkes' comments came as Time Warner lowered its profit forecast for 2016, citing concerns about currency movements, not to mention that expenses are growing faster than revenue, which calls into question certain facets of the company's current business model.
It's unclear, therefore, that taking a stake in Hulu would do anything but give Time Warner less flexibility about the so-called "window" between when programming debuts on a Turner network and when it's carried on a streaming video platform.
One of the more redeeming reasons for such a deal would be to place a clear value on Hulu, a service that has begun to find its sea legs over the last 12 months. That might make it easier for one of the three current owners to plot an exit strategy.
The Journal stated any stake in Hulu would value the company between $5 billion and $6 billion. If that's the valuation, Time Warner might be smart to acquire a 25% stake, given that Barclays media analyst Kannan Venkteshwar says Hulu is worth upwards of $14 billion when compared to Netflix.
"If we assume Hulu's valuation to be in proportion to its revenues at one-third of Netflix's market cap of $48.2 billion, the enterprise should be worth $14.5 billion," Venkteshwar said in a report released Friday.
But Bewkes wouldn't be buying into Hulu because it's a good investment. He'd only join Hulu if it makes sense for his Turner Networks, Warner Bros. Studios and the colossus that is HBO.
Hulu, of course, would love to corral Time Warner, one of the world's largest producers of television and film. "Potentially having access to the Warner Brothers library could help Hulu accelerate subscriber growth further and close the gap with Netflix," Venkteshwar said.
Hulu's greatest offering to Time Warner would be expanded distribution beyond what it already gets from pay TV.
"From Hulu's perspective, bringing in another equity partner could help the burgeoning service fund more content to compete effectively with Netflix," Alexia Quadrani, media analyst at JP Morgan said in an investor note. "Time Warner on the other hand, would gain a greater foothold in digital distribution," and "greater control over licensed shows and movies."
Quadrani values Hulu at between $7 billion and $8 billion
The most positive outcome, Juenger hypothesized, would be if Time Warner could make Hulu a centralized, on-demand hub available only to authenticated pay TV subscribers, according to analyst Todd Juenger. Essentially, an add-on to the current pay TV contract, something to make viewers less likely to want Netflix.
But while the strategy sounds good on paper, Juenger admitted any scenario gets very complicated very quickly.
Were Time Warner to join Hulu, the streaming platform would become more enticing, making it increasingly likely that viewers would want to drop cable subscriptions in favor of a collection of services including Netflix, Amazon, Showtime, CBS All Access, etc., he said.
"If Hulu does become a stronger service, we think it only increases pressure on cord-cutting and advertising," Juenger said. "It's one thing if potential cord-cutters are considering giving up the pay TV bundle and having Netflix as their primary alternative. It's much different if they have Netflix and a stronger Hulu."