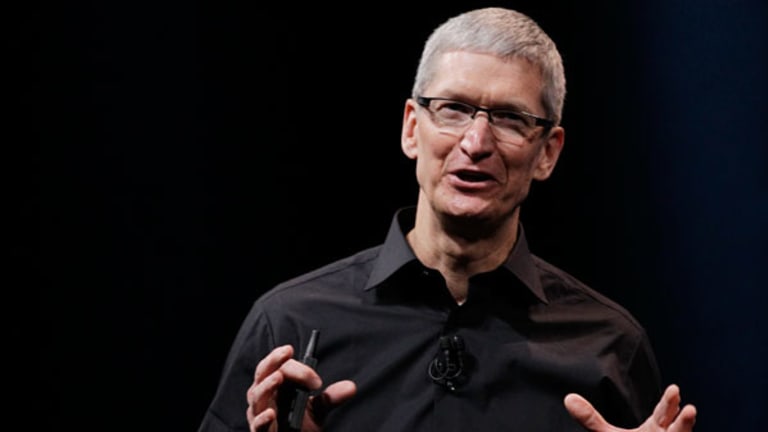 Tim Cook: Wearable Tech Is a 'Profound' Opportunity (Update 1)
Apple CEO Tim Cook spoke at D11, and said that Apple has a few aces up its sleeve, including wearable technology.
Apple CEO Tim Cook spoke at D11, and said that Apple has a few aces up its sleeve, including wearable technology.
Updated from 8:38 a.m. EST to provide analyst comments in the fifth paragraph.
NEW YORK (
) --The fact that
Apple
(AAPL) - Get Report
is interested in wearable technology isn't anything new. The oft-rumored
has gotten a lot of press recently. What is new is that Tim Cook sees opportunities beyond the wrist.
Speaking at the
AllThingsD
, Cook said wearable technology is not limited to just the wrist. There's a whole lot more. "The whole sensor field is going to explode," Cook said during the conversation with Kara Swisher and Walt Mossberg. "It's a little all over the place right now. With the arc of time, it will become clearer."
Cook also noted that the wrist is particularly interesting. "The wrist is interesting," Apple's CEO said. "You still have to convince people it is worth wearing."
It's long been speculated that Apple would announce a wrist device to boost sales, but moving into other wearable technology is something new for Apple. Earlier this year,
Morgan Stanley
analyst Katy Huberty wrote that a smart watch from Apple could be worth as much as $10 billion to $15 billion in annual revenue for Apple, assuming a $200 price point.
Topeka Capital Markets analyst Brian White notes that wearable devices was an important topic, given the intense interest on iWatch and Google Glass. "At the end of the day, Tim views wearable electronics 'as another key branch of the tree' for Apple," White wrote in his note. He rates Apple "buy" with an $888 price target.
Also see: Apple: Where From Here? >>
Artist rendering of an iWatch
What that other wearable technology isn't yet clear. During the conversation last night, Cook took the opportunity to publicly say
Google
(GOOG) - Get Report
Glass may not work out as well as everyone expects. He noted that people who wear glasses, like him, wear them because they have to; not because they want to. Google Glass is not likely to be a mass-market item, but rather "
it's probably more likely to appeal to certain markets."
Also see: The Tesla-Based Mercedes (as Seen Through Google Glass) >>
Apple doesn't do things to appeal for certain markets, it wants broad mass market appeal for its products, Mac computers not withstanding. The iPod revolutionized the MP3 player market, as did the iPhone and iPad with smartphones and tablets, respectively. Any other wearable technology besides the so-called iWatch would seem to align with that line of thinking.
Cook pointed out that the good pieces of wearable tech on the market, such as the
Nike
(NKE) - Get Report
FuelBand he wears, which he said "Nike did a great job with this," only do one thing well. The ones that expand into other feature sets wind up doing nothing particularly well.
That suggests that Apple is looking at wearable technology to solve not just one problem, but multiple problems.
--
Written by Chris Ciaccia in New York
>Contact by
.