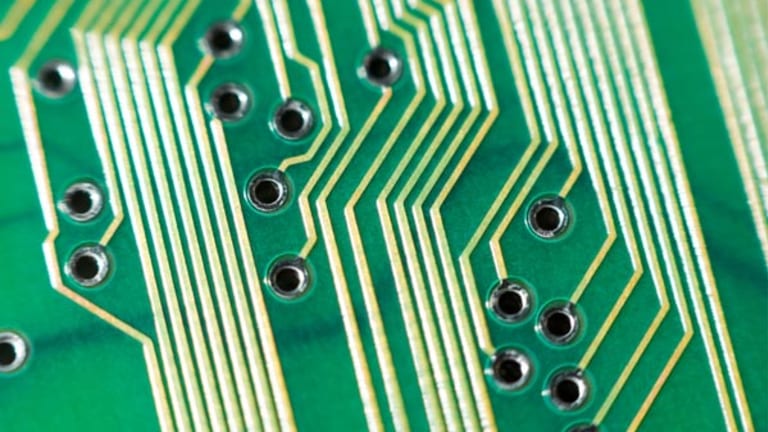 THQ CEO: Great Games Transcend Platforms
THQ, publisher of Ultimate Fighting Championship and Homefront, faces an uphill battle as a traditional video game maker. Here's how the company plans to cope with the digital revolution.
NEW YORK (
) -- It's no secret that the video game industry has been hit hard with
. And as large publishers like
Electronic Arts
undefined
struggle to move from packaged goods
, uncertainty over businesses' viability has caused share prices to tumble.
THQ
(THQI)
, the Agoura Hills, Calif., publisher of popular video game franchises like
Saints Row
,
Ultimate Fighting Championship
and
Homefront
, is no exception. The company has seen its share price drop more than 32% in the last 6 months.
To get his thoughts on the video game industry's challenging transition to digital, the threat of social media upstarts like
Zynga
and the future of
Microsoft's
(MSFT) - Get Microsoft Corporation Report
Kinect,
TheStreet
caught up with THQ's CEO Brian Farrell at a recent New York City analyst conference.
(The transcript was edited for space and clarity.)
TheStreet: As software sales slow, the video game industry is undergoing a shift from traditional packaged goods to digital distribution. What is THQ doing to build its digital business in both the short term and long term?
We're focused on building great content. We don't worry about whether our content goes onto Facebook or iPhone or iPad. Our strategy is to get our great content onto TV monitors, PCs, laptops, tablet screens and phone screens. But we know some IPs don't work on all screens.
When we think about our digital initiatives, we think about where our IP belongs. If we build great IPs, we can put it on Facebook. We have a fun Facebook game based off
Ultimate Fighting Championship
in beta and we have a great iPad game for
UFC
.
With our
MX
brand, we use a hybrid strategy -- we're launching the box product as a lower priced game at $39.99 to get a big install base of users. We're also selling a lot of downloadable content with the game so the user pays for those separately -- and their experience is customized. We think customization is a big trend going forward in the industry.
How will the rise of social gaming companies -- which are characterized by low barriers to entry and low development costs -- impact traditional publishers like THQ?
I don't think social gaming companies are a threat -- they're an opportunity. Most of the people playing games on Facebook are not traditional gamers. They attract women between the ages of 30 and 55 -- these are not the people buying
Homefront
. Social games are expanding the gaming population.
For core gamers,
Farmville
is not a substitute for
Homefront
and
Call of Duty
.
Will THQ try to enter the social gaming space as Electronic Arts has done, via acquisition? Or do you believe, like Activision's CEO does, that the space has not yet proven that it is a viable one?
We're investing on our own. If we build a brand, getting it onto Facebook or the iPhone is not the hard part. It's highly unlikely we'd make a far-reaching acquisition like some of our competitors.
THQ, like most other large video game companies, traditionally has high development costs that can make profitability difficult. Is the company taking any measures to cut costs?
We're always looking at our cost structure. We want to make sure that as we grow, we get the leverage back into the business. I wouldn't rule out cutting other projects, studios or people that aren't doing the things we need to do.
THQ put out no new titles in its most recent quarter. Is a lighter game lineup one of the ways you're cutting costs?
It's never a strategy not to ship anything, but it goes back to the restructuring we did a few years ago when we cut a number of projects. The strategy was not to have a light product flow, it was to cut costs. We want to have a number of titles and pace them at least one per quarter so we're never in this situation again.
We knew this was going to happen and told our investors that it was a result of the actions we took two years ago. We're about to see the benefits of those actions.
THQ has about $123 million in cash on its balance sheet. What do you plan to do with it?
We're investing in content. We're investing in a new studio in Montreal and we just hired one of the best game developers in the industry, Patrice Desilets. We also just did a deal with Tomonobu Itagaki's studio, Valhalla Game Studios, in Japan.
THQ's lineup for 2012 is focused on internally-developed IP, which some analysts have viewed as positive for the company. Is this a strategy that THQ is focused on going forward?
Absolutely. We completely restructured the company two years ago, and one of the key pillars of that restructuring was investing in a few but very high-quality owned intellectual properties and building those as franchises over time. We've done that with games like
Saints Row
,
MX vs. ATV
and
Homefront
.
What are the real benefits of owned vs. licensed IP?
With owned IP, you don't owe any external royalties, but with initial units you have to invest very heavily in marketing to establish a brand. With the first game, you really have to make it an AAA game to light that fire -- but once it's lit, you can build that over time.
Microsoft recently upped its sales forecast for Kinect from 3 million to 5 million units. How do you expect the success of Kinect to affect your software sales?
The big picture win is if the Kinect broadens the audience of people interacting with the Xbox360. Right now, we love the 360, but it's very much a core-gamer machine.
With the Kinect, it could go mainstream, which means a win for us and a win for the industry. We have fitness games, dance games, activity-based games and family-based games. Anything that expands the market that we can put our IP on is a win.
What are your thoughts on how these motion-controlled devices will affect the console business?
The audiences are different. Microsoft has been very wise to market Kinect as something different. With the Wii, the precision and response time just don't allow that quick twitch that the core user wants. Maybe that'll improve over time but right now, there's a different audience.
Rumors circulated last year that large media conglomerates like Time Warner (TWX) or Viacom could look at THQ as a potential acquisition candidate.
Those rumors have been around for 20 years. We don't think that way. We have a great business.
--Written by Olivia Oran in New York.
>To follow the writer on Twitter, go to
.
>To submit a news tip, send an email to:
.