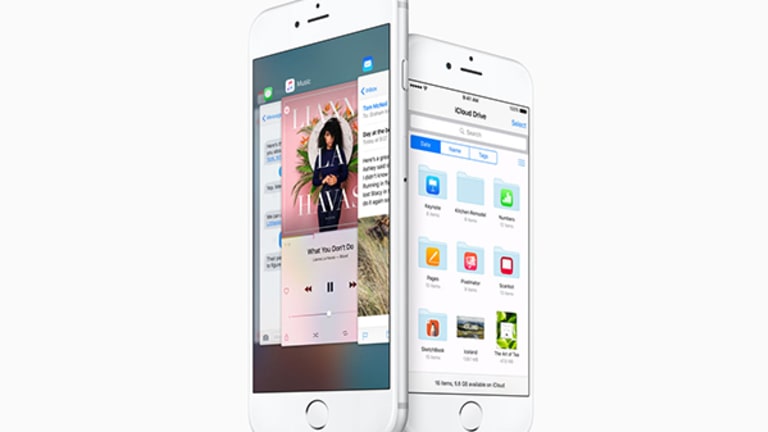 This Overlooked Tidbit Was Apple's Most Important Announcement on Monday
Apple is pushing further into health tech with its CareKit, which may have been its most important non-product announcement.
Sure, the iPhone SE, the iPad Pro or the Apple (AAPL) - Get Apple Inc. Report Watch's accessories may have garnered most of the attention, but the Apple CareKit announcement on Monday may wind up being the biggest unveiling of them all.
CareKit, which will let developers enable users to manage their medical conditions, is Apple's continued push into the health tech arena, one that may have more considerable long-term impact on society than just a new iPhone or a new iPad.
It will enable people to keep track of the care they're getting and monitor what types of symptoms they have, check how the medicine they are taking is working (or isn't working), and share that information with doctors, nurses or family members.
"We're thrilled with the profound impact ResearchKit has already had on the pace and scale of conducting medical research, and have realized that many of the same principles could help with individual care," said Jeff Williams, Apple's chief operating officer, in a statement. "We believe that giving individuals the tools to understand what is happening with their health is incredibly powerful, and apps designed using CareKit make this a reality by empowering people to take a more active role in their care."
Apple has had success with ResearchKit, an open source framework which lets medical researchers gather information for studies anonymously.
During Apple's presentation on Monday, Williams noted that some of the research studies launched with ResearchKit have been the largest in history, including one on Parkinson's disease. That's thanks to having consumers' health data stored privately on their iPhones.
Apps are playing a huge role in this, with the first app for CareKit being geared toward Parkinson's disease.
Williams also noted that thanks to ResearchKit-enabled apps, asthma triggers are now known across the entire United States.
There are also apps out there that can understand the nature of epileptic attacks, which can help physicians and patients better understand the disease in hopes of eventually curing it.
Apple is creating an ecosystem around CareKit and ResearchKit on issues far greater than what the next iPhone will look like.
Genomics and biotech company 23andMe, which lets users access and understand the human genome, announced on Monday a new ResearchKit module that will let researchers take genetic information and integrate it much more easily into app-based studies.
"This will enable research on a much broader scale," said Anne Wojcicki, 23andMe CEO and co-founder, in a press release. "Incorporating genetics into a platform with the reach of ResearchKit will accelerate insights into illness and disease even further."
This follows several announcements over the past few months, including IBM's (IBM) - Get International Business Machines Corporation ReportWatson integration of HealthKit and ResearchKit into IBM's Watson Health Cloud.
Announcements like this emphasize the fact that Apple is no longer just a tech company but a prominent health tech company as well.
Apple is a holding in Jim Cramer's Action Alerts PLUS Charitable Trust Portfolio.