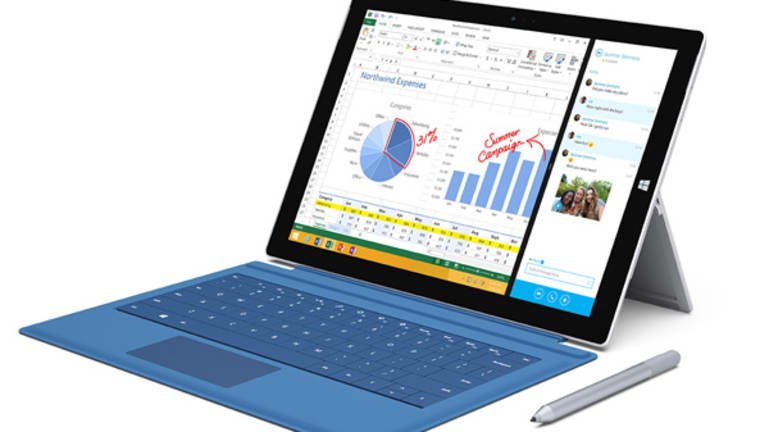 NEW YORK (TheStreet) -- Inside a converted warehouse in far west Soho, Microsoft (MSFT) - Get Microsoft Corporation (MSFT) Report hosted a small gathering to make a big announcement -- new Surface tablets.
In his first major hardware presentation in New York, Microsoft CEO Satya Nadella introduced the third generation of Windows tablets. As with many of Microsoft's previous hardware offerings, the company hopes the third time is the charm for Surface.
Microsoft shares were down 0.25 % to $39.65 in mid-afternoon trading in New York.
Read: How the NFL Could Kill DirecTV-AT&T Merger
After delivering a large dose of the corporate line - making products to help people do what they need to do - came today's big announcements. Microsoft believes it came up with new devices that can take the place of separate laptop, desktops and tablets.
The new Surface Pro 3 has the largest (12-inch, 3-to-2 aspect ratio) touchscreen on a Surface device. It's lighter in weight (800g) than the Surface 2, thinner than other Intel (INTC) - Get Intel Corporation (INTC) Report Core devices, and it has a newly designed, built-in Kickstand hinge that allows for variable screen viewing angles.
Even the new snap-on keyboard cover, which runs $129, is thinner and lighter. It has a larger touchpad pointing device and the hinge has been improved to allow the tablet to be easily balanced on your lap.
Inside the Surface, consumers will get their choice of an Intel i3 processor all the way to an i7, and 4 or 8GB of RAM. The device comes in 64, 128, 256 and 512GB worth of storage and a new fan system to cool all the stuff inside.

WATCH: More tech videos on TheStreet TV
Read: 10 Best Apple Products Ever
In addition to the redesigned keyboard cover, Microsoft introduced an optional docking station ($199) which will turn the Pro 3 onto a fully functional touchscreen desktop computer. Microsoft said the docking station would be available over the next several weeks. The stylus/pointer has also been changed. It's now called a 'Pen."
The Surface 3 Pro starts $799 for the version with an i3 processor, 4 GB of RAM and 64 GB of storage. At the other end of the scale, an i7 with 8 GB of RAM and 512 GB of internal storage will set you back $1,949. 
First impressions of the new tablet are very, very positive. So far, the larger screen is most appreciated, great to look at and quite responsive. The test unit, with an Intel i5 and 8GB or RAM is super fast. So far we've just had time to complete the initial set-up. A full review will come by the end of the week.
Missing from today's announcement was any mention of Windows RT. There was also not even a hint of a small screened (possibly 8-inch) tablet to go head-to-head with Apple's (AAPL) - Get Apple Inc. (AAPL) Report iPad mini.
-- Written by Gary Krakow in New York.
To submit a news tip, send an email to tips@thestreet.com.
Gary Krakow is TheStreet's senior technology correspondent.