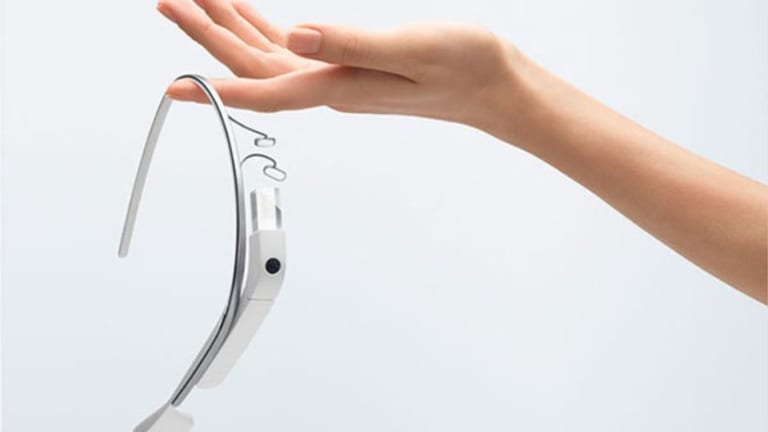 Think Google Glass Will Be the Next Big Thing? Think Again.
Where is the market for such a novelty? Outside of freaks and geeks, the high-tech eyewear is unlikely to catch on.
NEW YORK (
) --
Google
Glass may sound like something out of a science-fiction novel, but the real question isn't whether Google Glass is a novelty. There is a bigger issue at hand: Who, exactly, is going to buy the headset and is that group of people large enough to make it a success?
Teenagers and trendsetters may be early adopters, but I doubt this sort of enthusiasm is going to hold.
That is not to say Google is a bad company. Its stock has been climbing steadily for two years. It trades at just under $830 and is clearly on a course to top $1,000. Is it going to reach that mark this year? Probably not. But I am sure it will happen sooner rather than later. Google has a 52-week range of $557 to $844, and is estimated to enjoy growth in the neighborhood of 13.6% per annum for the next five years -- somewhat under expectations for its industry of 19% but, still, nothing to sneeze at.
Moreover, a bigger question looms: Why?
I mean, really? Google, isn't there something else you should be using your resources on, like your upcoming online marketplace and
Amazon
Prime challenger,
, instead of a piece of technology with little market value other than curiosity?
Moreover, Google doesn't have the greatest track record in hardware. According to the
Guardian
, the company had "to slash 1,200 jobs in the latest round of redundancies at the struggling manufacturing business," and the layoffs "represent 10% of Motorola's workforce, and come on top of the 4,000 jobs lost in August as Google seeks to return the business it bought in mid-2011 to profitability."
And the market for Google Glass is limited. Aside from the price tag of $1,500 for a pair of "Explorer" Google Glasses offered during the pilot period, there is an issue of actual usability. (According to
CNET
, Google co-founder Sergey Brin said at a recent TED Talk that the Google Glasses would be available for less than $1,500 when they launch but did not give a price estimate.)
Let's face it. You can't wear Google Glasses driving -- even if you can right now, ordinances would soon be in place to prevent it -- and you may not even be able to wear them socially. Some pubs, like
The 5 Point Cafe in Seattle
, are making pre-emptive rules against the use of Google Glass in the establishment, ensuring scenes like this one recently
during the SXSW is not the trend. The Seattle dive bar will surely not be the only one.
The 5 Point says on its website: "If you're one of the few who are planning on going out and spending your savings on Google Glasses -- what will for sure be a new fad for the fanny-pack-wearing, never-removing-your-bluetooth-headset-wearing crowd -- plan on removing them before you enter The 5 Point. The 5 Point is officially a No Google Glass zone."
Sure, that could be a publicity stunt, but it could also just as likely be the start of an anti-Google Glass trend. And if tech-heavy Seattle turns its back, at what point does having Google Glasses simply become "uncool"? Seattle may not be the trend-setting city it once was, but it set the standard once before, so it can happen again.
Then there are the privacy issues.
Google Glasses could record everything you see -- from a risque moment with a significant other to your credit card number when you buy a cup of coffee. As far back as September,
The Next Web
identified issues such as eye-tracking, aggressive advertising and misidentification. According to
New Scientist
, there is even a Google Glass app that identifies friends by their clothing, or "fashion fingerprints."
I am sure Google understands these issues -- maybe this could even be why Noah Zerkin was able to take the now-famous candid picture of co-founder Sergey Brin riding the New York subway wearing a pair of Google Glasses. After all, with this many sightings, Google Glass is clearly past the prototype stages and a first run in production, yet the glasses haven't been released to the public yet. And there is no release date, only a rash of rumors --
Mashable
is reporting that Google will offer a prescription-lense option, and
TechCrunch
covered the series of app integrations Google Glass will offer, from Gmail to Evernote to the
New York Times
.
Expect Google to continue to try to make its Google Glass seem cool, sexy and exclusive through publicity stunts like its pilot program, but I highly doubt the device will catch on. The price is simply too high and the types of issues the device could cause are simply too great.
I still expect Google to do well, but I highly doubt the company will see the huge gains realized in the past year. Going forward, the company is much more likely to post more moderate returns. I am bullish about Google, but I wouldn't buy in until the company dips under $750 and I would expect to hold the position at least two to three years to get the most bang for your buck.
-- Written by Renee Butler in New York.
At the time of publication the author had no position in any of the stocks mentioned.
Follow @ReneeAnnButler
This article was written by an independent contributor, separate from TheStreet's regular news coverage.