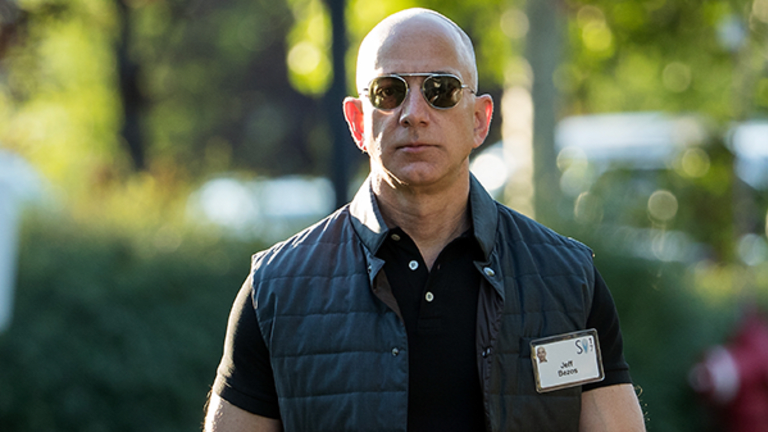 These Are Our 3 Biggest Stories on Amazon's Bizarre Earnings Whiff
Amazon lays an egg.
Amazon (AMZN) - Get Amazon.com, Inc. Report probably just killed the hard-charging rally in its stock in the near-term. 
Here are several of TheStreet's biggest stories on Amazon's bizarre earnings miss Thursday evening. 
Amazon's Shock Earnings Show That It's Cashing In on Wall Street's Goodwill
With Amazon.com Inc. flirting with a $500 billion valuation and shares of bricks-and-mortar rivals frequently tumbling on fears of what the company might do to them in the future, Jeff Bezos & Co. must be well-aware that Wall Street is providing them with more leeway than ever to sacrifice near-term profits to make big investments meant to drive long-term e-commerce and public cloud growth. Amazon's Q2 results and Q3 guidance show that it's making the most of this goodwill, even if doing so risks triggering a bit of selling from investors holding giant paper profits.
Read full story here.
This Explains Amazon's Big Second-Quarter Profit Slump
Amazon's message to investors on Thursday was simple: spend, spend, spend.
Wall Street wasn't happy about it. Shares of Amazon were dropping 3% to $1,014.41 in after-hours trading on Thursday, after the company missed big on the bottom line for the second quarter.
In an earnings call following the report, Amazon CFO Brian Olsavsky gave a glimpse into what exactly the company is investing in. Olsavsky said Amazon is plowing profits into fulfillment (sorting facilities, fulfillment centers and its Fulfillment By Amazon service), video content, overseas expansion (mostly India), Amazon Web Services infrastructure and marketing, where its been building out its AWS sales team and advertising sales team.
Despite the selloff after-hours, some analysts said these kinds of investments are par for the course for Amazon. The company itself said investors should expect more of the same, forecasting it could lose up to $400 million in the current quarter.
"Those margins, as we say frequently, are going to fluctuate quarter to quarter and always going to be in net of investments, price reductions and cost efficiencies that we drive," Olsavsky said. "So we have really stepped up the [AWS] infrastructure to match the large usage growth and also the geographic expansion. And that is showing up in tech and content."
Outside of AWS spending, Olsavsky said Amazon stepped up its investments in Prime benefits both in the U.S. and internationally. Amazon continues to add more features to its Prime subscription service, such as Prime Video and its Prime Now same-day delivery service, which it just launched in Singapore on Wednesday, furthering its investments in Asia.
Read full story here.
Amazon Talks Whole Foods
The ink is far from being dry, but Amazon is clearly excited about when it could call Whole Foods (WFM) subsidiary.
Here is what Amazon's Chief Financial Officer Brian Olsavsky told analysts on a Thursday evening earnings call:
"As far as Whole Foods is concerned, its not included in this guidance but we are excited about that acquisition and looking forward to working at the team at WFM. Think they're very customer centric just like us, built a great business focused around customers. On your larger question about the place of AmazonFresh, I will echo Prime Now and some of our other efforts, I would say we believe there will be no one solution, so we are experimenting with a number of formats physical pickup points in Amazon Go to online ordering and delivering to your door through Prime Now and AmazonFresh. And we'll see how customers respond. We like the response that we've seen so far, we think it's a valuable, all those are valuable services, Amazon Go is not out of beta, the other ones are. On top of that, were looking forward to adding the Whole Foods team and their great reputation for quality customer service to this offering."
More of What's Trending on TheStreet: