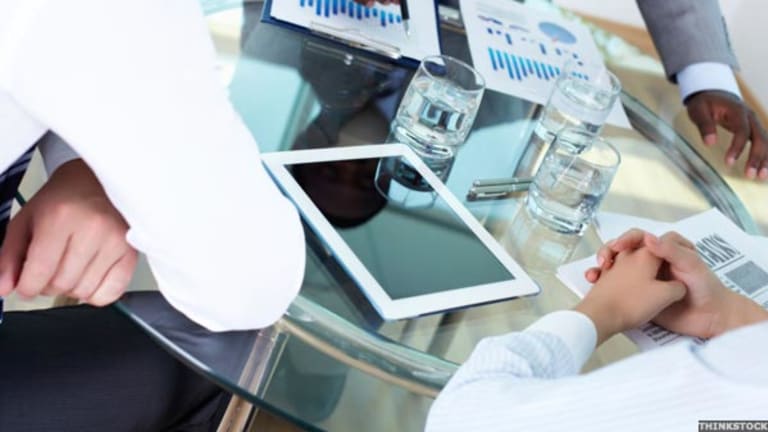 The World of Technology in 2019
Technology is coming out of the virtual world, and enormous new industries will be created by the end of the decade.
NEW YORK (TheStreet) -- Just as it was in the 1970s, 1980s and 1990s, the current recovery has begun with technology.
But the rolling over of the PC sector, starting with
Microsoft
(MSFT) - Get Microsoft Corporation Report
and
Intel
(INTC) - Get Intel Corporation Report
, climaxing now with
Apple
(AAPL) - Get Apple Inc. Report
, serves as a warning that it won't end there this time.
Technology, whether in the form of an iPad or a
Google
(GOOG) - Get Alphabet Inc. Class C Report
cloud, is in the end just a tool. It's a means to an end. The end, in this decade, will be new products and services that transform our cities and the way we live.
Cloud technologists like Jim Whitehurst of
RedHat
(RHT) - Get Red Hat, Inc. Report
, technology publishers such as
and venture capitalists including
have been saying this for some time. A host of new industries, which use the products of today's technology as an input -- just as earlier booms used commodities like steel as an input -- are emerging all around America.
The 3-D printing revolution, companies like
3D Systems
(DDD) - Get 3D Systems Corporation Report
and
Stratasys
(SSYS) - Get Stratasys Ltd. Report
, are emerging first. They hold the promise of producing custom goods at the same cost as mass-produced ones. Those companies, too, are just making tools, and it may be that the biggest winners from their rise will be their customers -- who will transform manufacturing in this decade.
Renewable energy is going to put a permanent lid on oil prices. UBS says an unsubsidized solar revolution is starting,
, beginning in high-cost countries.
KiOR
(KIOR)
has fired up its first plant in Mississippi,
, with the goal being production of crude from biomass at a price competitive with conventional oil.
Drones, or remotely piloted aircraft, are moving from military to civilian uses, as a "Nova" special described last week,
, with
Boeing
(BA) - Get Boeing Company Report
and
Raytheon
(RTN) - Get Raytheon Company Report
helping organize
to push sales. Those inventions ride partly on sensors like
that are just coming to market.
But what is a self-driving car other than a drone that moves on land? That technology, too, is on its way to market.
Cloud technology is already moving the center of innovation and economic activity from office buildings circling the city to labs inside the city. Clouds let us test ideas more rapidly and build molecules or even new forms of life an atom at a time, each custom-designed for a specific purpose.
The best access to cloud requires the best communication links, which is why the areas around research colleges are so hot. But start-ups are also moving to Kansas City,
, because 700 Mbps fiber also offers that kind of access.
In the 1970s the rise of technologies like semiconductors resulted mainly in more technology: the personal computer. In the 1980s the rise of the PC led mainly to new technology: software. In the 1990s the rise of software led mainly to new technology: the Internet.
It's going to be different this time. As with those earlier booms, just how different it's going to be isn't apparent at the start of the boom. It's not obvious now how different 2019 will be. But the tools are now in place to make it different.
What does this tell investors? The companies that most transformed society and were born in those booms weren't publicly traded at their start. Apple was a record company in 1973, Microsoft was still private in 1983.
Amazon.com
(AMZN) - Get Amazon.com, Inc. Report
had not been founded by 1993.
Watch the IPO market. Look for new names in the fields I just mentioned. Spread your bets around widely.
Then sit back and be amazed. When you look at today from the end of this decade, at the end of the current boom, you will call the world of 2013 primitive by comparison.
At the time of publication the author had a position in AAPL, MSFT, INTC, GOOG, RHT and DDD.
This article was written by an independent contributor, separate from TheStreet's regular news coverage.