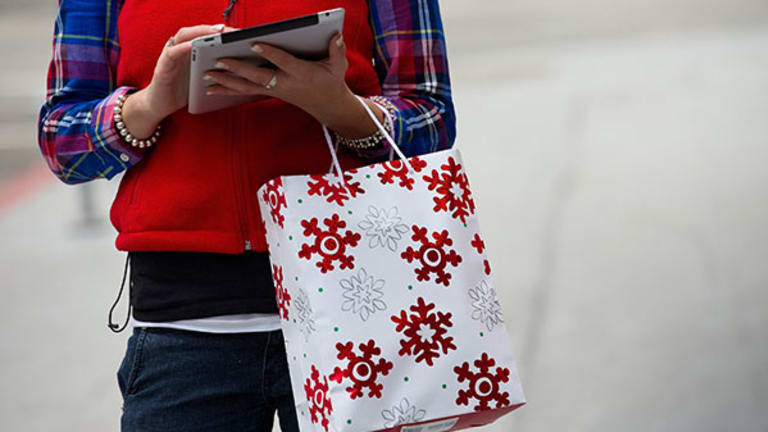 The Top 10 Fastest-Growing Social and Messaging Apps
Social and messaging apps are racing to reach a billion members at a breakneck pace. Listed here are the apps that are growing their global audiences the fastest.
SAN DIEGO (TheStreet) -- With the proliferation of mobile devices, applications for social networking and messaging are growing their audiences faster than ever, with several racing to reach a billion users.
Though smaller in total audience size than social app behemoths such as Facebook-owned (FB) - Get Meta Platforms Inc. Class A Report WhatsApp and Facebook Messenger, ephemeral photo and video messaging app Snapchat is growing faster than the rest of the pack. Snapchat increased its global audience by 57% over a 12-month period, according to GlobalWebIndex's fourth quarter 2014 report on trends in social media.
GlobalWebIndex ranks the fastest growing social and messaging apps among people on smartphones and tablets around the globe, excluding China, who are between the ages of 16 and 64. The company surveys more than 40,000 Internet users across 32 markets on a quarterly basis with selection criteria designed to make the pool representative of the internet population in each country.
Here are the 10 fastest growing social and messaging apps:
Snapchat
Snapchat, the now-you-see-it, now-you-don't photo and video app, grew its global audience outside of China faster than any other social or messaging app in 2014. The smartphone app experienced 57% growth over the 12-month period, according to GlobalWebIndex, and now reaches 4.6% of global internet users. 
Launched in 2011, the app became famous for allowing youngsters to send photos and videos called "snaps" that vanish after being viewed. It has since gone on to introduce video chat, an ephemeral daily diary feature called Stories, an Our Story feature for highlighting snaps contributed by users at major events, and a money transfer option so friends can send cash to each other. Snapchat also recently rolled out "Discover," which is a news and entertainment hub with branded channels hosted by networks like ESPN and CNN.
The startup has a reported monthly audience of more than 100 million people and its rapid comeuppance has not gone unnoticed by venture capitalists and competing public companies. Snapchat famously rejected a reported $3 billion-buyout bid from Facebook. And, most recently, the Los Angeles, Calif.-based startup secured $200 million in financing from Chinese e-commerce juggernaut Alibaba (BABA) - Get Alibaba Group Holding Ltd. Report. The round valued Snapchat at $15 billion, making it one of the highest-valued companies in the private sector.
Facebook Messenger
Facebook's messaging application is in the midst of a major growth spurt. The hit app, which has become a point of focus for Facebook in recent months, grew its global audience by 50% in 2014, according to GlobalWebIndex.
Now with a monthly audience of more than 600 million people, Facebook Messenger is transitioning from a service that is merely complementary to the social network to an app that will mature into the company's next big business. At Facebook's annual F8 developer conference, the company announced new products, Messenger Platform and Businesses on Messenger, that will let application makers and online retailers hook into the messaging application.
Messenger Platform is a "big new area and opportunity" for Facebook, CEO Mark Zuckerberg said, signaling the start of the company's efforts to make Messenger into a real business.
Pinterest
Third-place Pinterest, a social network for saving, or "pinning," inspirational or aspirational images to digital pin-boards, grew its audience by 43% last year, according to GlobalWebIndex. That likely explains why venture capitalists recently pumped $367 million in funds into the company. The financing values five-year-old Pinterest, which generates a small amount of revenue from advertisers who sponsor pins, at $11 billion.
The hit app attracts more than 70 million people every month, according to comScore (SCOR) - Get comScore, Inc. Report, and it will grow its U.S. user base to 47.1 million this year, according to eMarketer. Pinterest's most active users fall between the ages of 16 and 34, according to the GlobalWebIndex report.
Instagram
Instagram tied Pinterest as the third-fastest growing social or messaging app of 2014 with 43% growth. The Facebook-owned photo and video-sharing app has a monthly audience of more than 300 million people, with 37% of its active users from ages 16 to 24 and a further 33% in the 25-to-34 age bracket, according to GlobalWebIndex.
With such a large audience and an expanding ad business, Instagram has matured into an important member of Facebook's ever-expanding family of apps and is expected to generate material advertising dollars in a few years. "We estimate Instagram advertising could grow to near $1 billion in 2017, and to $3.9 billion by 2020," Bank of America Merrill Lynch analyst Justin Post wrote in a note.
Recently, Instagram expanded its own app family with Layout, a separate application for arranging multiple photos in a variety of layout options.
Line
Japan-based Line, a Naver company, increased its audience by 34% in 2014, according to GlobalWebIndex, securing its position as the fifth-fastest growing social or messaging app of the year.
Line, which is used by 8% of millennials around the globe, excluding China, is the originator of the sticker trend in mobile messaging. Stickers, or larger and more expressive emojis, have since been emulated by most chat apps, including Facebook Messenger, likely because they've turned into a lucrative business for the company. In the fourth quarter of 2014, Line grew revenue by nearly 62% over the previous year to 221.7 billion won, which equates to more than $201 million.
The app is most popular in Asian markets such as Japan, Thailand and Taiwan, but is attempting to grow its audience globally, and has delayed its plans to separate from Naver and list on the Tokyo Stock Exchange.
WhatsApp
Facebook's other hit messaging app, WhatsApp, also grew its audience by 34% in 2014. The app, which has a monthly audience of 700 million people, somewhat overlaps in purpose with Facebook Messenger, but appeals to people outside the U.S. looking for cheaper alternatives to texting plans.  
WhatsApp costs 99 cents a year after the first year, and works with a person's mobile phone number, making it a replacement for SMS (short message service). The app is actually now more popular than SMS, handling more than 30 billion messages a day compared to the global SMS system, which sees more than 20 billion messages per day.
"It's broadly the case that Messenger is ahead in mature markets while WhatsApp takes pole position in fast-growth countries -- further underlining why it was such a valuable acquisition for Facebook," said Jason Mander, head of trends at GlobalWebIndex.
Vine
Twitter-owned (TWTR) - Get Twitter, Inc. Report Vine ranks seventh on the list of 2014's fastest-growing social and messaging apps. The service, famous for its six-second looping videos, grew its audience by 30% last year and reaches 2.5% of global internet users, according to GlobalWebIndex. 
Since debuting in early 2013, Vine has become a home to many of YouTube's most famous personalities who take advantage of the six-second video format for comedic or artistic purposes. Though Twitter doesn't directly profit from the service yet, the social network recently purchased Niche, a startup that brokers deals between brands and digital influencers to churn out sponsored content on networks including Vine. Niche takes a cut of funds that the brands fork over to the digital influencers, which means Twitter can now indirectly bring in revenue from its video property.
Video is proving increasingly important to social networking services. In addition to Vine, Twitter now owns Periscope, a just-launched app for streaming video live from your smartphone camera.   
Viber
Viber, a messaging app that does a bit of everything, grew its audience by 29% last year, according to GlobalWebIndex. The service is also used by 10% of millennials around the globe, excluding China, and has a total active monthly audience of 236 million people.
Founded in 2010, Viber was purchased by Japanese e-commerce company Rakuten for $900 million in 2014 even though the service, which charges for calls to non-Viber users, had a net loss of $29.5 million in 2013. Rakuten now reports Viber results in an "other" category. The category saw 42.45 billion yen in sales during 2014, which equates to around $357 million. The category, however, lost 639 million yen, or $5.4 million.
Google+
Google's (GOOG) - Get Alphabet Inc. Class C Report (GOOGL) - Get Alphabet Inc. Class A Report social network, which includes the Hangouts video chat service, grew its audience by 28% in 2014. The app, however, is the midst of a drastic overhaul as the search giant seeks to improve its position in the social app hierarchy. 
Like its rival Facebook, Google appears interested in attacking mobile with an arsenal of apps for a variety of purposes, and is turning the best parts of the Google+ service into standalone apps. Google+ is being disbanded into Streams, Photos, and Hangouts, with the first two services now falling under the direction of Bradley Horowitz, Google's vice president of products.
Kik
Waterloo, Ontario-based Kik, which has a reputation for being the preferred chat app among teens in North America, increased its global audience (excluding China) by 28% in 2014, GlobalWebIndex said.
Launched in 2010, Kik appeals to youngsters who can sign up with a username and chat for free with friends from their iPod Touches, no phone number required. The app works across iOS, Android, Windows Phone and BlackBerry devices.
The company claims that Kik is used by 40% of American youth, and says that it has 200 million registered users, but it does not report how many of its users are active on a monthly basis. A study commissioned by Kik found that its users spend 35 minutes per session in the app, on average, compared with Facebook Messenger users who average 27 minutes with that app.