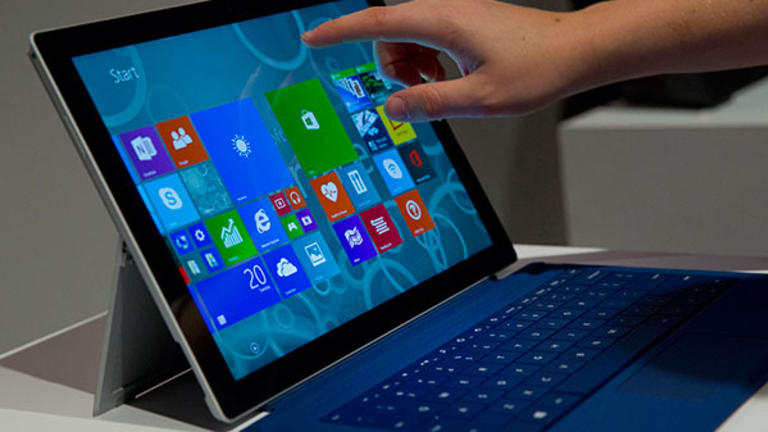 The Many Problems With Upgrading to the new Windows 8.1
After nearly four days of trying we've found that trying to upgrade to Microsoft's Windows 8.1 OS is time consuming at best, impossible at its worst.
NEW YORK (TheStreet) -- Upgrading to Windows 8.1 is no easy task. I've found that in some cases it's a process that can't be accomplished at all. Because of one particularly severe problem, Microsoft (MSFT) was forced to halt all Windows RT upgrades.
This summer, Microsoft offered users of both Windows Pro (running on Intel (INTC) processors) and Windows RT (running on ARM-based (ARMH) processors) a chance to preview its (then) future Windows 8.1 operating system. The beta offered a glimpse of the hundreds of improvements Microsoft was going to offer in its first major revision.
At that time, we installed the preview editions of both Windows 8.1 and Windows RT 8.1 on a number of machines. The process was painless and we appreciated the improvements Microsoft had made. We especially loved the return of the familiar "Start" button on the traditional Windows screen.
Last Thursday, Microsoft officially released Windows 8.1 and RT 8.1 to the public. The software for both platforms was offered as free downloads via the Windows online store. It took hours for any of my computers to get into the store. The system was swamped. It wasn't until early Friday morning that I could even try to access the upgrades.
If you didn't install the beta software, upgrading to 8.1 is easy. First, you must make sure your computer's software has installed all the recent updates. Then press just one button and you're on your way. Those who installed the preview edition have to endure a two-step process -- uninstalling the preview software (rolling back to Windows 8) then downloading/installing 8.1 from the store.
As for our devices, upgrading the Lenovo (Windows Pro) laptop was straightforward but fatiguing. Just the first step, uninstalling the Windows 8.1 beta, took nearly 12 hours. I was able to keep track of the glacial process while working on other computers. I think the actual download and upgrading to the new 8.1 RT software took another hour or so. I don't know for sure. I was fast asleep by that time.
Upgrading the two Windows RT machines was a different story. Neither the Microsoft Surface RT nor the Asus Vivo Tab RT test machines could complete the first step in the process. I could not get them to roll back to Windows 8 no matter what I tried.
I decided to ask for an explanation. I contacted Microsoft's "Rapid Response Team" for journalists. I received an answer from the public relations team within 30 minutes.. Six hours later I received a call from one of Microsoft's global escalation engineers in India. After a number of conversations, he admitted he was stumped. Since Friday evening we've been in touch a number of times. His last message said I'd be updated on the situation sometime Monday.
My problem is different from the one which forced Microsoft to "pull" all Windows RT upgrades on Saturday. According to the Microsoft blog:
"Microsoft is investigating a situation affecting a limited number of users updating their Windows RT devices to Windows RT 8.1. As a result, we have temporarily removed the Windows RT 8.1 update from the Windows Store. We are working to resolve the situation as quickly as possible and apologize for any inconvenience. We will provide updates as they become available."
The problem affected some who were able to successfully upgrade to 8.1. The people who never bothered trying the beta, their efforts were rewarded with major operational glitches. For them, Windows RT 8.1 crashed and/or didn't re-boot properly after the installation process leaving their machines non-functioning. There is no way to determine just how limited this problem was, but we do know it was serious enough for Microsoft to stop anyone from trying to install it.
These problems are not great confidence builders for Microsoft's struggling operating system business. Allowing end users to install or upgrade their OS has historically been troublesome. I remember when the process involved dozens of floppy disks and hours/days of tweaking. We've come a long way since then but it's still a time and labor intensive ordeal.
Other computing platforms aren't 100% glitch-free either. Apple's (AAPL) OS X and various forms of Linux have, from time to time, not been perfect right out of the box. Bu, those operating systems don't have the same perception problem that Microsoft has with Windows RT.
The glitches should have been detected and fixed in the past 12 months of development. Hopefully experts will be able to fix the problems quickly. In preview form, Windows 8.1 (both platforms) showed much promise. But users must be able to install the new software to try it for themselves.
Written by Gary Krakow in New York.
To submit a news tip, send an email to tips@thestreet.com.