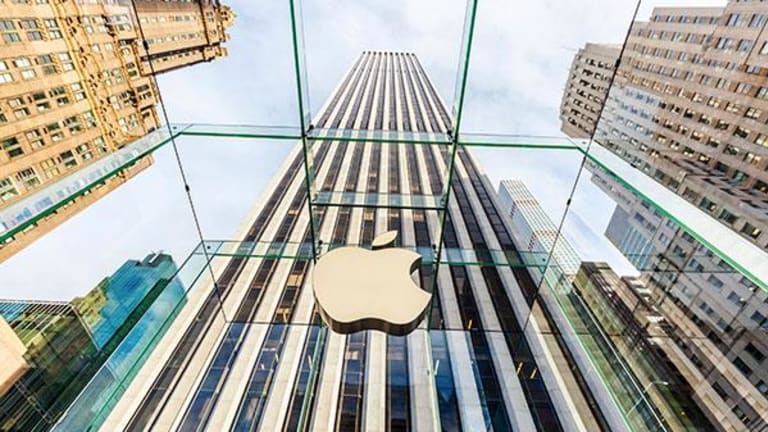 The iPhone SE and iPad Pro Help Apple Beat a Low Bar
Two relatively new product lines gave Apple a sales boost against a backdrop of low expectations.
Updated with comments from Jim Cramer.
When it comes to earnings reports, expectations are everything.
Apple's (AAPL) - Get ReportJune quarter report doesn't look particularly good on the surface -- revenue fell 15% annually to $42.4 billion, EPS fell 23% to $1.42 and the company guided for September quarter revenue of $45.5 billion to $47.5 billion, down from $51.5 billion in the year-ago period -- but expectations were very low thanks to prior guidance, a deluge of worrying iPhone-related data points and reports the iPhone 7 (expected in September) won't feature huge improvements relative to the 6S.
Thus, the results and guidance largely topped analyst estimates, and markets responded by sending Apple 7% higher in after-hours trading on Tuesday and more than 8% higher in premarket trading on Wednesday.
iPhone/iPad chip suppliers have also received a boost. Cirrus Logic (CRUS) - Get Report, Skyworks (SWKS) - Get Report, Qorvo (QRVO) - Get Report, NXP (NXPI) - Get Report, Broadcom (AVGO) - Get Report and InvenSense (INVN) are among the Apple suppliers higher after-hours.
According to TheStreet's Jim Cramer, who owns Apple in his Action Alerts PLUS Charitable Trust Portfolio, Apple simply failed to order enough parts. "It was a high quality problem...they had more supply than demand," Cramer said.
Bearish analysts will continue to be "relentless" about Apple, Cramer noted, but he believes it was just a tough transitional quarter for the company.
From a product standpoint, the iPhone SE and the iPad Pro were standouts in the June quarter. The former helped Apple sell 40.4 million iPhones -- down 15% from a year ago, but slightly above analyst estimates -- in spite of a channel inventory reduction of more than 4 million. On Apple's earnings call, Tim Cook mentioned iPhone sell-through to consumers was down a relatively moderate 8%.
There is a trade-off here: A mix shift in iPhone sales towards the cheaper SE led Apple's iPhone average selling price (ASP) to fall to $595 from $642 in the March quarter and $691 in the December quarter. That, in turn, led total iPhone revenue to drop 23% to $24 billion (still 57% of Apple's total revenue).
The iPad Pro, meanwhile, helped total iPad revenue rise 7% to $4.9 billion -- the iPad's first quarter of positive growth in years -- in spite of a 9% drop in units to 10 million (still better than expected). A mix shift towards the iPad Pro led iPad ASP to rise to $490 from $428 in the March quarter. On the call, Apple, which has been investing heavily in growing its enterprise traction, mentioned about half of all iPad Pros being sold are used for work.
Elsewhere, Mac revenue, hurt by both a weak PC market and a need for MacBook refreshes, fell 13% to $5.2 billion, with units dropping 11% to 4.3 million. And "Other Products" revenue, which covers the Apple Watch, Apple TV, Beats, the iPod and accessories, fell 16% to $2.2 billion. Lower sales of the Apple Watch, which launched a year ago, are the likely culprit. Services revenue continued to be lifted by rising App Store sales: It grew 19% to $6 billion, and is now 14% of total revenue.
Geographically, the "Greater China" region remains an area of concern -- its sales fell 33% to $8.8 billion -- particularly with local Android manufacturers such as Huawei reporting decent smartphone growth. Apple insists it remains in good shape in Greater China after accounting for forex and macro pressures. Japan was a strong point, with sales rising 23% to $3.5 billion with the help of both iPhone SE demand and a strong yen. Indian iPhone sales rose 51%, but no specific revenue number was given.
When asked about smartphone upgrade activity on Apple's call -- a subject that's been getting a lot of scrutiny, given recent sales declines and concerns upgrade cycles are lengthening -- Cook asserted upgrade activity for the 6S remains comparable to that of the 5S, albeit well below that of the iPhone 6. He also declares Apple remains confident it can keep growing its iPhone base, given the SE's reception, healthy Android switching activity and a global smartphone penetration rate that's still only at 42%. It's worth noting many of the remaining 58% of consumers are very cost-sensitive, and could find it much easier to afford a $100 Android phone than a $399 SE, never mind a $649 6S.
Between iPhone 6S upgrade rates, iPhone 7 reports, slowing smartphone industry growth, Chinese and Mac sales pressures and the SE's impact on ASPs, there are still a lot of things for Apple investors to potentially be concerned about. But those concerns were largely priced in, while strong SE and iPad Pro sales weren't. That's why Apple is making three-month highs post-earnings.