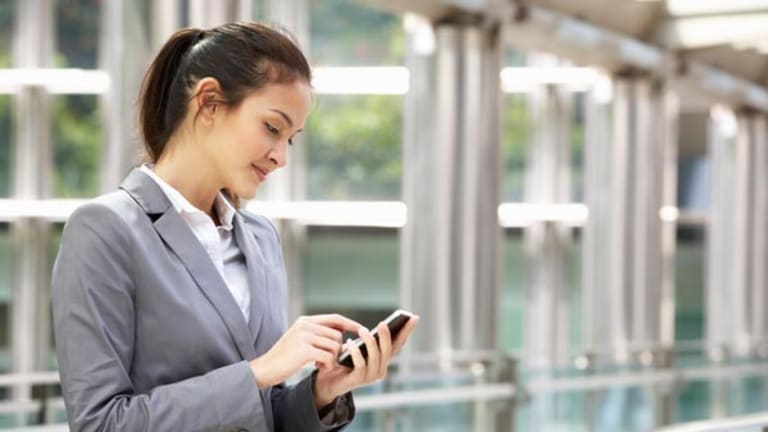 CUPERTINO, Calif. (TheStreet) -- As white earbuds yellow, dancing silhouettes slow and playlists share space with phone contacts, consumers are tuning out Apple's (AAPL) - Get Apple Inc. (AAPL) Report iPod.
A bouncy Apple announced better-than-expected quarterly earnings last week, but missed a beat: iPod sales fell 14% from the quarter before and 4% from a year earlier. Though iPod revenue actually rose 4% from last year, it tumbled 17% from the previous quarter, when it dropped 19%. Yes, the iconic iPod that made media players a $4.8 billion industry, according to
, and is owned by one in every 26 people on the planet, is now an afterthought, a beloved grandparent whose stories are still treasured, but who doesn't know how to fix the newfangled TVs kids are watching today.
"It wasn't long ago that the iPod was the sign of the technological revolution, where you didn't have to have a big stack of CDs and you could carry around 10,000 hours of music on a little piece of technology," says Robert Thompson, a professor of television and pop culture at Syracuse University and founder of the university's
Bleier Center for Television and Popular Culture
. "Now you show an iPod to an 11-year-old and they turn their nose up at it -- 'You mean it only plays music?' "
After the iPhone 4 launch earlier this year, the iPod became even more of a misfit. When Apple made its last tweaks to the line in 2009, a new 4-gigabyte Shuffle, video camera and FM radio-enhanced Nano and 64-gigabyte Touch couldn't prevent iPod sales from slipping 12% from the product's peak of 9.15 million units in 2008. Net sales per unit also fell to $149 from $167, with the company blaming price reductions to get a surplus of older iPods off shelves before the launch of the new line. Though Apple usually launches a revamped iPod line every autumn, perhaps the best iPod die-hards can hope for is an iPhone 4 knockoff version of the Touch.
"What Apple has essentially done with the product is morphed it from a media playback device to a more general, broadly focused computing and Internet access device in the iPod Touch," says Ross Rubin, an analyst with NPD Group. "Apple has a strategic incentive to have iPod users upgrade to iPod Touches or iPhones so they can buy more from Apple."
After a decade spent blanketing the world of 260 million iPods with twee tunes from Jet, Feist, CSS, the Fratellis and every other act of the moment, Apple has to wean its worshippers off a product they love with the vigor of vinyl LPs and VCRs. Unlike those tech-museum relics, though, it's not the medium's obsolescence that's killing the iPod -- it's the iPod itself. The iPod's peak in 2008 came just as all the cool kids were picking up the iPhone, whose 1.4 million sales in 2007 jumped to 11.6 million. Last year, for the first time, the iPhone's total global revenue ($13 billion) surpassed the iPod ($8 billion). People are still listening to MP3s and watching videos -- but on their smartphones.
Consequently, iPod isn't getting the screen time, store space or even market share to which it became accustomed. Roughly 23 million portable digital players were sold just in the U.S. last year, according to NPD Group. That's down 14% from the 26.7 million sold in 2008. The top five sellers in the first half of this year were still all iPod Nano, Touch and Classic models -- with the 8-gigabyte Touch firmly in the lead -- but the field is crowding with cheaper products of similar quality produced by
Sony
(SNE) - Get SONY GROUP CORPORATION SPONSORED ADR Report
,
Samsung
,
Cowon
,
SanDisk
(SNDK)
and others. The Apple products tend to rate higher, but a
Microsoft
(MSFT) - Get Microsoft Corporation (MSFT) Report
Zune owner -- or a Japanese consumer who chose the Walkman over an iPod when sales of Sony's player bested Apple there last fall -- knows the quality gap narrowed as the price divide widened.
"We are seeing more inexpensive playback devices enter the market and private-label products in the sub-$100 space," NPD's Rubin says. "Even though the Nano continues to be a pretty strong product, the market is starting to bifurcate more, with these less expensive competitors in the low end and the iPod Touch taking over the high end."
After a decade of being nearly as indispensable as human plasma, if the ads and earbudded subway riders were to be believed, the iPod faces the same face-in-the-crowd fate as portable cassette players, boom boxes and other thrift-store gems. The problem is that it isn't a video cassette recorder, compact disc, cathode-ray television or piece of stereo equipment -- it's the equivalent of all of it hitting unsuspecting consumers at the same time.
It made Apple's iTunes store a $4 billion enterprise while making hipsters' stacks of records and CDs about as desirable as piles of stone tablets, and VHS and DVD libraries seem as unwieldy as cans of highly flammable nitrate films. Even before the housing bubble burst, the iPod and its podcasts gave gluttonous consumers a valuable lesson: You don't always have to own the things you love.
"We've always been a society of ownership that's been too obsessed with our stuff," Syracuse's Thompson says. "By not having to buy 10,000 records and display them and sell them in your estate sale when you die -- at least when it comes to music and video -- we're traveling a lot lighter than we used to."
Before the Nano caught fire -- figuratively, not in the literal sense that prompted a
recall of the 2005 model in Japan
this week -- the Mini and the original model captured the public's imagination not with the size of their devices, but the bulk of their memory. Keep in mind, in pre-iPod world, it took a multi-disc changer roughly the size of carry-on luggage to store 1,000 songs.
We're also a bit lonelier in our travels since the iPod came around. Want a studio apartment in New York City? Go on the subway, sit down, put in your earbuds and open a magazine or a publication on your Touch. Instant isolation.
Want to tell what college students are listening to when it's not blaring out of dorm windows or houses on fraternity row? Even better, want to go back to your date's place and figure out if he or she ever heard of the Velvet Underground or will tolerate your love of
Big Trouble in Little China
? Sorry, graybeard, that info is no longer available in analog.
"How do you know anymore, when you go to the apartment of a new acquaintance, whether or not you should fall in love with this person?" Thompson says. "It used to be what records or what books they have, and one of the ways we're answering that question is that people simply aren't falling in love anymore -- the whole concept of dating seems foreign to a lot of younger people."
With all that cultural cachet, how can the big white wheel just click to a halt? Maybe it doesn't have to. The iPod's bigger, costlier cohort, the iPad, is no more integrated than its predecessor, but still sold nearly 3.3 million units in its first three months. Meanwhile, old-man iPod shuffled its way to 9.4 million units sold and $1.5 billion in revenue. With the more expensive iPod Touch leading the charge and consumers still seeking media without monthly data fees, maybe the little iPod still has some left in it, even if its best years are behind it.
"It may be a little bit early to be writing its eulogy, but at the rate that technology is changing, you can't write the eulogy for a technological product soon enough," Thompson says. "No sooner have you written its eulogy than it's already gone."
RELATED STORIES:
>>Apple's Genius Marketing Move: Kaminsky
>>Apple's Do-It-All Touch Deserves More Love
>>How iTunes Is Threatening iPhone Sales
Follow Jason Notte on
and get more stock ideas and investing advice on our sister site,
Jason Notte is a reporter for TheStreet.com. His writing has appeared in The New York Times, The Huffington Post, Esquire.com, Time Out New York, the Boston Herald, The Boston Phoenix, Metro newspaper and the Colorado Springs Independent.