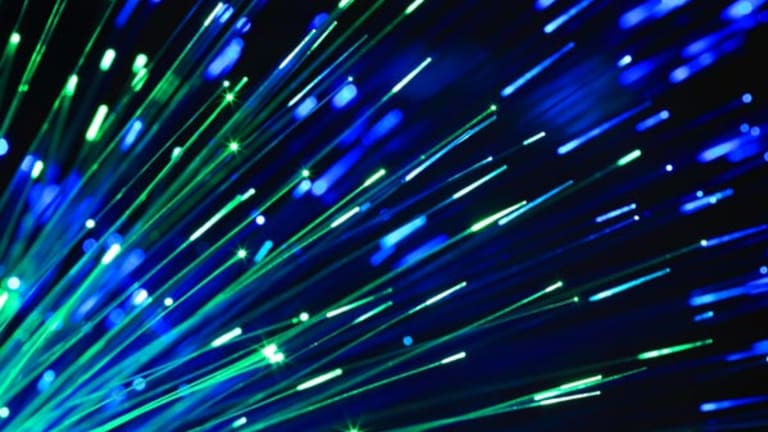 The Digital Wallet's Future Is Now
As payments move away from traditional methods, investors need to be aware of the digital wallet's future.
NEW YORK (
) -- Technology has shaped the way we live in nearly every facet of life. One aspect that's poised to have the most impact, though, is the digital wallet.
Consumers are transitioning from paying with credit cards and cash to using whatever is easiest and most convenient for them, potentially saving a few dollars or earning rewards in the process.Companies like
eBay
(EBAY) - Get Free Report
,
Square
, and potentially
Apple
(AAPL) - Get Free Report
, are changing the way we pay for everyday goods and services.
Mobile payments are destined to be a key component of the evolving "digital wallet," and investors need to be aware of this emerging market. Battle lines in the war for market share are already being drawn.
PayPal's vision for the digital wallet
According to data from
Ernst & Young,
mobile payments are expected to be big business, with the market reaching a massive $245 billion by 2014. The shift is coming rapidly, as payment methods are moving away from credit cards, debit cards and cash to smartphones, tablets and other mobile devices.
What isn't clear yet is what this market will look like, Sterne Agee analyst Greg Smith wrote in a recent research note. "We found contrasting views as to how the mobile payments landscape will evolve, and in particular, whether NFC
Near Field Communication or cloud-based wallets will ultimately dominate," he explained. Smith did note that NFC will eventually increase rapidly in numbers, as will cloud-based mobile payments, and perhaps that's why PayPal is taking an agnostic view towards its approach and keeping it in the cloud.
NFC, a swiping technology that is used for mobile payments, has attracted plenty of
recently. There were rumors, for example, that NFC would form part of Apple's iPhone announcement last year, although this did not materialize.
Is Facebook Better Than Sex?>>
Even though non-traditional payments companies are entering the space, firms like
Visa
(V) - Get Free Report
, and
MasterCard
(MA) - Get Free Report
are not going to go down without a fight, perhaps part of the reason why Visa made an
in mobile payment specialist
Square
last year.
Channing Smith, portfolio manager of
The Capital Advisors Growth Fund
(CIAOX) - Get Free Report
believes that Visa's infrastructure is not going to be dismantled or displaced by others, and that companies such as Apple and
Google
(GOOG) - Get Free Report
will "increasingly rely on Visa and MasterCard's infrastructure as the mobile payments trend transitions to mass adoption." Smith is long both Visa and Apple.
Square
, led by CEO Jack Dorsey, is the 800-pound gorilla in mobile payments, thanks to its sleek Square card reader, and its partnership with Apple (The iPhone maker
in its Apple Stores).
Square is thought to be doing roughly
$5 billion in payments per year,
as more merchants adopt the readers to cut down on credit card costs. The San Francisco-based company charges 2.75% per swipe for Visa, MasterCard,
Discover
and
American Express
(AXP) - Get Free Report
, lower than the fees the credit card companies charge to process payments.
Square recently launched a
loyalty rewards program
for business owners to create rewards programs to keep existing customers and attract new ones.
Many consumers, though, will be more familiar with PayPal, thanks to the e-commerce boom.
It's been almost a decade since
eBay (EBAY) - Get Free Report bought PayPal.
In that time PayPal has transformed itself from just another online payment system into something that's at the forefront of the mobile wallet revolution, helping propel shares of eBay higher in the process.
"What's changing for us is that opportunity to pay with PayPal is moving strictly from online to in store. We think the wallet should not be stored in any one device, because devices change. PayPal is taking the wallet out from any one device and putting it into the cloud," said Anuj Nayar, PayPal's Senior Director of Corporate Communications, in a recent interview with
TheStreet
.
RIM: Get Set for More Disappointment>>
What PayPal has done is combine payment sources (checking accounts, credit cards, coupons, gift cards) into one app, allowing users to pay for products in a variety of different ways. They can set payment terms or pay for the item(s) all at once, giving customers the flexibility to pay how they want, when they want. The merchant is paid via PayPal in full, and has access to the cash immediately. PayPal does not break out its fees to individual rates per merchant for in store payments, but notes "they will be on a par with what they are currently paying the traditional payment processors."
"Mobile payment volume was $141 million in 2009 and we've previously said it's going to be $7 billion this year. That's 50x growth," said Nayar. PayPal has previously said it will "blow through" the $7 billion number. PayPal's $7 billion number is remote payment based, while Square's $5 billion number is based on proximity payments. PayPal has provided zero revenue guidance from its $7 billion number up until 2013, but with its PayPal Here card reader, that may change.
Aside from Square and PayPal Here, there are plenty of other companies competing for proximity-based payments, as the mobile payment pie continues to grow. This includes companies like
Intuit's
(INTU) - Get Free Report
GoPayment,
PayAnywhere
, as well as Visa and MasterCard.
The mobile payment story is altering the way people do business, whether it's the everyday person or established retailers, says PayAnywhere CEO Marc Gardner, citing the availability and affordability of mobile devices.
"The real revenue and sea change isn't in enabling the guy down the street having a garage sale to process credit cards; it's in the real established merchants and retailers, and how we will meet their needs with smart mobile solutions that are enterprise-ready but still simple and easy to use," Gardner explained, via email. PayAnywhere charges 2.69% per transaction rate, compared to Square's 2.75%.
Even telecom companies like
AT&T
(T) - Get Free Report
and
Verizon
(VZ) - Get Free Report
are getting into the space, as can be seen in their
Isis
joint venture. According to its Web site, Isis is coming this summer.
Late last year, there was even a
between Verizon and
Google
(GOOG) - Get Free Report
over Galaxy Nexus smartphones which included Google's Wallet for mobile payments.
The one name that everyone's watching, though, is Apple, and it looks like the iPhone maker's entering the mobile payment space with its new iOS 6 operating system.
At Apple's
recent Worldwide Developers' conference (WWDC),
the technology giant announced its Passbook feature in iOS 6. This may mark the company's entrance into the digital wallet space, potentially becoming one of
Apple's most important announcements.
Facebook Status Update: 'Like', but Not Love>>
Passbook is a location-aware app that lets users store discount cards, gift cards, movie tickets and boarding passes. Users, for example, can store their
Starbucks
(SBUX) - Get Free Report
gift cards, which some believe may transition Apple into the mobile payment space. Apple could not be reached for comment for this story.
"This is Apple's first move towards the wallet," said Calvin Carter, President of
Bottle Rocket Apps
during a recent interview with
TheStreet
. "This is massive."
Carter added that Passbook will prompt developers to start integrating the location-aware app into apps for large consumer brands.
Credit Suisse research analysts James Kissane and Moshe Orenbuch believe that PassBook could prove a disruptive force the payments industry, especially with Apple's more than 400 million iTunes accounts, which store personal information.
"The consensus seems to believe that Apple has the most potential to disrupt the payment system. It can alter the payments landscape in several ways," the analysts wrote in a recent research report. They believe that the next iPhone could help shape payments depending on whether it has NFC or a Cloud-based system, similar to what PayPal is doing. Credit Suisse rates Apple "outperform" with a $750 price target.
Even though the mobile payment and digital wallet space has yet to find a consensus, one thing is clear, Smith wrote in his note. "...the payment itself is becoming commoditized; it is therefore the functionality you wrap around the payment or embed in the mobile wallet that will differentiate the winners from the losers."
Interested in more on Apple? See TheStreet Ratings' report card for
this stock
.
Check out our new tech blog,
Tech Trends
. Follow TheStreet Tech
.
--
Written by Chris Ciaccia in New York
>Contact by
.
Follow @Commodity_Bull