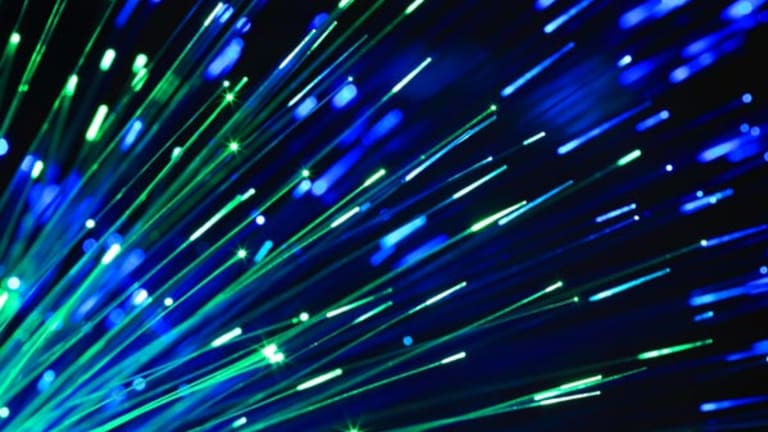 The Deal: Apple Plays Disrupter Again with iTunes Radio
The company introduces its service amid tumult in the business of streaming digital music.
NEW YORK (
) -- No, this is not the Second Coming. The launch Wednesday, Sept. 18, of iTunes Radio -- part of
Apple's
(AAPL)
new operating system -- won't upend the music industry in ways remotely similar to when iTunes and its 99 cent downloads burst on the scene in 2001. Not by a long shot.
But neither should iTunes Radio be dismissed as just one more over-hyped Apple product launch designed to keep ear-bud-wearing natives restless.
Apple's streaming music service, which will take months to roll out, is another major challenge to market leader
Pandora Media
(P)
. It's also guaranteed to further shake up other digital music providers at a time when they can ill afford any more rumble. This is, after all, Apple. All those millions of iTunes users will find it hard to resist.
The environment in digital music streaming is unsettled. So, you may ask, what else is new? After all, the music industry seems to be in a perpetual state of disarray. True, although these days, the firmament appears especially chaotic. Witness the following:
On Monday, Pandora announced a secondary stock offering that could easily raise more than $300 million, based on Wednesday's 3:30 p.m. Eastern Daylight Time price of $25.79.
The additional capital will be plowed into local advertising sales support. However, in a report Tuesday, Rich Tullo, Albert Fried & Co. LLC's director of research, wrote that he believes Pandora could also use its funds to acquire other companies. He singled out two, much smaller competitors,
Songza
, and
Raditaz
. Or, Tullo suggested, Pandora could expand its sophisticated analytics into other forms of media, such as films and books.
Pandora attracts a remarkable audience of more than 70 million, but has trouble turning that marketplace into a profit. For the six months ended July 31, 2013, Pandora lost $36.4 million on revenue of $282.9 million.
It's engaged in a bruising fight to cut the amount of royalties it pays songwriters and publishers, a tactic that has turned Pandora from musician's friend to foe. On that front, Pandora scored a legal victory Tuesday. A federal court judge ruled music publishers couldn't withdraw so-called new media rights of their works from American Society of Composers, Authors and Publishers, or ASCAP, and threaten to withhold these songs, in order to negotiate directly on rates Pandora and other Internet radio services must pay.
On Monday as well, the oldest surviving on-demand subscription music service,
Rhapsody International
, announced it was axing 15% of its staff, including Jon Irwin, its president and CFO Adi Dehejia. The announcement centered on a new, "significant" but otherwise unspecified investment by
Columbus Nova Technology Partners
, which describes itself as a cross between venture capital and private equity. The press release talked about expansion in Europe and "emerging markets."The underlying tone, however, is one of not-so-quiet desperation. Rhapsody hasn't grown for years and its late-2011 acquisition of
Napster
provided little relief. According to the latest quarterly filing of
RealNetworks
(RNWK)
, which owned 45% of Rhapsody before the latest investment, Rhapsody lost $9.2 million for the six months ended June 30, 2013, on revenue of $68.6 million. That's down 6%. Rhapsody's book value is a scant $34 million.
Word from Europe earlier this month is that
Spotify
is in the market for more funds. Spotify has already raised something in the neighborhood of $300 million, but the Swedish newspaper
Dagens Industri
wrote that the on-demand music service wants more. The Stockholm-based company, which upended the industry in 2008 when it launched its licensed, on-demand treasure trove of albums, boasted revenue of €435 million ($582 million) last year, more than twice 2011 revenue, but lost €58.7 million. It has more than 20 million active users, but only about five million pay to listen.
ITunes Radio isn't the only new product out there. Another high-profile music streaming service, Beats Music, is expected to launch before the end of the year. The latest project of music impresario Jimmy Iovine is being underwritten to the tune of $60 million by an investment consortium led by Len Blavatnik, Russian billionaire and owner of
Warner Music Group
.
Last year,
Beats Electronics
, the headphone manufacturer Iovine co-founded alongside rapper Dr. Dre, acquired a digital music service called MOG, critically praised but financially struggling.
Yesterday's buzz is today's snooze and long-term traction in digital music delivery is proving extremely difficult. Once high-flying startups come crashing down with great regularity.
The latest is
Turntable.fm
. Two years back, Turntable.fm turned heads -- and ears -- with a site that appealed to those wanting to channel their inner DJ, and those interested in listening. The company attracted some serious venture funding and celebrity backing.
Last week, Turntable.fm co-founder Billy Chasen blogged that his company is struggling to stay alive. Chasen admitted self-styled DJs burned out after a few weeks and licensing music is expensive. To heighten chances of survival, the company is shuttering a sister service and will no longer allow users to upload music directly. What he didn't address is the audience, virtual listening rooms with almost no listeners.
Apple, it's safe to say, won't have that problem.
Written by Matt Miller