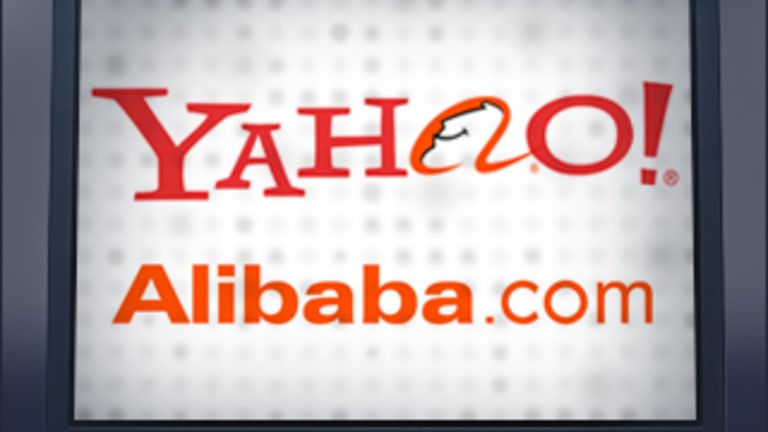 The Biggest Risks to Alibaba's IPO
It's finally here, the F-1 filing for Alibaba, China's largest Internet company, as the company gets set to go public later this year in the U.S. However, given the unique structure of the company, there are plenty of risks to go along with it.
It's finally here, the F-1 filing for Alibaba, China's largest Internet company, as the company gets set to go public later this year in the U.S. However, given the unique structure of the company, there are plenty of risks to go along with it.
Updated from 5:36 P.M. to include Softbank ownership structure and board seat.
NEW YORK (TheStreet) -- It's finally here, the F-1 filing for Alibaba, China's largest Internet company, as the company gets set to go public later this year in the U.S. However, given the unique structure of the company, there are plenty of risks to go along with it.
According to the company's F-1 filing, Alibaba had 231 million unique users at the end of 2013, with 136 million mobile monthly active users (MAUs), who helped generated $248 billion in gross merchandize volume for the year. Perhaps one of the biggest risks the company faces is its reliance on Alipay, which has been compared to the PayPal of China.

WATCH: More market update videos on TheStreet TV | More videos from Ruben Ramirez
Alibaba earned $3 billion in profit in the nine months ended on Dec. 31, 2013, and revenue of $5.6 billion. Earnings at Chinese e-commerce giant Alibaba more than doubled in the fourth quarter to over $1.3 billion as revenue topped $3 billion, Yahoo! (YHOO) , which owns nearly a quarter of Alibaba, said in its first-quarter earnings slides.
In mid November, Alibaba said it generated $5.7 billion in sales from this year's Singles Day, including $877 million in mobile transactions. For Alibaba, strong revenue growth and rising profit margins in 2013 mark a busy twelve months.
"In the twelve months ended December 31, 2013, 78.6% of GMV on our China retail marketplaces was settled through Alipay, and the settlement and escrow services and convenient payment mechanisms provided by Alipay are a critical factor contributing to our success and the development of our ecosystem," Alibaba said in the filing. "Pursuant to our agreement with Alipay, Alipay provides payment services to us on terms preferential to us. See "Related Party Transactions - Agreements and Transactions Related to Small and Micro Financial Services Company and its Subsidiaries."
There have been reports that Alibaba, which is 24% owned by Yahoo! (YHOO) , will try to buy back the portion of Alipay it does not already own, though that is still anything but a foregone conclusion. Given that Alipay's business is highly regulated in China, Alibaba could suffer any of the following outcomes with its payments processor and escrow servicing partner, which could negatively impact sales.
      *increased regulatory focus and the requirement to comply with numerous complex and evolving laws, rules and regulations;
* increasing costs to Alipay, including fees charged by banks to process funds through Alipay, which would also increase our cost of revenues;

      * dissatisfaction with Alipay's services or lower use of Alipay by consumers and merchants;

      * changes to rules or practices applicable to payment card systems that link to Alipay;

      * leakage of customers' personal information and concerns over the use and security of any collected information;

      * system failures or failure to effectively scale the system to handle large and growing transaction volumes;

      * failure to manage funds accurately or loss of funds, whether due to employee fraud, security breaches, technical errors or otherwise; and

      * failure to manage business and regulatory risks.
In March of this year, it was reported that the People's Bank of China had more regulations regarding online and mobile payment services, which would prohibit individuals from using "the funds in their online and mobile payment accounts with third-party payment providers such as Alipay to make purchases in excess of RMB 5,000 (US $804) in any single transaction or over RMB 10,000 (US $1,609) in aggregate purchases per month." In addition, the regulations would limit transfers to other accounts to RMB 1,000 (US $161) per transaction and RMB 10,000 (US $1,609) per year.
Aside from the problems stemming from its reliance on AliPay, Alibaba primarily gets its revenue from online marketing services, commissions based on transaction value, and fees from the sale of memberships on its wholesale marketplaces. Revenue grew 72.4% from fiscal 2012 to fiscal 2013, and 56.6% for the nine months ended Dec. 31, 2012 to the nine months ended Dec. 31, 2013. 
Like other global e-commerce retailers such as eBay (EBAY) - Get Report, which owns the aforementioned PayPal, and Amazon (AMZN) - Get Report, Alibaba is subject to the whims of the global economy, particularly a strong and burgeoning Chinese middle class.
Given Alibaba's exceptionally strong position in global e-commerce, the company has been fraught with claims of allowing sellers to sell pirated, or counterfeit goods. The company, founded by Jack Ma, has worked hard to stop that, but it's still a major risk for a company based in a country where intellectual property laws are murky, at best.

"We have received in the past, and we anticipate we will receive in the future, communications alleging that items offered or sold through our online marketplaces by third parties or that we make available through other services, such as our online music platform, infringe third-party copyrights, trademarks and patents or other intellectual property rights. Although we have adopted measures to verify the authenticity of products sold on our marketplaces and minimize potential infringement of third-party intellectual property rights through our intellectual property infringement complaint and take-down procedures, these measures may not always be successful. We may be subject to allegations of civil or criminal liability for unlawful activities carried out by third parties through our online marketplaces."
The company noted "that in 2008, 2009 and 2010, Alibaba.com, and in 2008, 2009, 2010 and 2011, Taobao Marketplace, were named as "notorious markets" in the annual Special 301 Report or Special 301 Out-of-Cycle Review prepared by the Office of the U.S. Trade Representative." Following that, the U.S. Trade Representative subsequently removed these items from the marketplace.
Though Yahoo! owns 24% of the company, it will not get a seat on the company's board of director. However, Japanese conglomerate Softbank, which owns 30% of Alibaba, will. "Furthermore, we expect the voting agreement to provide that SoftBank will have the right to nominate one director to our board and that right will also be reflected in our articles of association that will become effective upon completion of this offering. In addition, pursuant to such voting agreement, Yahoo, Jack Ma and Joe Tsai will agree to vote their shares (including shares for which they have voting power) in favor of the election of the SoftBank director nominee at each annual general shareholders meeting and SoftBank will agree to grant the voting power of any portion of its shareholdings exceeding 30% of our issued and outstanding ordinary shares to a voting trust to be voted at the direction of Jack and Joe."
Softbank will not be selling any of its stock in the initial public offering, in contrast to Yahoo!, which has agreed to sell approximately half, or 12%, of its stake.
>>Read More: Yahoo! Is Not the Way to Go on Alibaba
>>Read More:Is Alibaba Finally Readying for an IPO?
--Written by Chris Ciaccia in New York