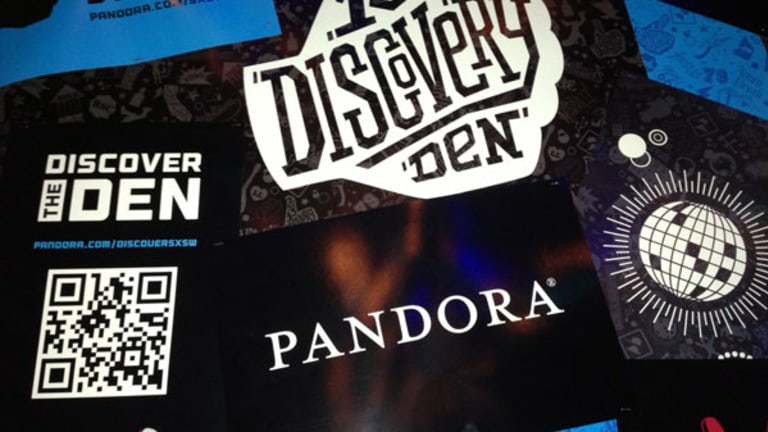 The Best Way to Make Internet Radio Stronger
The world doesn't need fewer Internet radio services. But that doesn't mean the industry shouldn't consolidate.
The world doesn't need fewer Internet radio services. But that doesn't mean the industry shouldn't consolidate.
NEW YORK (TheStreet) -- Spotted at Readwrite: The suggestion that Spotify and Rdio merge.
While I agree with the author --
Spotify is an unintuitive mess and Rdio provides a clean, hassle-free platform
-- he, like many others, fails to draw the distinction between different types of Internet radio. You can't just take what you perceive as the best of Spotify and the best of Rdio and meld it together to create the ultimate service.
There's pure-play Internet radio -- in the redefined, yet traditional sense of the word. That pretty much begins and ends with
Pandora
(P)
. Arguably the most misunderstood popular technology company ever.
There's relatively straightforward on-demand. You know exactly what you want to listen to. And in what form. You search for something specific and crank it. By far, Rdio represents best of breed in this category.
Also see: Roller Coasters Are a Ride for the Parks that Build Them >>
Then there's the poorly defined, hybrid-type services that achieve varying degrees of success such as Spotify. Frankly, I'm not sure Spotify knows what it wants to be. It doesn't have
.
And that's OK. There's room for Internet radio players along this continuum. I use them all, plus the stuff that fits somewhere between on the spectrum --
Google's
(GOOG) - Get Report
YouTube
,
Apple's
(AAPL) - Get Report
iTunes,
Vevo
and others.
We shouldn't approach the question of Internet radio from the standpoint of
how do we create the ultimate service?
That makes no sense. Who listens to only one traditional radio station? Who watches just one television channel? Who uses one app per sector?
We require the great diversity of experience that everybody from Pandora to Rdio to Spotify to YouTube and Vevo provide. Without this diversity, much of what's great about Internet radio dies.
Sirius XM
(SIRI) - Get Report
already crushed the promise of satellite radio. It could have been great; however it became little more than a vanilla offering that caters to the same people who supported AM radio on its deathbed.
Also see: Pandora Will Crash, Then Head to $20 on Apple Radio >>
That said, the Internet radio space absolutely requires consolidation. It might even need a Google or Apple to come in and make a big acquisition. Or three. That's the key for me. Maintaining the breadth of experiences -- a large number of eclectic platforms -- but creating a more powerful Internet radio bloc to, once and for all, put the unfortunate "enemy" (that collective known as "the record labels") in its place.
Take a model that works and use it to provide value to advertisers and gain leverage in the royalty fight with the music industry.
If Pandora and Spotify were to merge, for example, it would make very little sense to combine the two platforms. Present them to consumers just as they're presented today -- as separate entities. If Google, Apple or whoever made a move on one or more existing Internet radio services, it should do the same.
Traditional radio, all areas of television, most successful media for that matter -- they sell slightly different stations/channels/programs as part of the same package. Some have perfected this art. It gives advertisers the opportunity to go after different types of users and, maybe more importantly, gets them in front of the same set multiple times but in different environments at different times while they're in different moods and situations.
Consolidation for the sake of consolidation often sucks. It drains the life out of what was once vibrant. The traditional radio industry went about it the wrong way. It only got the model half right. While radio increased its ability to sell attractive packages to advertisers, it brought a diluted product to the table. That's one reason why Pandora continues to chip away at terrestrial's $14 billion to $16 billion in advertising revenue. It's provides a superior product and employs sales people who know how to sell!
Also see: They're Practically Giving Apple Away >>
In a perfect world, Internet radio sees the same type of consolidation terrestrial radio did -- albeit on a smaller scale that leaves more than a mere handful of players -- but continues to produce a diverse set of interesting and worthy services. Take this diversity and put it together to steal even more market share and ad dollars from AM/FM as well as a considerable chunk of the exploding mobile ad revenue only Pandora, among Internet radio companies, claims today.
--
Written by Rocco Pendola in Santa Monica, Calif.
Rocco Pendola is
TheStreet's
Director of Social Media. Pendola's daily contributions to
TheStreet
frequently appear on
CNBC
and at various top online properties, such as
Forbes
.