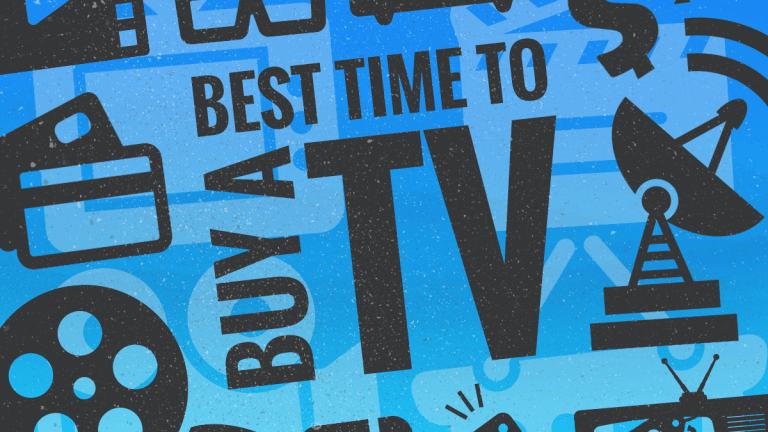 The 7 Best Times to Buy a TV and Why
The best time to buy a TV? Check your calendar for the best deals.
The best time to buy a TV? Check your calendar for the best deals.
When it comes to buying a new television, "when" you buy a TV is as important as "what" TV you buy.
It's an economic issue, as retailers, both on- and off-line, tend to offer good discounts on televisions on a seasonal basis.
Why does seasonality match up so well with discount television purchases? Primarily because of what's on TV at a given time. The bigger the event, the more likely video consumers will want to see that event on the best television possible. Additionally, retailers are more open to discounts on TVs around the holidays.
Still, seasonality carries the day. TV manufacturers and retailers understand consumer behavior and go out of their way to offer deep discounts on new televisions based as much on calendar dates as any other reason.
So, what dates count the most for television buyers and what other factors influence TV-buying decisions? These factors matter when you're looking to buy a television.
The Best Times to Buy a TV
When's the best time to buy a TV? Start at the beginning of the year, when the biggest game of them all beckons, and when post-holiday sales are in full swing.
1. The First Week of January
Buying a new television in the first week - and the last week - of January is a smart financial move. After Jan. 1, manufacturers and retailers cut consumer electronics prices to move remaining inventory to make room for new models.
Post-holiday price cuts of 30% or more are not uncommon in the first week of the new year.
2. The Two Weeks Before Super Bowl Sunday
The Super Bowl is the biggest sports attraction of the year, with millions of Americans tuning in for the big game. TV manufacturers and retailers are well aware of that demand, and will price TVs to move before Super Bowl Sunday, when demand is strongest. Consumer Reports says that Super Bowl Sunday is the second-best time to buy a new TV, right after Black Friday in November.
Expect big game-oriented big screen TVs (50-inch screens and above) to be the best deals.
3. Late March and Early April
Like the automobile industry, consumer electronics manufacturers roll out their new models at a specific time every year. For TV makers, that time is early spring. When the new models start appearing in late March, consumers can clean up on last year's models, with discounts from 25% to 35%.
Don't expect to get the latest 4K Ultra HD Model at a discount, but 2018 models will start looking pretty good, price-wise, in early spring.
4. August
Consumers looking for smaller TVs can cash in during back-to-school shopping season - usually August. TVs in the 32-inch to 46-inch range typically are discounted in back-to-school shopping season, as their smaller size works well for dorm rooms and college apartments.
August is a soft spot on the U.S. consumer buying calendar, so consumer electronics manufacturers and retailers like to stir the pot, offer discounts and get consumers buying again in the dog days of summer.
5. Black Friday
Consumer Reports rates Black Friday as the best time of the year to buy a new television, and with good reason. Black Friday is the opening salvo in the wild and woolly holiday shopping season, and TVs are deeply discounted, often as low as 60% off, even on high-end models. Look for the lowest prices to extend from Black Friday through Cyber Monday, with good discounts available right up through Christmas Eve.
During the holiday season, new TVs are a big part of retailer's "doorbusters" sales - that's a good place to start when you're buying a new TV around the holidays.
6. Dec. 26
Okay, this is only one day, but the sales kick in right away after Christmas Day - the end of the holiday shopping season. The day after Christmas represents an opportunity for retailers to start thinning out excess TV inventories, since so many consumers are back at the malls or at digital shopping sites in big numbers to return unwanted items and peruse any post-holiday sales. That makes Dec. 26 a good day to buy a new television at a discounted price.
Stay up late on Christmas Day, right up to midnight. Many stores open early on Dec. 26 and it's definitely first-come, first-served for opportunistic TV shoppers. Retailers will already be anxious to clear the shelves for new televisions, so a price break of around 30% is actually common for TV shoppers right after Christmas.
7. Amazon Prime Day
In 2019, Amazon Prime Day is July 16, starting at 3 p.m. That's a good date and time to pop into your mobile phone calendar if you're looking for a new TV, and don't mind waiting a while. Why? Because Amazon (AMZN) - Get Report Prime Day is a consumer electronic lover's dream, with discounts. In 2018, for example, a Sony  (SNE) - Get Report KD49X72E 49-inch 4 HDR TV went for the low price of $438.
Samsung, (SSNLF) Sony, and LG TVs are at bargain basement prices on Amazon Prime Day - good quality at good prices makes Prime Day worth waiting for.
Tips on Buying Your Best TV
There are plenty of other ways to save on TVs beside looking at the calendar. Tune in and check these tips out for size:
Follow the numbers. One "big picture" tip on buying a new TV is following the economics behind consumer electronic sales. If those sales are down at any given month, it's a good time to strike, as retailers won't want to be stuck with excess inventory, and will cut prices. Conversely, if electronics sales are strong, retailers will likely see no reason to offer discounts, making that a good time to wait until TV prices decline (or wait until holiday season discounts, when price cuts are abundant no matter how the economy is doing.)
Do a video check. Don't buy until you've actually seen the TV you're aiming for - in person. That way you can check out the video quality and screen size, and make sure it fits nicely into the room you want, and the way you (i.e., mounted on the wall or on a television stand.)
Focus on open boxes. Buying an open-box TV may save you hundreds of dollars off the regular price of a new television. Open boxes are almost always customer returns that are sold at a steep discount. If you don't see one on the floor at your favorite retailer, don't hesitate to ask. Chances are that Walmart, (WMT) - Get Report Best Buy (BBY) - Get Report or Target (TGT) - Get Report have a few empty box deals hanging around.
Save on a refurbished television. All the major manufacturers sell refurbished TVs, and usually at a good discount. The defect that caused them to be refurbished in the first place, like a scratch on the back of the TV or a chip on the bottom of the set is really nothing to worry about, as long as the components and the screen are okay. Just ask for a warranty before you sign on the dotted line.
Get a discounted gift card and save on the difference. Online gift card sites like Cardpool.com and Raise.com sell gift cards at a discount - usually about 5% or more. Visit the site, buy a card at a chain store or online site that sells TVs, and cash in on the savings.
Leverage social media. If you sign up as a follower on your favorite consumer electronics or retail site, and the chances are, sooner or later, you'll get a text or email signaling discounts on a brand-new TV. If you're patient, you can strike a good deal just by joining up, and being social.
Getting a good deal on a new television is easier than you may think. Just follow the calendar, aim for a day or week that works for you, and strike while the deals are hottest. Chances are, you'll save big bucks in the process.