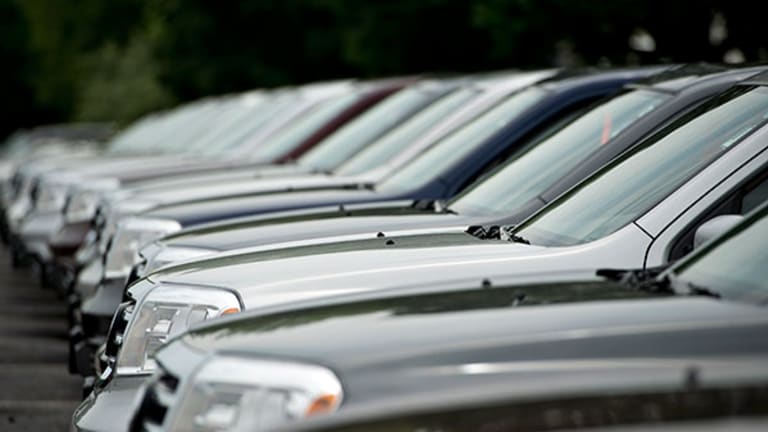 The Amazing 45-MPG Mercedes Sedan
It drives like a dream and could be your Tesla alternative.
NEW YORK (
) -- Electric and small cars be damned! Why bother with them when you can now get 45 miles per gallon in a large luxury
Mercedes
sedan -- the E 250? I put 250 miles in a week of driving this previously impossibly efficient combination of automotive specifications. Here is what I found.
Before we get started, let me just say that nothing beats the smoothness, silence and overall zen feeling of driving an electric car. One-pedal driving and the simplicity of the mechanical driveline makes for the lowest maintenance and highest reliability, too.
But what if, for whatever reason, you just don't want to buy some form of electrified car?
In order to achieve both the best fuel economy and get the most amount of low-end torque, you need to drive a diesel.
Volkswagen
, Mercedes and
BMW
pioneered the return of the U.S. diesel for the 2009 model year.
The U.S. diesel market basically breaks down as follows:
1.
One the one hand, you can buy a four-cylinder diesel, best represented by VW, Audi and, most recently, Chevrolet, Mercedes and BMW. Of these four-cylinder diesels, only the VW Passat is a large car, and it can't be had with four-wheel drive.
2.
On the other hand, you can buy a six-cylinder diesel. These are available from VW, Audi,
Porsche
, BMW, Mercedes and Jeep. They are typically the larger, heavier and more luxurious cars -- and the fuel economy is naturally less.
In this expanding field of diesel cars sold in the U.S., the Mercedes E 250 stands alone as the only large luxury sedan, available with optional four-wheel drive, using a four-cylinder engine. Thanks to this lighter and more frugal engine, the Mercedes E 250 delivers 45 mpg on the highway in two-wheel drive, and 42 mpg on the highway in four-wheel drive. City MPG in four-wheel drive is 27.
Think about it: If you are taking a road trip, cruising on the freeway at 70 miles per hour, you will be getting almost the fuel economy you would obtain in a
Toyota
(TM) - Get Toyota Motor Corp. Sponsored ADR Report
Prius, and that is in a large Mercedes luxury sedan. Not bad, huh?
The price starts at $51,400 for the two-wheel drive version; $53,900 for the four-wheel drive version. The particular car I drove was optioned to the max at $70,000.
Mercedes refreshed the E-class this year, and has upped its game in terms of interior materials and refinement. It oozes quality -- as it should, whether for $50,000 or $70,000.
The car I drove had the upgraded active multicontour driver seat with massage -- and it is worth the $660 price many times over. It may be the most comfortable car seat ever, and it kept me in place even in extreme cornering.
Speaking of being worth it, the upgraded wood/leather steering wheel is equally worth it at $590. Near perfection, and in combination with the superior driver seat as well as the excellent seating position, it makes this car a supreme pleasure to drive.
I found the overall handling and balance of the Mercedes E 250 diesel to be better than any Mercedes in memory. The lighter engine (four cylinders instead of six) helps keep the front of the car from being too heavy, and combined with the four-wheel drive, it provided for superior grip in taking very tight turns on twisty country roads.
When the car comes to a stop at a red-light or equivalent, the engine shuts off. It's one of the first diesel cars in the U.S. market with auto start-stop technology. That also helps improve fuel economy.
The diesel engine has an honest grunt to it. You can feel that it's a four-cylinder diesel, but it spools up more eagerly than most diesel engines do. As is typical of diesel engines, the torque is fantastic, and it's as close as you can get to driving an electric car. That's as high a praise as I can give a conventional internal-combustion engine.
Power is, as Rolls Royce used to say, adequate. I was never lacking for power. For the record, the engine produces 369 lb.ft of torque, and is mostly available in its optimal 1,500-2,000 RPM -- again, typical for a diesel.
The back seat is adequate for six-footers, which is more than you can say of some other sedans these days, including the
Tesla
Model S. The luggage space is also typical for this class of car -- although much smaller than a Tesla Model S.
I am not a fan of the Mercedes infotainment system. It uses totally the wrong interface paradigm, in my view. Somewhat similar to BMW and Audi, it uses a knob/joystick and some navigation buttons to control the screen.
I found the system complicated to use. Just learning how to switch to one
Sirius XM
(SIRI) - Get Sirius XM Holdings, Inc. Report
radio station to another was an exercise in frustration. That it's not a touchscreen also doesn't help, causing the exercise to take longer and probably also not being nearly as safe as the much easier system in the Tesla Model S, for example.
As with so many other car companies these days, especially these luxury ones, this Mercedes has a lot to learn from Tesla in terms of screen and interface choices for the infotainment system.
The other -- relative minor, to be sure -- problem with the Mercedes interior is the relative poor storage spaces for smartphones and keys in the center console. Companies such as
GM
(GM) - Get General Motors Company (GM) Report
and
Chrysler/Jeep
do a better job here.
The analog AUX jack is located inside the center armrest console. So far so good -- similar to Toyota Prius, Chevrolet Volt,
et al.
However, the armrest has a hard time closing when the cable is there. I had to hit it very hard and almost damage the cable in order for it to close. The cable most likely would have been destroyed had I had the car for more than a couple of months.
It is as if Mercedes didn't want you to use the AUX cable. It lacks a carve-out for where the AUX cable goes in and out of the center console, under the armrest.
Anyway, as you can see, the analog AUX cable is a pet peeve of mine, as it's the way I have my iPad operate the infotainment system. Hey, at least unlike
Ford
(F) - Get Ford Motor Company Report
the Mercedes
has
an AUX input. If I owned this car, I would probably have to drill a hole for the cable!
All in all, I have very high praise for the Mercedes E 250 diesel with four-wheel drive. The engine is the best this side of an electric car, the upgraded seats are the best in the business, the upgraded luxury steering wheel is pure delight, the car handles extremely well and just feels solid and well-balanced overall.
Someone should say that for $70,000 fully loaded, it had better be superb. The competition from Audi and BMW is also excellent for these kinds of full-size diesel sedans. None of them, however, delivers 45 mpg.
The BMW 3-series delivers 45 mpg, but it's smaller. So is the Chevrolet Cruze. Then again, the Chevrolet is half the price of a base Mercedes E 250.
If you want a sedan of this size, and for whatever reason don't want to drive a hybrid or electric car, the Mercedes E 250 diesel delivers the finest package with the best fuel economy in its class. If you can afford to pay somewhere between $51,000 and $70,000 depending on equipment, I highly recommend this as the top pick of its class.
At the time of publication, the author had a position in Ford.
This article was written by an independent contributor, separate from TheStreet's regular news coverage.