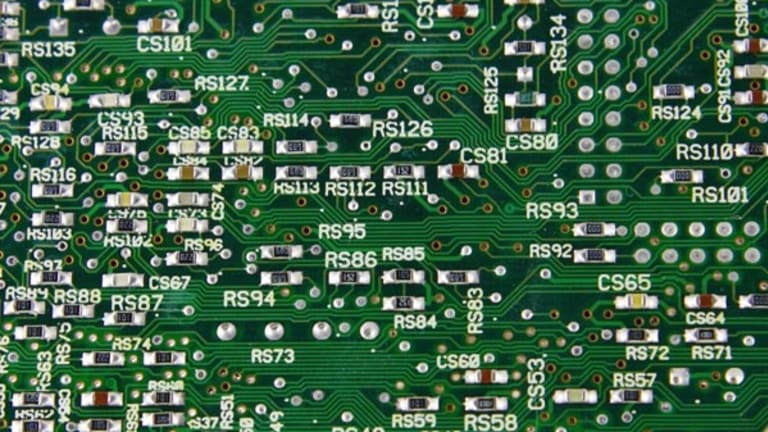 The 5 Hottest Things in Wearable Tech
Move over tablets, "wearable tech" is buzzing in the tech world right now. The latest computers don't require you to lift a finger.
Move over tablets, "wearable tech" is buzzing in the tech world right now. The latest computers don't require you to lift a finger.
NEW YORK
Move over tablets, "wearable tech" is buzzing in the tech world right now. The latest computers don't require you to lift a finger. People are getting tired of looking at their phones countless times a day, so technology is making it so you don't have to. Leave that phone in your bag.
The rise of mobile phones caused many to stop wearing watches. Now "smart watches" are incorporating smartphone features for your wrist. One of the first of its kind, the Pebble watch launched a fundraising campaign on Kickstarter with resounding success. Now
Apple
(AAPL) - Get Report
is rumored to be creating its own "iWatch."
And then, of course, there are fitness gadgets that help you track activity. The latest devices also monitor sleeping habits and promote healthy eating. It's all about the "quantified self" these days, venture capitalists tell me. At least that's where the money's heading.
From glasses to gizmos,
TheStreet
took a look at the cutting edge "wearables." Here are some to watch for.
Google
(GOOG) - Get Report
Glass is emblematic of the wearable tech movement. The glasses allow for hands-free web surfing and chatting. The device also allows for video recording and watching. They have yet to be released to the public, but are currently available for developers.
Google Glass is especially helpful in situations like driving, where it can be used to look up directions.
Mercedes-Benz
is said to be incorporating Google Glass in future cars. It may be useful in some instances, but it's been parodied for social situations.
Saturday Night Live
mocked what it would be like to sit next to someone who's talking to their glasses.
It remains controversial whether the glasses are geeky or cutting edge. A new Forrester Research study shows that 12% of the U.S. population would be willing to wear them. In an effort to make them more fashionable, Google is reportedly planning on working with Warby Parker for fancier designs.
But will the device be worth the price? Google Glass is expected to retail at $1500. It will be available to the U.S. public in 2014.
Unlike Google Glass, The Jawbone Up hardly looks high tech. The fitness band can easily be mistaken for a bracelet. But don't be fooled by the simplicity of the design, the Up tracks your every move. And the battery only needs to be recharged every 10 days.
In many ways, the Jawbone Up is like a modern pedometer. Sync it to your smartphone app and it will show you how many steps you've taken and how many calories you've burned. The app stores your data, so you can see charts of your recent activity. Find out if you've walked 10,000 steps today.
In addition to exercise, the Up tracks your sleep habits. The app displays a bar chart of sleep quality, showing you when you got your deepest sleep and how many times you woke up. Set an approximate alarm time and the Up will vibrate when you'll wake up feeling refreshed. It can also be used to optimize power naps.
Track your dietary habits with the app as well. Scan a barcode and it will display a daily dietary breakdown. The app also lets you add friends to your "team" so they can see what you're up to. That's assuming you want them to know when you went to bed.
The Fitbit Flex has many similarities to the Jawbone Up. There's definitely no need to wear both. Like the Up, the Fitbit tracks activity and sleeping habits. However, the Fitbit syncs through Bluetooth. The Up required you to connect the device to your phone.
Unlike the Up, the Flex is adjustable. You can make it tighter after you've lost all that weight! If you get tired of your color, you can remove the electronics and put it in a different color Flex band. Yet the Flex battery lasts five to seven days, instead of the Up's 10.
Like the Up, the Flex has an app instead of a digital display. It keeps track of how many steps you take each day. It also tells you how long you slept each night. It lets you sync with your friend's data so that you can compare notes. But at $99, the Fitbit Flex is a little less expensive than the $129 that the Jawbone Up will cost you.
The Basis Band is also a health monitor that you wear around your wrist. However, unlike the Jawbone Up and Fitbit Flex, the Basis Band has a screen. There's no need to look at an app to see the basics. The Basis also doubles as a watch, since it displays the time.
Like the Jawbone Up and Fitbit Flex, the Basis Band tracks steps taken and calories burned. It also keeps tabs on sleeping habits. Yet unlike the others, the Basis Band also tracks heart rate. It tracks skin temperature as well.
Although it originally looked like a basic sports watch, the Basis Band recently unveiled new designs. The artsy patterns attempt to make the band more fashionable. It's more expensive than the other products in the market though. The Basis Band retails for $199.
While iOS users eagerly await the eventual release of the rumored "iWatch," Android users already have a sleek smartwatch available. Instead of checking your phone for updates, the
Sony
(SNE) - Get Report
SmartWatch sends notifications to your wrist. Or you can take it out of the band and clip it to your clothing.
Use the SmartWatch to see who's calling you and send it to voicemail. You can even answer it with a headset. Use the watch to check your email and see your
Facebook
(FB) - Get Report
/
Twitter
. It allows you to check your calendar as well. The watch also lets you reply to texts with a default away message.
The design looks like a modern sports watch. It has a digital display and metallic rounded edges. It's small, measuring 1.4 inches by 1.4 inches. It's also light, weighing .55 ounces. It comes in black, but you can buy other colors for an additional cost.
It's not available for all Android phones yet. It works with Sony's Xperia line of smartphones. It also works on some
Samsung
,
Motorola
and
HTC
phones. It retails for at least $85.
--Written by Katie Roof in New York--