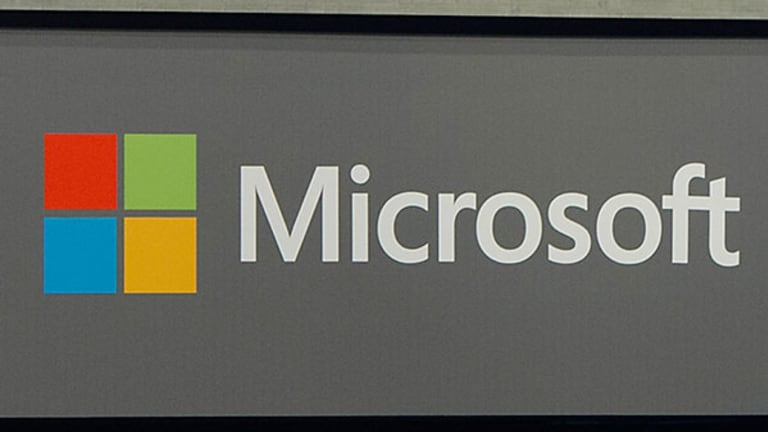 The 3 Biggest Takeaways From Microsoft's Earnings Report
Microsoft's earnings show strength in the devices and consumer segment but the company's commercial segment is a touch weaker.
Microsoft's earnings show strength in the devices and consumer segment but the company's commercial segment is a touch weaker.
NEW YORK (TheStreet) -- Under CEO Satya Nadella, Microsoft (MSFT) - Get Report continues to show that it's not only taking drastic measures to be at the cutting edge of the technology world in the 21st century, it also has the financial chops to back it up.
Microsoft reported fiscal second-quarter earnings of 71 cents a share on revenue of $26.47 billion, slightly ahead of analysts' expectations of 71 cents on revenue of $26.3 billion. Leading the strength was the company's device and consumer segment, which saw revenue rise 8% to $12.9 billion.
The company's commercial segment was a touch weaker, with revenue rising just 5% year over year to $12.9 billion, as the company continues to work on executing its cloud strategy.
Microsoft noted that its $40 billion buyback program, which started in September 2013, will be finished by December 2016.
Under Nadella, the company has been reinvigorated, unveiling new products such as Windows 10 and the HoloLens, as it seeks to focus on the enterprise and consumer in a way it hadn't previously. Nadella highlighted that movement in a statement, noting the company is working on transforming itself as he highlighted the company's leadership position in the cloud.
"We are taking bold steps forward across our business, and specifically with Windows 10, to deliver new experiences, new categories, and new opportunities to our customers," Nadella said in the statement.
Shares were falling 7.7% to $43.38 in premarket trading on Tuesday, as the company offered a weak third-quarter outlook, impacted by currency fluctuations. The outlook led to several downgrades.
Here are the three biggest takeaways from Microsoft's second-quarter earnings report.
Sunshine on a Cloudy Day
Microsoft has been transitioning much of its software business into software-as-a-service (SaaS) or cloud computing, and the results are stronger than some anticipated.
Commercial cloud revenue grew 114% year over year, down a tick from the 128% rise seen in the fiscal first quarter. Still, that's a $5.5 billion revenue run rate, making it a dominant player among its peers.
Microsoft has also been working hard to expand its cloud presence with consumers, highlighted by Office 365. The software suite, which allows users to start a document and pick it up anywhere, now has 9.2 million subscribers, adding 2.2 million subscribers in the quarter, a 30% sequential increase. The company has been busy adding devices for which Office 365 is available, including Apple (AAPL) - Get Report iPad and iPhones, which it announced in November.

Despite that, concerns about the move to cloud are hurting near-term revenue.
"While most of the reduction is due to Windows and FX, the move to subscription revenue makes it more difficult to offset the Windows weakness," Pacific Crest Securities analyst Brendan Barnicle wrote in a note.
Currency Concerns

The rising U.S. dollar has been an issue for large, multi-national tech companies, and Microsoft is no exception.
For the fiscal third quarter, Microsoft said revenue would be between $20.6 billion and $21.4 billion, below the $24 billion expected. On the conference call, Chief Financial Officer Amy Hood said the company would see a "four-point" negative impact due to the rising currency.
JPMorgan analyst Mark Murphy downgraded shares to neutral, lowering his price target to $47 from $53, in part because of the currency issues.
"As we indicated in our preview note, F3Q guidance mostly fell below consensus (excluding Commercial Other), as mgmt expects USD strength to impact revenue by 4 points (1.5 points worse than our expectation due to ongoing recent FX movement)," Murphy penned in the note. An expectation for continued weakness in China (govt tensions), Russia, and Japan (demand lull post the sales tax increase) also adversely impacted guidance, although we view these as likely to be part of a normal ebb and flow as opposed to permanent issues."
In a world increasingly awash with volatile currency fluctuations both up and down, this is a concern for all companies that do not have hedging programs in place.
Finally Scratching the Surface
While the Surface will never be confused with the Apple iPad in terms of sales volume, it's starting to become a viable revenue generator for Microsoft. During the quarter, Surface revenue rose 24% year over year to $1.1 billion, an all-time high for Microsoft.
The 24% year-over-year growth is especially strong, as research firm IDC noted in November that the tablet market was expected to grow just 7.2% year over year, down sharply from the 52.5% growth seen in 2013.
The Surface Pro 3 has been lauded for both its style and its functionality. Given the state of the enterprise market, in which employees increasingly do more work on smartphones and tablets, a device such as the Surface Pro 3, which combines the best of a tablet and a PC, is an attractive device.
>Contact by Email.