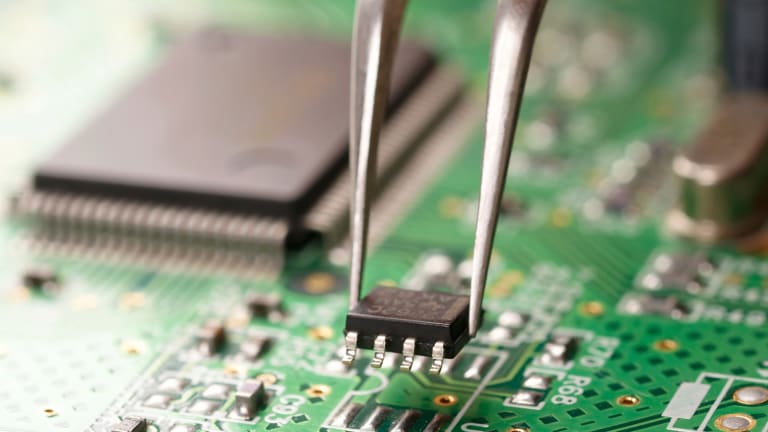 Wall Street Is Expecting More Big Mergers in the Chip Space Soon
Intel, AMD and Texas Instruments are among the chip companies Wall Street and tech analysts expect to see involved in mergers and acquisition deals in the coming months.
NEW YORK (TheStreet) -- In the wake of Avago's (AVGO) announcement Thursday that it had reached a deal to acquireBroadcomundefined for $37 billion, Wall Street and tech analysts expect additional mergers in the semiconductor space to come at a fast and furious pace, with Intel (INTC) , Texas Instrumentsundefined and other major chipmakers tagged as possible players.
Mario Morales, vice president of IDC's semiconductors research program, expects to see an acceleration of consolidation in the  sector, as most of the large companies are looking for areas where they can find pockets of growth, such as the analog chip business. "Another prime area for acquisitions is in the analog market, with companies like TI, Linear Technology (LLTC) , Maxim Integrated Products (MXIM) , Analog Devices (ADI) and quite a few others" in play either as buyers or targets,  Morales said.
Analog chips are used in automotive, communications and industrial systems. They differ from digital chips by operating on different levels of current and voltage, while digital chips use only binary variables: 1s and 0s.
In a research note written on May 27, UBS analyst Stephen Chin said he viewed Avago's acquisition of Broadcom positively, and rated Avago a buy, saying the deal looks good from several perspectives.
"This may be the biggest deal we see, but it will not be the last," said Bill Kreher, a senior analyst with Edward Jones, said of the Broadcom-Avago merger.
Ben Bajarin, technology analyst at Creative Strategies, agreed, tweeting this morning:

Bajarin said the top five companies in the semiconductor industry have a lot of spending to do to strengthen their positions and fill in the holes in their portfolios. He expects Intel to solve its embedded needs, Texas Instruments to look for a deal with an analog company, and Qualcomm (QCOM) to make a move in sensors.
There are three primary reasons to expect additional deals to be announced, said Kreher. "There is cheap debt available, chip companies have a lot of cash, and the simple fact that the semiconductor business benefits from scale and these will play into the merger mania."
Intel's flirtation with Altera (ALTR) may not have come to fruition, but Intel will be a player going forward, Kreher said. He added that AMD (AMD) , while not in a position to buy due to its distressed financial position, could itself be a target.
This article is commentary by an independent contributor. At the time of publication, the author held no positions in the stocks mentioned.