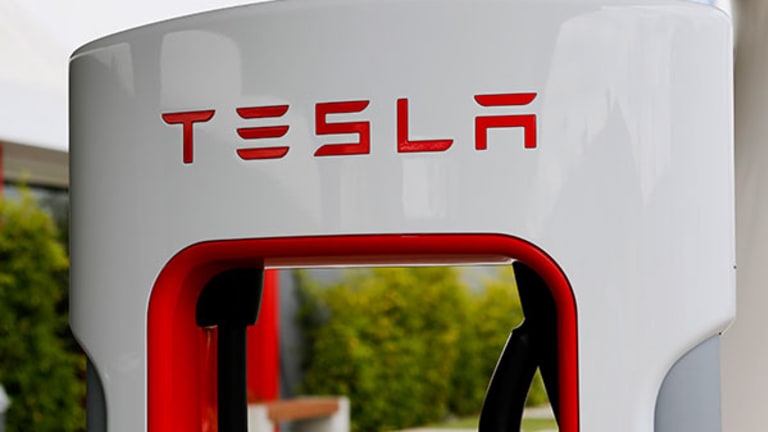 Tesla's Gigafactory Ahead of Schedule Amid Nagging Valuation Concerns
Much of Tesla's value is based on its potential to expand the electric vehicle market. Leading the way on that front is the company's Gigafactory, which is ahead of schedule.
NEW YORK (TheStreet) -- Much of Tesla Motors' (TSLA) - Get Tesla Inc Report value is based on its potential to expand the electric vehicle market, particularly with its Model 3, a car expected to become available sometime in 2017.
To make the Model 3 and expand the electric car market, Tesla is building its Gigafactory, which the Palo Alto, Calif.-based carmaker says is ahead of schedule.
"We're ahead of schedule," Ricardo Reyes, Tesla's communications chief said in an interview last week, noting it changes between on-schedule and ahead-of-schedule, depending on the week. "Support is up, beams are up. Things are going very, very well."
When asked for a more specific date for the Gigafactory's completion, Reyes said late 2016 or early 2017.
Tesla has previously said that it expects to reach production unit rates of 500,000 cars per year by 2020 because of the Gigafactory. In 2014, Tesla produced 35,000 Model S units and has previously said it would deliver about 55,000 Model S and Model X units.
The Gigafactory, akin to a corporate park of factories, is crucial to Tesla's long-term success as it seeks to advance the electric vehicle market beyond niche status. Tesla chose Reno, Nev., as the site for the factory after having discussions with officials in Texas, New Mexico and Arizona. The factory has been mired in controversy since construction began due in part to incentives Tesla received to build in Reno, as well as to forecast for its overall cost.
Tesla's factory is going to be exceptionally large, requiring anywhere between 500 and 1,000 acres, taking up 10 million square feet and housing up to 6,500 employees, according to the company. Initial cost estimates were between $4 and $5 billion, with much of the bill coming from Tesla.
Investors dinged the Elon Musk-led Tesla when the company said in its fourth quarter shareholders 2015 capital expenditures would be around $1.5 billion, some of which would go towards the Gigafactory. Since then, shares of Tesla have dropped 13.3%, compared to a 1.9% gain in the NASDAQ. For the first quarter, analysts surveyed by Thomson Reuters expect Tesla to lose 49 cents a share on $1.015 billion in revenue.
Tesla is attempting to partner with other companies to minimize its own expenses for the Gigafactory, but it has had mixed results so far.
Panasonic, which produces lithium-ion battery cells for Tesla, will invest $1 billion in the factory. There may be other partners, but Tesla was noncommittal on the time frame and on who that potentially might be.
"We want to be a little bit cautious about doing that too soon," said JB Straubel, Tesla's chief technical officer, on the company's fourth-quarter earnings call. "There is obviously a lot of work going on and discussion with all of those partners, but I think we just -- we want to be careful to make sure that all the agreements and decision on the -- where that partnership is headed is very clear. So we will wait until, it's really done and ready to announce."
Not only would the Gigafactory help Tesla on its way toward delivering half a million cars annually by 2020, it may also help Tesla as it relates to changing the country's energy storage needs, because of the energy storage potential from the Gigafactory.
"With 15 gigawatt hours of the Gigafactory planned for stationary batteries and a partnership with SolarCity (SCTY) , Tesla appears very well positioned to participate in this growing market over the mid-term," CLSA analyst Andrew Fung said in a research note last week, downgrading the company on short-term execution fears.
On the call, Straubel noted the energy storage potential is of great interest and the company is talking to utilities about working in this space, but cautioned it was still early.
"It's early stage stuff and a lot of these projects are very far out, since the procurement cycle for utilities is so long," he said. "But this is a business that certainly is gaining an increasing amount of our attention."
The Gigafactory will go a long way toward helping relieve Tesla's biggest problem -- it's production constrained. In the past, the company has changed delivery estimates because of production issues, though some of problems may be starting to turn around.
Credit Suisse analyst Dan Galves, who rates Tesla "outperform" with a $290 price target, said the company's guidance for the first quarter, delivering 9,500 Model S units, is beatable. "Given the 1,400 vehicles that slipped from Q4 to Q1 and lack of noise on production issues, we consider Q1 volume to be high probability at this point," Galves wrote in a research note.
Galves also wrote that company implied deliveries for the second quarter is around 12,500 vehicles, which may be achievable due to production of the dual-motor version of the 85 kilowatt Model S as well as "more production weeks plus continued benefits from better leasing options" as well as a "very solid" order backlog.